Rooms and Facilities at the Easyhotel
Comfy rooms at a really low price
excellent information provided from start to finish
Mr Powell
Very Good
from
59
easyHotel
reviews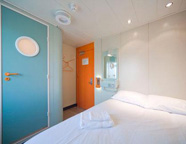 It's our cheapest hotel and you get fantastic value for money without compromising on comfort when you stay at the Easyhotel. The rooms are nicely furnished and have everything you need for a great night before you fly. You'll wake up relaxed, refreshed and ready to enjoy your holiday knowing you've slept and made the most of a bargain.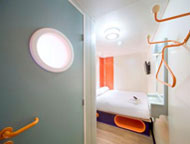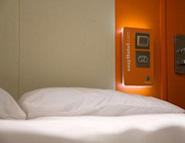 The rooms at the Heathrow airport Easyhotel are simple but cosy and come in two sizes, small and standard, and each has a quirky colour scheme that makes hotel unique.
If you want to really keep the costs down then you can even choose a room with no window – it's one way to make sure you don't wake up with the sunrise.
Whatever you choose you'll get a restful nights sleep in a room that comes with:
A private shower room with WC, washbasin and shower
Heating, cooling and fresh air circulation
A mirror and shelf with integrated power socket and lighting
A flat screen TV - £5 for 10 channels for 24 hours
Wireless internet access - £5 for 1 hour
A coat/suit Hanger and hooks
Accessible
The Heathrow airport Easyhotel has a number of special access rooms and they recommend that you contact them before your stay to make sure you have everything you need.