Premier Inn Manchester airport North
Well-equipped, well-priced
217

Premier Inn Manchester airport North

ratings have an average of
Terminal : All terminals

Star Rating :

Restaurant : Yes
Disabled Facilities : Yes
What perplexes us about the Premier Inn Manchester airport North isn't that it's such great value. It's understanding why somewhere so comfortable, with clean, well-equipped rooms and reasonably-priced food, doesn't cost far more. After all, it's so good, building it once just wasn't enough. No, really: this hotel's so popular, it's got an identical twin right next door.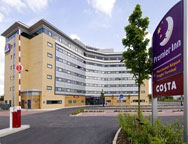 Reasons to book
• Reliable, reasonable, relaxing and roomy: what more could you ask for from this great-value hotel?
• Tuck into two courses for just £12.50 in the great-value restaurant.
• Breakfast starts at 5.30am - and it's a very impressive spread.
• All rooms have blackout curtains, soundproofing, air conditioning and freeview TV.
Rooms
All rooms at the Premier Inn Manchester airport North have blackout curtains, soundproofing, air conditioning, freeview TV, an en-suite with a bath and shower, tea and coffee, a hairdryer and a phone. All rooms have wifi: it's free for half an hour, or £3 for 24 hours.
There is no room service.
Hotel facilities
The Premier Inn Manchester airport North features a restaurant and a bar. There's wifi throughout: it's free for half an hour, or £3 for 24 hours. There's also a computer in reception which you can use to access the internet - it costs £3 for one hour.
• Restaurant
• Bar
• Internet access
Dining
Dinner at the Premier Inn Manchester airport North is great value twice over. The reasonably-priced menu is twinned with two-course and three-course meal deals which mean you can save even more. There's a two courses for £12.50 option, or a fantastic value £22.99 option which includes three courses, a drink and breakfast.
There's plenty to choose from on the menu, from pub favourites, pasta, pizzas and salads to steaks, burgers, meat, fish and vegetarian dishes. We'd start with garlic and herb breaded mushrooms, followed by chicken fajitas with guacamole, tomato salsa, sour cream and cheddar cheese for our main, and caramel apple crumble for dessert. Not all dishes are included in the meal deals, but even if you pick something that isn't, prices start from £2.35 for a starter, £7.90 for a main and £4.35 for a dessert.
Kids get an impressively varied choice too: the children's menu has everything from sausages and mash to mild chicken curry with rice, plus vegetarian, gluten-free and dairy-free options. And it's not bad value either: two courses are just £4.75.
Dinner is served in the restaurant from 5pm to 9.30pm; there's also a bar menu from noon to 9.45pm, which includes snacks, sandwiches, panini, baguettes, baked potatoes, pizzas, burgers and other main meals. Prices start from £2.35, and the bar is open for drinks until midnight. There's also a branch of Costa Coffee, which is open for drinks and snacks from 7am to 6pm.
Breakfast is a very impressive English and continental spread. Tuck into hash browns, omelette, poached, scrambled, fried or boiled eggs, pork sausages, vegetarian sausages, bacon, baked beans, mushrooms and tomatoes from the cooked buffet; or help yourself to crumpets, muffins, porridge, granola, berry compote, croissants, cereal, toast, yogurt and fresh fruit salad. It's served from 5.30am to 10.30am on weekdays and 6.30am to 11.30am at weekends - and if, poor soul, you haven't time to sit down to breakfast, pick up a packed breakfast of a freshly-baked croissant and tea or coffee.
Check-in
You can check in from 2pm. You must check out by noon.
Not found what you're looking for? we have more pages about the Premier Inn Manchester airport North or if you wish to see what other hotels we offer at Manchester airport then please choose from the following dropdown:
Search now for prices and availability...
Premier Inn Manchester airport North

Address

Runger Lane,
Manchester,
M90 5DL

Longitude

-2.29267


Latitude

53.36322