If you're staying at the Holiday Inn Express Stansted, you won't want to miss out on its restaurant. Make the night before your trip hassle-free by dining at the hotel, rather than hunting down other places to eat in and around the airport. There's one restaurant to choose from which serves breakfast, light bites, main meals and desserts.
The Great Room bar
Breakfast
If you book the Holiday Inn Express Stansted, you'll be entitled to a complimentary cooked breakfast from as early as 6am. You can fill up buffet style on eggs, bacon, sausages, beans, tomatoes and more. If your flight is earlier, you'll be able to get a free 'Grab & Go' coffee from 4am to 6am.
Lighter bite?
The Great Room bar is open all day, which means it's great if you want a spot of lunch before you leave for an afternoon flight or you've just got a smaller appetite. You can tuck into king prawns in garlic butter, chicken pakora bits, loaded potato skins, mushroom and ham, crayfish cocktail or vegetable risotto.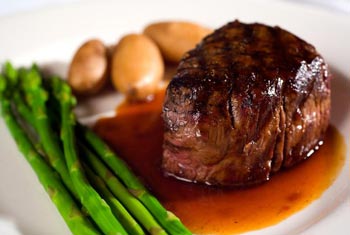 Mains
If you want something a little more filling, the Great Room bar has a range of classic dishes, pizzas, pastas, salads and meats straight off the grill. Some of the mouthwatering classic dishes include: curry of the day, vegetable tikka masala, sweet and sour chicken with rice, sausages and mash or pan-fried salmon. If you like Italian food, you can build your own pizza with a range of toppings, tuck into a spinach and mascarpone lasagne, or enjoy a tagliatelle bolognese. For meat lovers, the chargrill menu serves up sirloin steak, fajitas, cheese and bacon burger or tandoori chicken. If you want something a little more healthy, you can choose from three salads - caesar salad, traditional chef's salad or salad nicoise.
Fancy something sweet?
If you've got room for dessert, you can ponder over the choice of sweets. There's ice cream brownie cake, cherry bakewell cheesecake, bramley apple pie or a selection of ice creams to choose from.