Birmingham No.1 lounge
Relax in style before you fly
For a luxurious start to your holiday, book the stylish, two-floor No. 1 Lounge at Birmingham airport and transform your time in the airport into something very pleasant indeed. The airport's biggest lounge has a free bistro menu, brought to you by No.1's waiters - tuck into a bacon butty, and enjoy the panoramic views of the runway. Then games, free wifi, flatscreen TVs, newspapers and magazines will keep you entertained until it's your turn to take off. No 1 has been named a "CoolBrand" in a poll of 3,000 customers and a panel of 37 designers, style experts and celebrities.
Reasons to book
• A luxurious two-floor lounge with a free bistro dish, stylish decor, waiter service and panoramic runway views.
• Use the free wifi to keep up-to-date with Facebook, the football and the news before your trip begins.
• Get out the games and challenge your friends to some healthy competition.
• Book with Holiday Extras and you'll save £5 per adult - or £2.50 per child - compared with the on-the-door price.
Lounge facilities
The No.1 Lounge features bistro menu, continental breakfast buffet, draught beer, wines and spirits, waiter service, runway views, flatscreen TVs, unlimited wifi, newspapers and magazines, flight information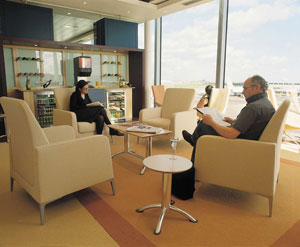 • Children allowed
• Disabled access
• Flight announcements
• Free drinks
• Free snacks
• Internet
• TV
• Wifi
Opening times
4.30am
8.30pm
Children permitted
Children of all ages are welcome, however a person who is over the age of 12 is classed as an adult and will need to pay the adult price. Please note, for any bookings made where adults are incorrectly identified as children, the lounge reserves the right to charge the passenger the difference in price upon entry.
Dress code
The lounge has a smart casual dress code and may refuse entry to customers dressed inappropriately. Tailored shorts are allowed, but the lounge asks customers not to wear sports clothing, camouflage patterns, or clothes with offensive slogans or which expose midriffs or shoulders. Hen and stag do themed clothing is not permitted.
Search now for prices and availability...
Food and drink
If there's one drawing point of the No. 1 lounges, it's the care and time taken with their food. You'll find a pantry table filled with freshly-prepared snacks, which you're welcome to help yourself to free of charge.

If you fancy something a little bit more substantial, you can enjoy a free hot snack from the bistro-style menu, limited to one per customer. If you want more to eat, extra dishes cost £4 each. You can choose from morning favourites such as a hot bacon roll, beans on toast or even apple and cinnamon bread served on a bed of rhubarb compote.

A range of drinks are also available at no charge - including soft drinks, teas, coffees, juices, beers and spirits. Champagne, Prosecco and cocktails can be bought from the bar for an extra charge.
Entertainment facilities
The lounge has games, flatscreen TVs, free wifi, and free newspapers and magazines. No 1 has been named a "CoolBrand" in a poll of 3,000 customers and a panel of 37 designers, style experts and celebrities.
Disabled facilities
The lounge can accommodate disabled passengers and has disabled toilets.
Business facilities
The lounge has unlimited free wifi.
Check out other pages related to No.1 Lounge
Related News