The crowds and stress of the airport can make anyone grouchy - but whether you're a tiny tot or a high-flying businessman, you can get away from it all in the Air France lounge at Heathrow terminal 2. The lounge welcomes children and has great views of the runway so they can watch the planes taking off, while for businessmen there's free internet access and a fax machine. And free drinks and snacks are always likely to go down a treat, whatever age you are.

Food and drink
You can enjoy free snacks, hot and cold soft drinks, beers, wines and spirits. Champagne is available, but it is not free.
Entertainment facilities
As well as watching the action on the runway, you can spend your time in the Air France lounge reading the free newspapers and magazines, watching television or surfing the internet.
Disabled facilities
The lounge is accessible to disabled customers.
Business facilities
Facilities for businessmen and women include computers with free internet access, wifi access, a fax machine and a telephone. There is a charge for wifi access.
Check out other pages related to Air France lounge - Terminal 2
Published by: Sarah Linney
Frequently Asked Questions
Would you like to write a comment?
(If you would like us to get back to you then please include your name and telephone number or email address in your comment. Contact details will not be published).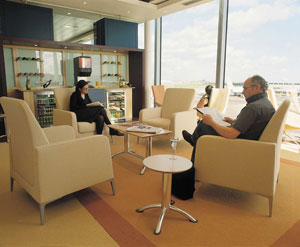 Lounge facilities
Children allowed
Disabled access
Flight announcements
Free drinks
Free snacks
Internet
Phone
Fax
TV
Wifi
Opening times
5am
10pm
Air France lounge - Terminal 2 customer reviews
•

66%

of customers who left a review would book again
•

3

customers have given an average rating of

3

out of

5
Terminal: 2
Children permitted: The lounge welcomes children and infants.
Dress code: Lounges have a smart casual dress code. Baseball caps, shorts and football shirts are not allowed. Reasonable behaviour is expected from all guests. Lounge staff reserve the right to refuse admission.