Stansted No 1 Lounge at gate 49
Feel like a VIP in this airport lounge
Are you a VIP? You'll certainly be made to feel like one when you book into the No. 1 Lounge Stansted at gate 49. The lounge staff will offer you freshly-prepared hot and cold food and drinks from the bar, and if you like, you can head up to the a self-service pantry table for additional tasty treats. None of our other airport lounges offer this service, except the sister lounges at Gatwick, Heathrow, Edinburgh and Birmingham. What's more, with everything from board games to free internet access to keep you entertained, a little part of you won't want to leave to go on holiday! No. 1 has been named a "CoolBrand" in a poll of 3,000 customers and a panel of 37 designers, style experts and celebrities.
Reasons to book
• A fantastic, VIP lounge in the perfect position for international Ryanair flights.
• Enjoy freshly-prepared hot and cold food.
• Surf the web for free on your laptop.
• Board games and international newspapers will keep you entertained.
Lounge facilities
The No.1 lounge at Gate 49 features Free snacks/drinks, wifi, airport views, flight information.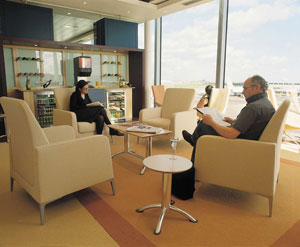 • Children allowed
• Disabled access
• Free drinks
• Free snacks
• Internet
• Phone
• TV
• Wifi
Opening times
4am
9pm
Children permitted
Yes, children of all ages are welcome, however a person the age of 12+ are classed as an adult in the lounge and will need to pay the adult price. Please note, for any bookings made where adults are incorrectly identified as children, the lounge reserves the right to charge the passenger the difference in price upon entry.
Dress code
The lounge has a smart casual dress code and may refuse entry to customers dressed inappropriately. Tailored shorts and smart jeans are allowed, but the lounge asks customers not to wear sports clothing, camouflage patterns, or clothes with offensive slogans, rips or tears or which expose midriffs or shoulders. Hen and stag do themed clothing is not permitted. Hats may only be worn in the lounge for religious reasons.
Search now for prices and availability...
Food and drink
If there's one drawing point of the No 1 lounges, it's the care and time taken with their food. You'll find a pantry table filled with freshly-prepared snacks, which you're welcome to help yourself to free of charge.

If you fancy something a little bit more substantial, you can enjoy a free hot snack from the bistro-style menu, one per customer. Choose from morning favourites such as scrambled egg on a toasted english muffin, a hot bacon roll or even a sweet belgian waffle served with either golden syrup or berry compote. Other items are available from the a la carte menu for a fee, including smoked haddock and pea risotto and goats' cheese, pea and broad bean tart.

A range of drinks are also available at no charge - including soft drinks, teas, coffees, juices, beers and spirits. Champagne, Prosecco and cocktails can be bought from the bar for an extra charge.
Entertainment facilities
Whether you want to get competitive with board games or just relax with a drink, you'll find plenty to keep you entertained at No.1 Stansted. The lounge has wireless internet access and PC's, so you can surf the web for free before your flight, or if you want to know what's going on in the world, bury your head in the international newspapers and magazines. No 1 has been named a "CoolBrand" in a poll of 3,000 customers and a panel of 37 designers, style experts and celebrities.
Disabled facilities
The lounge is fully accessible to disabled customers.
Business facilities
The lounge has free wireless internet access, a printer, a fax and a scanner. You can also make free calls to UK landlines.
Check out other pages related to No.1 lounge at Gate 49