Stansted No 1 Lounge at gate 49
Feel like a VIP in this airport lounge
Are you a VIP? You'll certainly be made to feel like one when you book into the No. 1 Lounge Stansted at gate 49. There's no self-service here - lounge staff will wait on you, offering you freshly-prepared hot and cold food and drinks from the bar. None of our other airport lounges offer this service, except the sister lounge at Gatwick & Heathrow . And with everything from board games to free internet access to keep you entertained, a little part of you won't want to leave to go on holiday!
Reasons to book
• Lounge staff will wait on you - you'll feel like a VIP.
• Enjoy freshly-prepared hot and cold food.
• Surf the web for free on your laptop.
• Board games and international newspapers will keep you entertained.
Lounge facilities
The No.1 lounge at Gate 49 features Free snacks/drinks, wifi, airport views, flight information.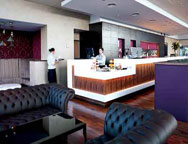 • Children allowed
• Disabled access
• Free drinks
• Free snacks
• Internet
• Phone
• Fax
• TV
• Wifi
Opening times
4am
9pm
Children permitted
Yes, children of all ages are welcome, however a person the age of 12+ are classed as an adult in the lounge and will need to pay the adult price. Please note, for any bookings made where adults are incorrectly identified as children, the lounge reserves the right to charge the passenger the difference in price upon entry.
Dress code
The lounge has a smart-casual dress code and may refuse entry to customers not wearing suitable clothing. Tailored shorts are allowed, but the lounge suggests you do not wear sports clothing, camouflage patterns, clothing with offensive slogans or that exposes midriffs or shoulders.
Search now for prices and availability...
Food and drink
There is a free breakfast menu with a choice of cereals, natural yoghurt with berry compote & granola and others available with a wide range of choices to suit all needs. From 11am, the No 1 lounge offers a free buffet or freshly-prepared items. There are also a la carte items. such as soup of the day, a bacon or sausage roll, Welsh rarebit or a poached egg with hollandaise sauce, bacon or sausage, tomato, mushroom and buttered spinach.
Entertainment facilities
Whether you want to get competitive with board games or just relax with a drink, you'll find plenty to keep you entertained at No.1 Stansted. The lounge has wireless internet access, so you can surf the web for free on your laptop, or if you want to know what's going on in the world, bury your head in the international newspapers and magazines.
Disabled facilities
The lounge is fully accessible to disabled customers.
Business facilities
The lounge has free wireless internet access, a printer, a fax and a scanner. You can also make free calls to UK landlines.
Check out other pages related to No.1 lounge at Gate 49