Stansted Servisair Lounge
Relax and enjoy your time before your flight
Whatever time of day you're flying, the Servisair lounge at Stansted airport will see you board that plane fed, watered, entertained and relaxed. Whether you're after a continental breakfast before an early morning flight, or an afternoon tea of scones before an evening trip, you'll find it here. Make yourself comfortable on the leather seats and enjoy the free drinks, flatscreen TVs, newspapers and magazines and wifi access.
Reasons to book
• The lounge offers both breakfast and afternoon tea!
• Continental breakfast for early flyers.
• Free alcoholic and hot and cold soft drinks.
• Flatscreen TVs and free newspapers and magazines.
Lounge facilities
The Servisair lounge features Continental breakfast, Afternoon tea, Sweet and savoury snacks, Free alcoholic and soft drinks, Two large flatscreen TVs, Free newspapers and magazines, Wifi access, Flight information screens.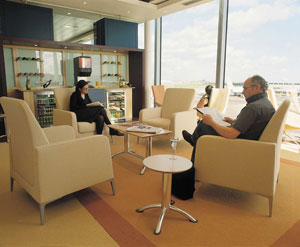 • Children allowed
• Disabled access
• Free drinks
• Free snacks
• Internet
• Fax
• TV
• Wifi
Opening times
Opens at 5.15am
Closes at 9pm
Children permitted
Children of all ages are accepted into the lounge. The lounge requests responsible and sensible behaviour.
Dress code
The lounge has a smart casual dress code (no baseball caps or football shirts, and tailored shorts only). Lounge staff expect reasonable behaviour from all guests, and reserve the right to refuse admission.
Search now for prices and availability...
Food and drink
In the morning, tuck into a continental breakfast and in the afternoon, enjoy a selection of savoury snacks. To drink there are beers, wines and spirits, plus hot and cold soft drinks. All food and drink is free, apart from champagne. While there are alcoholic drinks available, we do advise you to go easy on them!
Entertainment facilities
The lounge has two large flatscreen TVs, a selection of free newspapers and magazines and wifi access.
Disabled facilities
The Servisair lounge is wheelchair-accessible.
Business facilities
The lounge has wifi access and a fax machine.
Check out other pages related to Servisair lounge