Jet Parks Plus Manchester Airport
Budget parking at the airport
3876

Jet Parks Plus

ratings have an average of
Prices from:

£3.75

a day

,

£29.99

- 1 week

Terminal : All terminals
Transfer time : 5-10 mins
Park Mark Award : No
Itís not the fact that Jet Parks Plus is such great value that weíre struggling with. Itís how exactly we explain the fact that its prices are so low. Because itís just five to 10 minutes from all three terminals, has excellent security, and is a good choice for disabled customers thanks to its wheelchair-friendly buses. Think weíll just have to accept that thereís no catch - itís just a top choice all round.


Manchester Jet Parks Plus Early Bird
The early bird certainly catches the worm with our Manchester Jet Parks Plus Early Bird deal. You can save money by booking this package - it just means you can't change or cancel the booking once you've made it.
Reasons to book Jet Parks Plus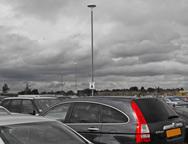 • Value-for-money secured parking with regular transfers, to all terminals, around the clock.
• Just five to 10 minutes from all three terminals.
• Patrolled 24 hours a day and protected by CCTV, barriers and a fence.
• Park your car and keep hold of your keys.
Security at Jet Parks Plus
Jet Parks Plus is manned 24 hours a day and protected by CCTV, entry and exit barriers, floodlighting and 24-hour security patrols. It holds the Park Mark, a national security award for car parks which is accredited by the police.
• ISO 9001 accredited parking facility
• Security barrier for restricted access
• CCTV coverage of the car park
• Full security fencing of the perimeter
• Security lighting over the facility
Jet Parks Plus Transfers
Transfers run every 15 minutes and take 5 to 10 minutes to get to the terminals.
Transfer hours: 24 hours a day.
Arrival and Departure Procedures
Arrival: Drive up to the barrier, which will recognise your number plate and rise automatically. A orange token automatically be issued. Take the token and park in any space.

If a token does not appear in the slot, scan the QR code on your confirmation, wait for a beep and a token should appear. If there is still no token, press the intercom for assistance and quote your reference number.

Do not press the green flashing button as this is for customers who've not booked.
Departure: Drive to the barrier, insert your token and it will lift automatically.

If you've stayed longer than you booked for, you'll be prompted to make payment using the chip and pin device.

If you encounter any problems, press the intercom for help.
Jet Parks Plus

Address

Styal Road,
Manchester
M22 5YA

Longitude -2.24404
Latitude 53.36151