We'll park your car
If you're looking for the easiest and most convenient way to park your car at Birmingham airport, Birmingham airport Meet and Greet parking is ideal. Your car is collected from you outside the terminal when you leave, parked in a secured car park while you're away, and brought back when you return.
Meet and Greet parking is great for disabled travellers who might find getting on and off a transfer bus difficult; travellers with lots of luggage; families with young children; or anyone who just wants their Birmingham airport parking to be as quick and easy as possible.
Why book with HolidayExtras.com?
Meet and Greet parking always needs to be booked in advance - and when you book with us you're sure to get a great deal. Our parking prices are backed by our Best Price Guarantee - find the same package cheaper elsewhere and we'll give it to you for free.
What is Meet and Greet parking?
With Stress-free Meet and Greet parking, you just have to drive to the terminal. A driver will meet you outside the terminal, take your car and park it at Airparks Birmingham, a secured off-airport car park four-and-a-half miles from the terminals. When you return from holiday, he'll bring it back to the airport so you can drive straight home.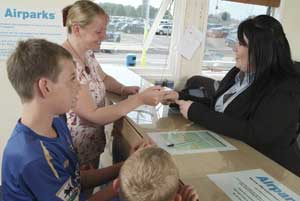 Airparks also offers a one-way Meet and Greet service called Airparks Return Greet. You take your car to the car park and catch the transfer bus to the terminal, but on your way back your car is brought to the terminal for you.
Airparks Birmingham holds the Park Mark security award. The car park is patrolled 24 hours a day and is protected by CCTV, entry and exit barriers, a security fence and lighting.
Upgrades
Once you've selected Stress-free Meet and Greet or Airparks Return Greet, you'll be able to add some of our parking upgrades to your booking. You can get traffic updates by text on the day you travel, book yourself into a Birmingham airport lounge and sort out your holiday insurance and currency. Airparks Return Greet customers can also have their car valeted.