Britannia Stockport Hotel at Manchester Airport
Dialstone Lane, Offerton, Stockport SK2 6AG
Help & support
Our Kent-based support team are friendly, knowledgable and ready to help with a new or existing booking.
Exclusive email offers
Sign up for special offers direct to your inbox
We treat your privacy very seriously!
Britannia Hotel Stockport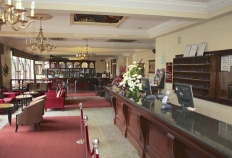 £54
.00*
including 8 days parking
6.5
miles
from the airport
The Britannia Stockport hotel is set in a quiet residential area close to Stockport town centre and is also just under 10 miles from Manchester airport, making this hotel the perfect choice for a peaceful stopover away from the airport noise. With comfortable en-suite rooms, a restaurant, cocktail bar and leisure facilities, the Britannia Stockport has everything you might need from one of our Manchester airport hotels and won't break the bank - far from it.
See more Britannia Stockport customer reviews
Overall rating: 78%by 51 guests
Arrival at the Britannia Stockport
You can check into the hotel from 14:00.

Directions:
- Leave the M60 at junction 27.
- At the roundabout, take the A626 St Mary's Way towards Offerton and Marple.
- Follow the A626 as it turns sharply left and becomes Spring Gardens, then Hall Street.
- Turn right into Banks Lane.
- At the crossroads, go straight on onto Dialstone Lane.
- You will see the hotel on your left.
Checking Out
The latest check-out time at the Britannia Stockport is 11:00.
Getting to and from Manchester airport
On the day of your stay:
1. Check in is from 2pm - your confirmation email will include driving directions and a postcode for sat navs if you need it.
2. Guests can park overnight at the hotel.

Getting from the hotel to the airport:
- When you're ready to go to the airport, head down to reception who will book you a taxi.
- The taxi can be booked for ay time and will take approximately 20 minutes.
- The taxi will cost approximately £20 each way, depending on the company you use.
Britannia Stockport address
Dialstone Lane,
Offerton,
Stockport
SK2 6AG
* Prices quoted are stays on the 23-04-2017, valid as of 22-02-2017
Top