Save up to 60% on airport parking
Cheap airport parking is what Holiday Extras does best. Not only do we offer the best products and service, we're so confident in our prices that we'll give you your airport parking for free if you find the same deal for less. See our Free If offer page for details. We can save you up to 60% on airport car parking, so book early and don't pay high gate prices on the day of your departure.
Holiday Extras is cited on MoneySavingExpert.com as the biggest airport parking price comparison site. We have the widest selection of quality-assured parking services and our position as the UK's number 1 seller, enables us to also offer some of the best prices. For our complete list of all our services please visit our airport parking page.
Car Park

Distance

Transfers

Rating

Price

Airparks Drop And Go 100 Mackadown Lane,Garretts Green,BirminghamB33 0JD Map & Directions Photos Video
4.5 miles
Run every 25 minutes, take 14 minutes and are included in the price

86%

Reviews
£

26.99

*Search
Silver Zone Bristol International Airport Bristol BS48 3DY Map & Directions Photos
On-Airport
Run every 20 minutes, take 5 and are included in the price

90%

Reviews
£

37.99

*Search
Airparks Park And Ride Port Road Rhoose Vale of Glamorgan CF62 3BT (Next to Sky Plaza hotel) Map & Directions Photos
0.7 miles
Takes 10 minutes, run every 20 minutes

88%

Reviews
Search
Purple Parking (formerly Airparks) Lowfield Heath Road,Crawley, West Sussex RH11 0QB

All terminals

Map & Directions Photos Video
2.4 miles
Run every 20 minutes, 24 hours a day and are included in the price

86%

Reviews
£

38.99

*Search
Summer Special Larkins Road,Gatwick,West Sussex,RH6 0RN

North terminal

Map & Directions Photos Video
1.4 miles
Run every 10 minutes, take 10 minutes and are included in the price

88%

Reviews
£

44.00

*Search
Airparks Drop And Go Grove Road, Slip End LU1 4BZ Map & Directions Photos Video
3.1 miles
Run every 20 minutes, take 13 minutes and are included in the price

88%

Reviews
£

29.99

*Search
Long Stay Long Stay Car Park, Stansted airport, Essex CM24 1SF Map & Directions Photos Video
On-Airport
Run every 15 minutes, take 10 minutes and are included in the price

90%

Reviews
£

40.79

*Search
Our airport parking has been rated 90% by 509,426 Holiday Extras customers.
Here is an example of some great value airport parking at the UK's busiest airports:
Gatwick Maple Manor Meet and Greet - the cheapest personal parking service available at London Gatwick Airport.
Heathrow Economy Parking - serves all terminals and offers cheap parking with exceptional service.
Manchester Airparks Services - one of the cheapest parking services at Manchester with a reputation for great customer care.
Stansted Long Stay Parking - our best selling car park at Stansted airport, it is also the cheapest parking at Stansted.
Airparks
Airparks are one of the companies most renowned for great value airport parking. They have car parks at 10 UK airports. Offering a reliable and professional service, Airparks compete to provide the cheapest airport parking available at each location. The transfer service is always frequent and the facility security is similarly excellent, so if you are looking for cheap airport parking, Airparks is a name definitely worth your attention. Check out our pages on Airparks at each of the airports below: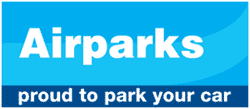 Cheap Airport Parking Tips
There are a few things that help to consider when searching for cheap airport parking:
1.Book early: The most expensive course of action is to arrive at the airport and pay the car park's gate price. Booking in advance on-line is always cheaper and often the earlier you book the better.
2.Compare parking providers: Take a moment to compare the prices being offered by different providers. We have a comparison table where you can see together all the best options available for the dates you request.
3.Off-airport: Companies usually charge less if they are located off-airport. If a car park is outside the airport perimeter they are classed as off-airport and despite the transfer times often not being much greater, the price is cheaper than on-airport alternatives.
4.Offers: There are lots of offers run throughout the year with special discounts ; it's just a matter of keeping an eye open for them. We advertise offers on our website but the best way to stay informed is by signing up for our newsletter.
5.Airport hotel parking: Quite often the cheapest parking is when bought as a package with a hotel room. Airport hotel parking is just as convenient and many hotels actually use the secured car parks you would book independently. A hotel stay is a great way to avoid the hassles of an early or late flight time.