Early booking deals from

£6.25

per day or

£49.99

per week.
Our one tip for anyone looking for cheap Heathrow parking? Book it in advance - because if you turn up at the airport without having booked your Heathrow parking, cheap goes out of the window. You'll always pay less if you book with us - do a quick search and you'll see the variety of cheap Heathrow car parks we have to offer.
All our Heathrow car parks are fully secured and most of them hold the Park Mark, a national security award accredited by the Association of Chief Police Officers. Transfers to and from the terminals 24 hours a day are always included in the price.
The cheapest parking at Heathrow
Prices fluctuate depending upon availability so it is not possible to pin-point the cheapest car park at Heathrow at any one time but amongst the cheapest are usually 'Drop and Go' and 'Purple Parking'.
Drop and Go serves terminal 5. It's just outside the airport grounds - transfers take about 10 minutes and run on demand. The car park is manned 24 hours a day and protected by CCTV, barriers, a fence and lighting.
Purple Parking serves all four terminals and has the added advantage of being a multi-storey, so your car will be kept under cover. It holds the Park Mark, and is protected by CCTV, a fence, barriers and lighting and patrolled 24 hours a day. Transfers to the airport take about 10 minutes and run on demand.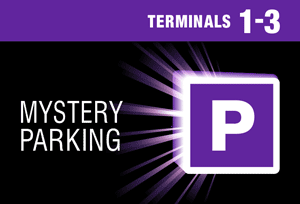 SuperSaver, Leisure Special & Mystery Parking
We also offer cheap parking at Heathrow in the form of special offers which are usually available for bookings more than 30 days in advance. We have special deals for the on-airport Long Stay and Business Parking car parks. They're cheaper than our normal rates - but once you've made your booking, you can't change it, or get a refund if you cancel.
Our Mystery airport parking is a service from our usual selection of excellent parking options, including the official airport car parks, but we allocate bookings according to availability at a reduced price. We notify you exactly which service we have chosen for you after payment.
You will find the offers available to you once you have entered your dates and made a search.
Heathrow parking upgrades
Our low prices don't just stop at parking. We know many of our customers may need, or just prefer, to stay close to the airport the night before they fly, that's why Holiday Extras have gone the extra mile and sourced loads of cheap Heathrow parking and hotel deals combined as one package. Booking your airport parking and hotel at Heathrow together can see even bigger savings than you thought possible, so get searching now.
Once you've booked your cheap Heathrow airport parking with us, we'll help you save even more money with our cheap Heathrow parking upgrades. We offer great deals on Heathrow airport lounges, foreign currency and, in particular, holiday insurance - we'll cover everyone on your Holiday Extras booking, and our price will be the same, no matter how many of you there are. And booking cheap airport parking at Heathrow could even stop you missing your flight thanks to our text message service. We'll text you on the day you're travelling to the airport with traffic updates so you can avoid the jams - for an incredible £1.
Customer Reviews
Yes everything was fine. The twin room was a bit small.

Mr Boafo, 21 Jul, 2016 (4 out of 5)
Yes. Would have given a better score but was pretty basic. Staff helpful and all went OK. Excellent information provided before arrival.

Ms Radford, 19 Jul, 2016 (4 out of 5)
Excellent service. great value.

Mr Mainwaring, 12 Jul, 2016 (5 out of 5)
great value and good service

Mr Rees, 20 Jun, 2016 (5 out of 5)
Arrive at the airport in style with our cheap Meet and Greet offers
Meet and Greet services are a great way to start your holiday with ease. They add a little luxury to your airport experience without the staggering cost you'd expect. With Holiday Extras it's not only Park and Ride services that offer cheap Heathrow parking, Meet and Greet can be extremely cheap too, from as little as £12.11 a day in fact! Now we have your attention don't we!
The best way to find the cheapest Meet and Greet parking at Heathrow is to book as far in advance as you can. The earlier you book, the more availability we will have, therefore the less the price is likely to be.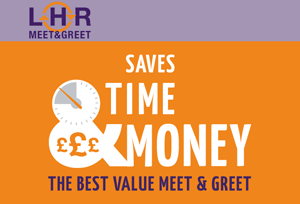 Meet and Greet packages guarantee a completely effortless start and finish to your holiday. The procedures are simple and convenient; drive to the airport, pull up outside of the terminal, unload and leave the hard work of finding a space down to your professional driver. Upon your return, when you're tired and want to get home, you car will be waiting for you outside of the terminal, ready for you to hop in and drive home. It's an ideal choice if you have a lot of luggage or are travelling with young children, elderly or disabled passengers as there are no transfer buses to board.
Holiday Extras offer cheap Meet and Greet Heathrow parking at all 5 terminals. Official Valet Parking at Heathrow is extremely competitively priced compared to our other products. Your chauffeur will meet you at your required terminal, check over your car and then take it to their approved, secure car park whilst you are free to skip into the terminal to check-in. Official Meet and Greet also returns fantastic cheap prices, making it excellent value for money. The procedure is also very quick, ideal for those who may be running tight on time.
Save on your parking at all Heathrow terminals
Plentiful Parking and cheap prices at Terminal 1
There is no shortage of cheap parking at Heathrow's Terminal 1, you can choose between official car parks, Park and Ride and Meet and Greet services, all at prices that are kind on your pocket.
The name might suggest that it would be expensive, however Purple Parking Business is for all travellers and all budgets. It is one of our most competitively priced products. The service is second to none, providing business class quality for economy prices.
Many people assume Meet and Greet will be an expense they could do without, however our Official Meet and Greet package offers cheap parking at Terminal 1, with the added convenience of pulling up outside of the terminal and letting a professional driver parking for you.
Our Park and Ride packages cannot be beaten. If it's cheap prices you're after, it's cheap prices you'll get. Terminal 1 has a few options to choose form, Park Wise being the one to offer the best price. The transfers can take as little as 6 minutes, so it is an option worth considering.
Book early to bag a bargain at Terminal 2
Parking at Terminal 2 is in abundance you can rest assured finding a cheap spot won't be hard to do. Holiday Extras have great deals waiting to be snapped up. The earlier you book, the cheaper the price is going to be, so as soon as your flight is confirmed you can find parking at terminal 2 that suits you and your fellow travellers best.
Heathrow's newest terminal, Terminal 2, has a lot of choices available, all with competitive prices. Official Valet will save you time and the hassle of having to jump on a transfer bus, but is also considerate of your pre-holiday budget.
Business Parking is only one mile from the terminal, so you get the benefits of a short transfer whilst enjoying the cheap prices.
Quick and easy to find a great deal at Terminal Parking 3
Using Holiday Extras quick and easy search will help you decide between our cheap parking at Heathrow Terminal 3. The options are sure to cover every one of our customers requirements, whether you want to park on-site, you'd prefer someone to park for you or you're happy to take a transfer, Terminal 3 has it all and at low prices.
Park Wise is always a hit with customers. Short transfers, as short as 10 minutes, means once you have parked it isn't long before you're at the airport enjoying your first pre-holiday drink.
Whilst Heathrow's Business Parking might not be the cheapest of your results, it is one of the closest car parks to Terminal 3 so can save you time on your arrival and departure to Heathrow.
Terminal 4's cheap deals are just a click away
The parking available at Terminal 4 is not only cheap but also superb quality. There are numerous products to choose from depending on what it is you are after.
Good To Go is by far the cheapest Heathrow parking, it serves Terminal 5 only and can get you from the car park to the terminal doors inside 10 minutes. The price and distance is enough alone to make this a popular option, knowing the security features are stringent and the staff are friendly and helpful is just an added bonus.
on-site Long Stay car parking is available at Terminal 4, it is much, much cheaper when you book in advance with Holiday Extras compared to the gate price if you were just to turn up. It is a comforting thought for many to know their car is parked on-site in one of Heathrow's Official car parks.
Safe, secure and seriously cheap Terminal 5 parking
Choosing parking at Heathrow's Terminal 5 is easy because there's something for everybody. The prices are cheap and the services, as with all of our products, are approved and secure, so you will be guaranteed peace of mind.
Purple Parking Business is always a favourite with customers travelling for business and leisure alike. It only takes 9 minutes to get to the terminal in one of their comfortable transfer buses.
The Heathrow Long Stay car park is ideal for any one who wishes to park within the airport grounds, it is cheaper than some of the other on-site parking options as a transfer is still required, however, fear not, it only takes 5 minutes from the car park to the terminal.