Gatwick undercover parking
Covered parking at Gatwick
Gatwick undercover parking - or covered parking - is the perfect choice when it comes to keeping your car protected from the elements while you're on holiday. Instead of exposing your car to wind and rain, it can be kept safe and covered for the duration of your trip - ideal if you're looking for peace of mind.
Undercover Gatwick parking is the same concept as keeping your car in a garage. Kept in a secured compound, your car will be stored within a multi-storey car park under one of the levels. This means that your car will be kept free from snow, rain, sleet, hail and more. All the car parks we sell at Gatwick are fully secured, so your car's protected from more than just the hazards it can encounter outside. If you want to keep your car safe, as well as pristine, undercover Gatwick parking is the perfect option.
What covered parking at Gatwick is available?
There are two covered Gatwick parking options available. If you're looking for the lowest priced option, Airparks Gatwick is a fully-secured off-airport car park offering covered parking in a multi-storey area. If you're looking for something closer to the terminals, the on-airport Gatwick Long Stay Plus car park has limited availability. Please note that this type of parking cannot be guaranteed and must be discussed on the day of arrival.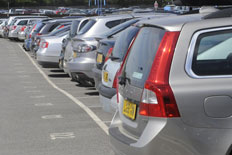 Why should I pre-book Gatwick covered parking?
If getting the cheapest deal on Gatwick airport parking is a priority, one of our top tips is to always pre-book. Why? Booking in advance is the best way to make guaranteed savings on the standard price. That's because availability affects how much it'll cost. Leaving your booking until the last minute will mean it's more expensive. A lot of people still book their holiday well in advance, but those extras needed for a holiday tend to get left until the last minute. That's why being proactive is the key to getting Gatwick undercover airport parking at a great price.