Gatwick Hilton
The only way to sleep at the South terminal…
The Hilton Gatwick is one of our most popular hotels. In fact, our customers love it so much that it's the only hotel we sell at the South terminal. Together, Holiday Extras and the Gatwick Hilton have been helping guests start their holiday in style for more than thirty years.
What's more, we have created some exclusive room and parking packages for you. You can book Meet and Greet or do-it-yourself parking at the same time as you book your room. It's only around £35 more to include parking - that's a massive saving compared to booking your room and parking separately and definitely worth doing.
We sent our hotel reviewer, Kate Jarvis, to find out why it's one of our customers' favourite hotels and to make sure it's still worthy of the accolade. Check out her video review:
Location
Wake up seconds from airport check-in…
The Hilton hotel at Gatwick airport is the only hotel we sell at the South terminal. Connected by a covered walkway, the main South terminal building is just a three-minute stroll from the hotel.
Key Facts:
Hilton London Gatwick

-

South Terminal Gatwick Airport

,

Gatwick

,

West Sussex

,

RH6 0LL

.
South terminal: 3 minutes
North terminal: 5 minutes
Train station: 6 minutes
Kate's thoughts:
For me the location is the absolute best thing about this hotel. The Hilton does exactly what an airport hotel should do: it completely erases that "will I make my flight?" anxiety. Going to sleep knowing your airline check-in desk is right next door and less than five minutes away is enough to have you sleeping like a baby. Location is definitely the hotel's ace card, but it's what keeps the Hilton on the pricier side.
Waking up at the South terminal is certainly the most important benefit of the Hilton's location, but it's not the only one. It's just five minutes to the North terminal by a free monorail and Gatwick's train station, in the South terminal, can get you to London in just 30 minutes. If the Hilton's facilities don't hit the mark, you have the use of everything at the terminal, and all that the capital has to offer is just a short journey away.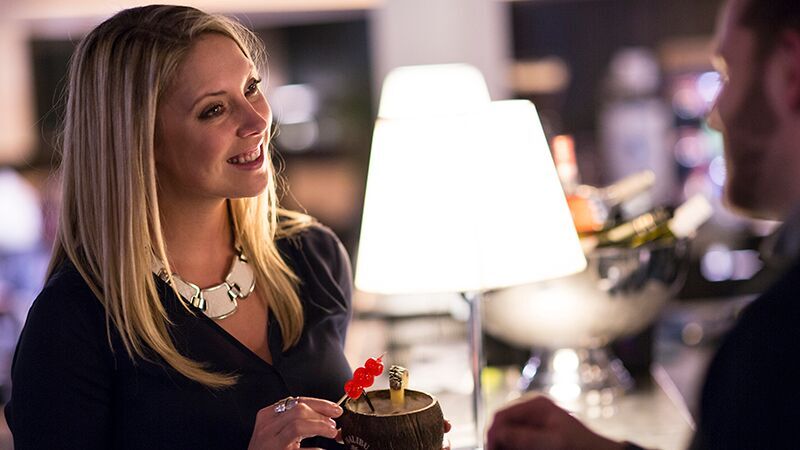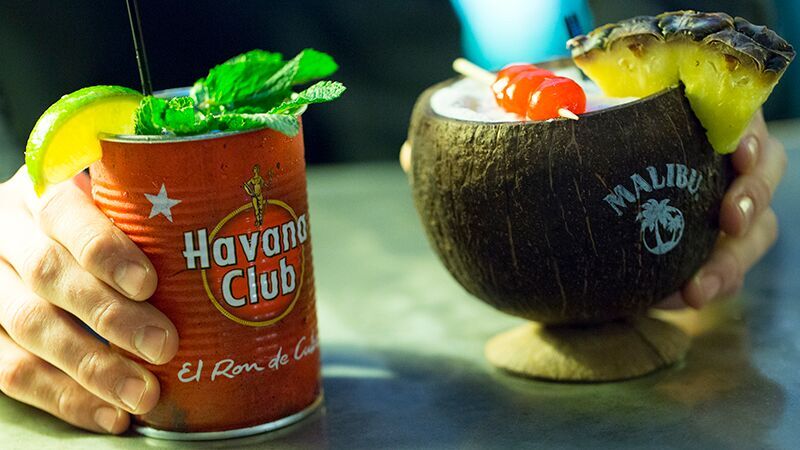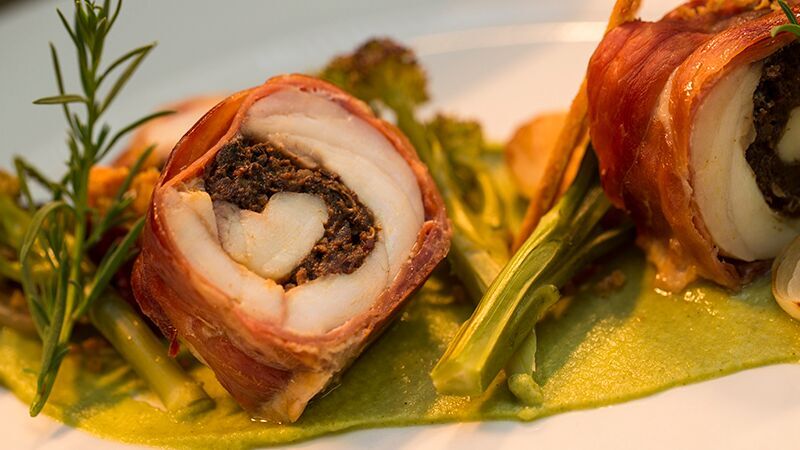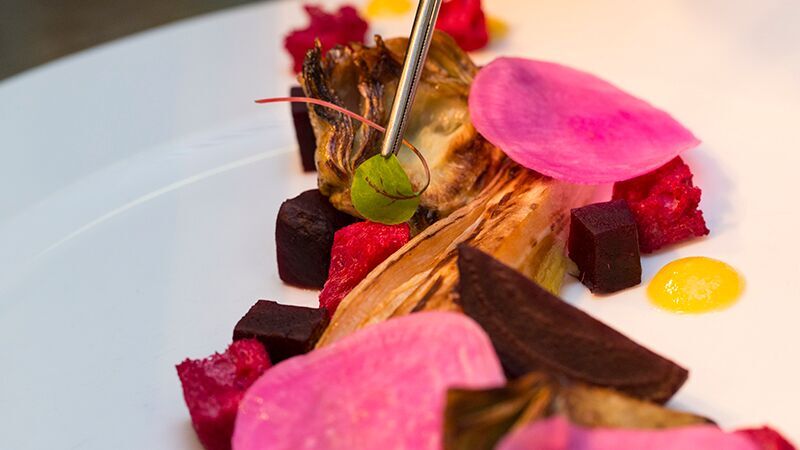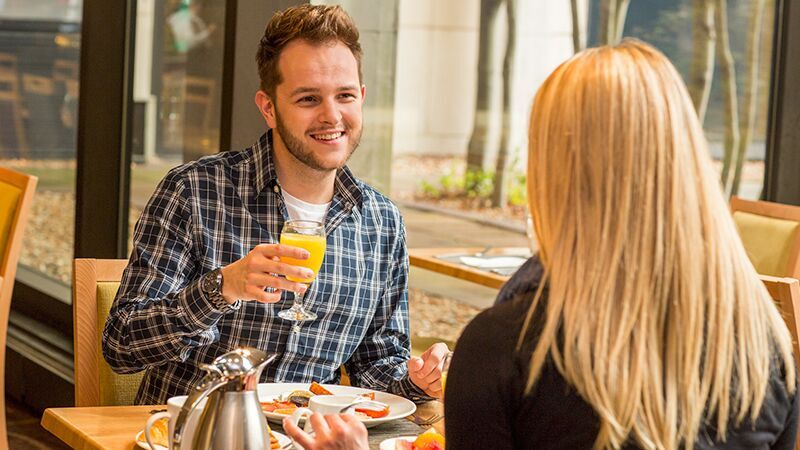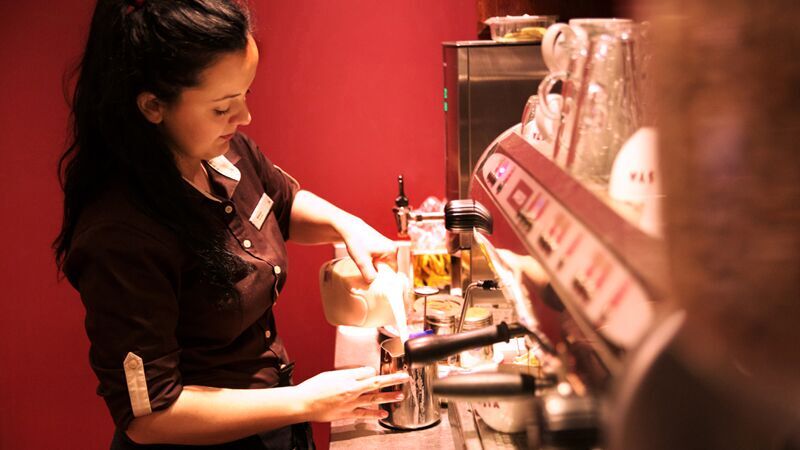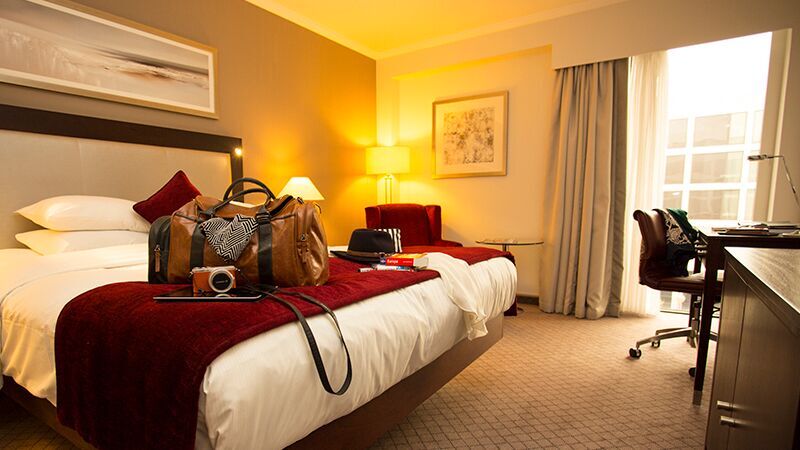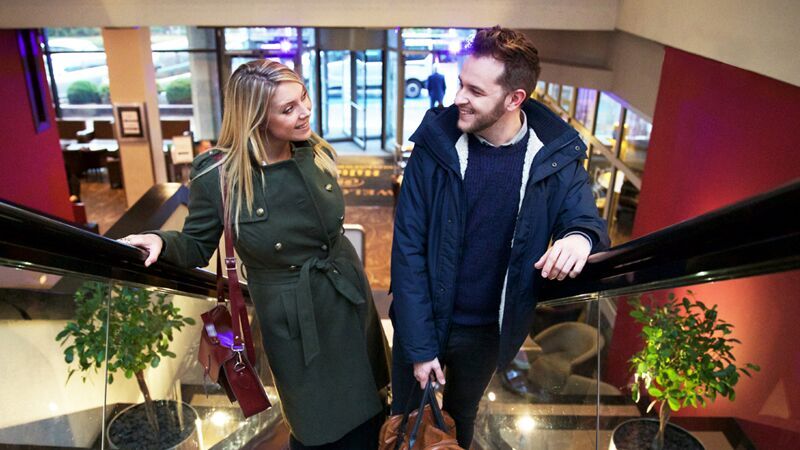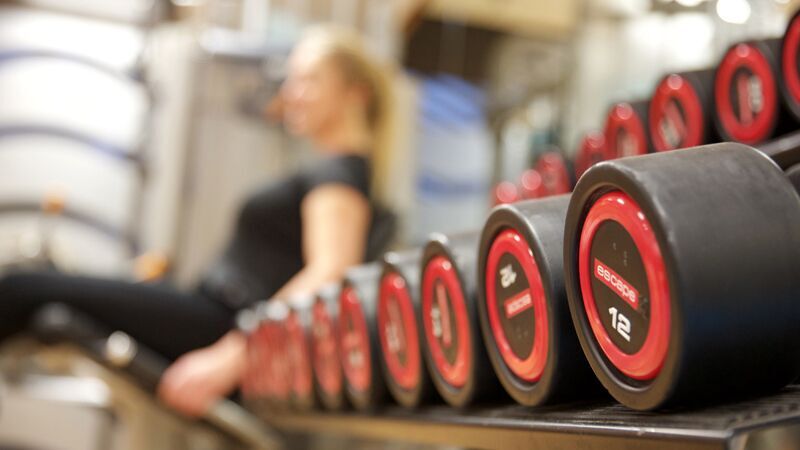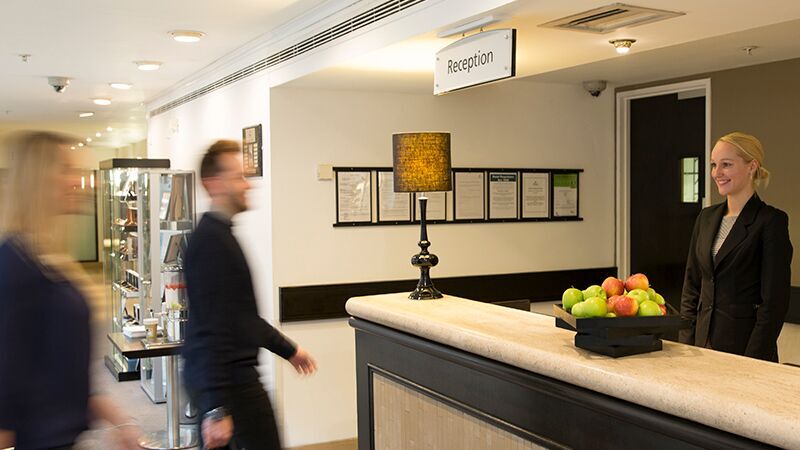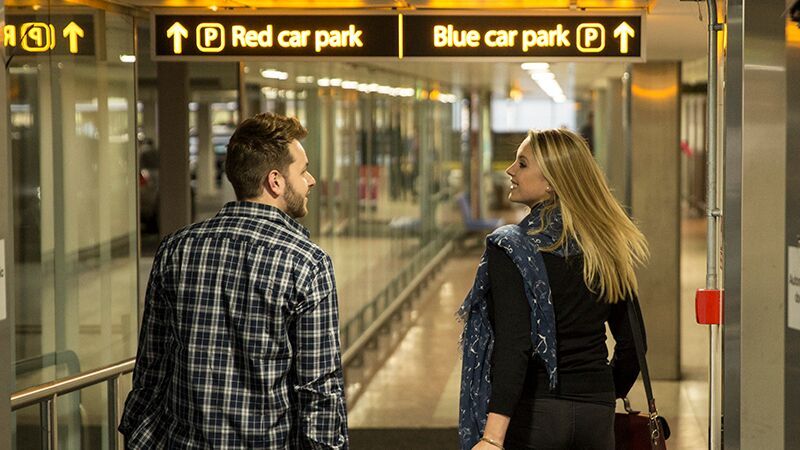 Rooms
Spacious rooms with sumptuous beds…
There are 821 guest bedrooms and each has a large, sound-proofed window, air-conditioning, a 42" TV, a safe, a desk with chair and a lounge chair. There's tea and coffee and an iron and board, and the minibar and wifi are chargeable extras. Each room is en suite with a shower over the bath and La Source toiletries.
Key Facts:
Check-in: 15:00
Check-out: 12:00
Double room: large double bed
Triple room: choose between a double and a single or three single beds
Quad (or family of four) room: large double bed and bunkbeds.
Family of five room: large double bed, two single beds and a single rollaway bed.
Kate's thoughts:
There are two tales to tell when it comes to the bedrooms: one is of bright, breezy, newly-refurbished rooms, the other is of the older, tried-and-tested rooms that are to be refurbished soon, so request a refurbished room when you check in – they may not be able to accommodate you but it's worth a try. The older rooms are still sound-proofed with gorgeously comfy Hilton beds, but the plush new rooms mean starting your holiday in a slightly more luxurious setting. Also, the new rooms have power sockets next to the beds – who doesn't charge their phone while they sleep?
I found the rooms nearest reception to be the best. Not because of the decor or the beds, but because the Hilton is a big hotel and the shorter the distance to your room the better, in my opinion. The TV is good and the bathrooms are a nice size, the minibar is a typically over-priced optional extra and the room service tray charge is £5, which is about average for a hotel of this grade.
There's only one real snag when it comes to the rooms and that's the wifi: at £15 per room, it's expensive by anyone's standards, so the free wifi in the lobby, bars and restaurants makes a room nearer reception an increasingly attractive proposition – after all, who wants a five-minute trudge to find some wifi?
Restaurants
Polish off a culinary masterpiece…
There are two restaurants in the hotel. Amy's Restaurant is an à la carte, fine-dining restaurant serving modern takes on international classics every evening, with a regularly updated menu and premium wine list. The Garden Restaurant offers a nightly three-course buffet and serves an array of seafood, salad and soups for starters, a carvery and a mix of Mediterranean and Asian dishes for main with a sumptuous selection of sweet treats for afters. The Hilton's famous buffet breakfast is also served in the Garden Restaurant and there's also a small a la carte menu.
Key Facts:
Amy's Restaurant: open from 18:00 to 22:45

Garden Restaurant: open from 05:30 to 22:30
Kate's thoughts:
I tried out all the food options at the Hilton (I know, right? The horror) and would say that it's all high quality, thoughtfully prepared food. It's also on the pricey side, so if value for money is important to you at meal times then the buffet in the Garden Restaurant may be the right choice for you. There is an abundance of food from all corners of the globe and you can gorge on as much – or as little – as you like. If you're going for a buffet it's best to book in advance with Holiday Extras, as you'll save more than 10% on the hotel's price. Obviously, it being a buffet, you'll be serving yourself, but there are plenty of friendly staff around to look after your drink orders and quickly clear empty plates away.
Amy's Restaurant is fancy: it's all plush and stylish seating areas with high-gloss, dark-wood tables. The seasonal menu has a mouthwatering selection of sophisticated dishes – they even have mashed potato with truffle in (you know the menu's posh when they put truffle in the mash). I have to say the food is absolutely delicious and a real treat – perfect if you're celebrating.
If you're after something lighter to accompany a couple of drinks, I recommend the tapas in Amy's Bar – it's reasonably priced and very tasty.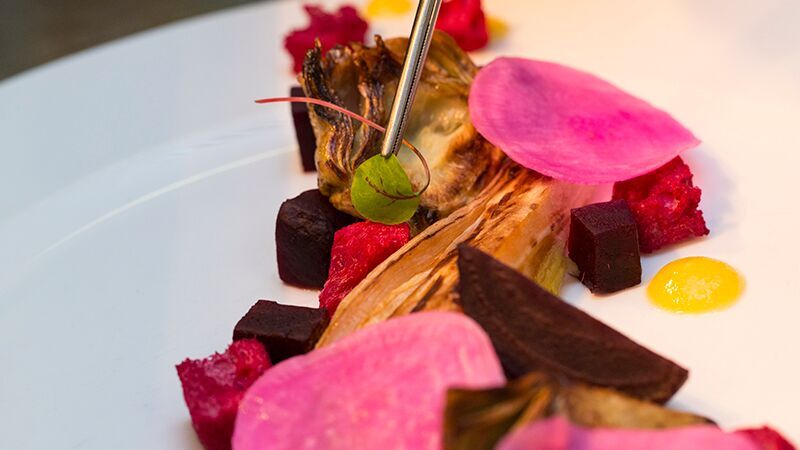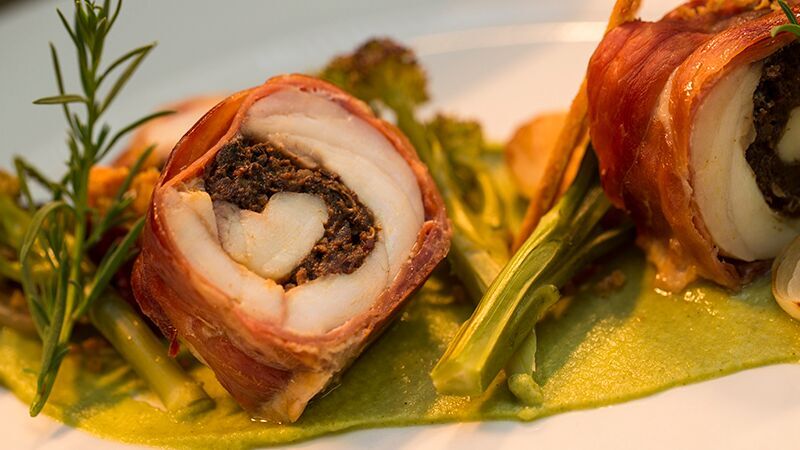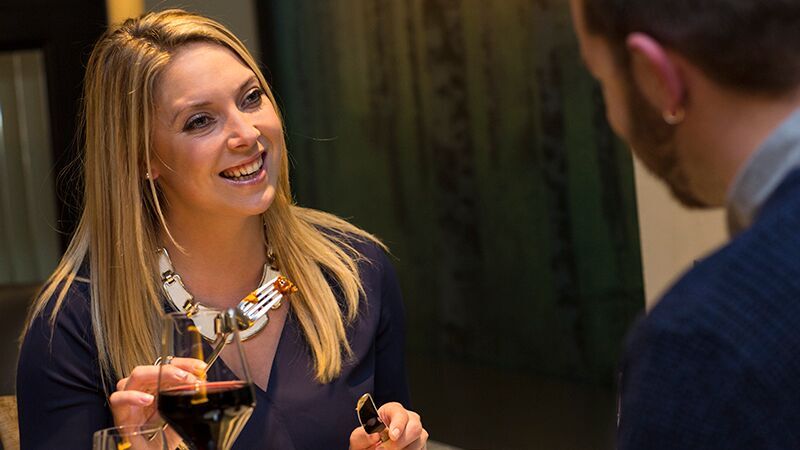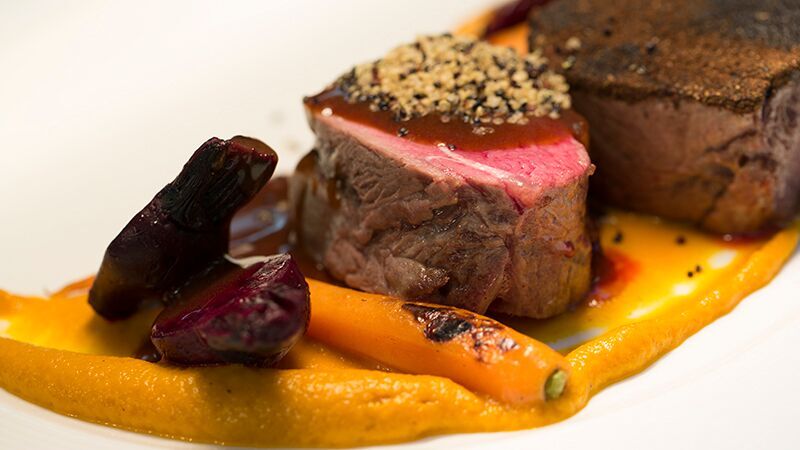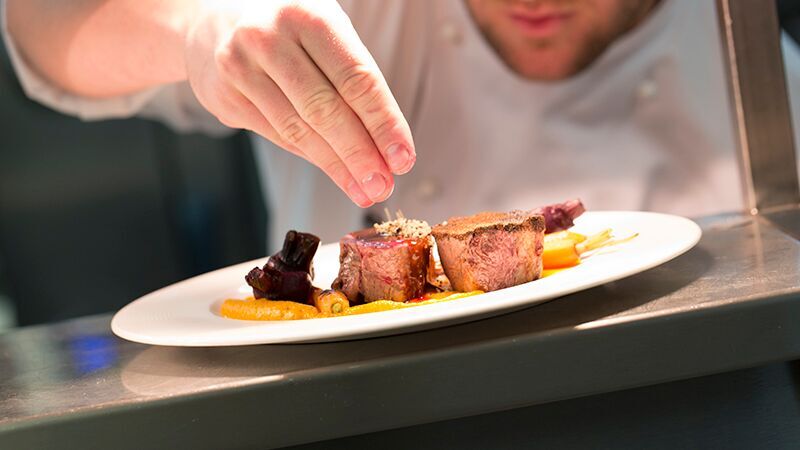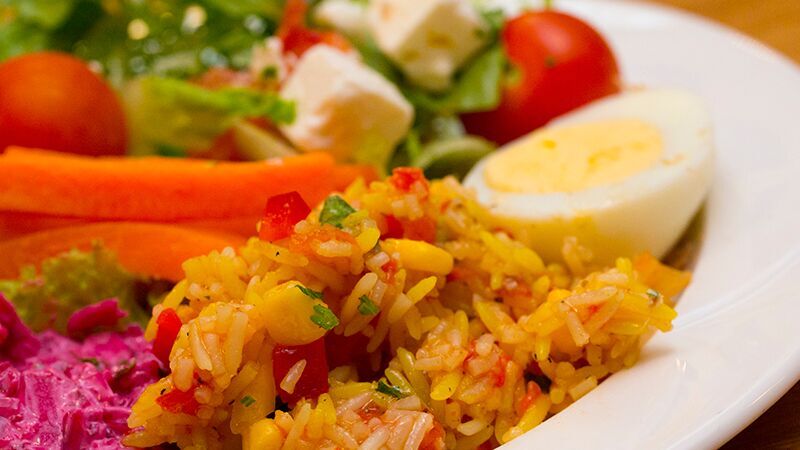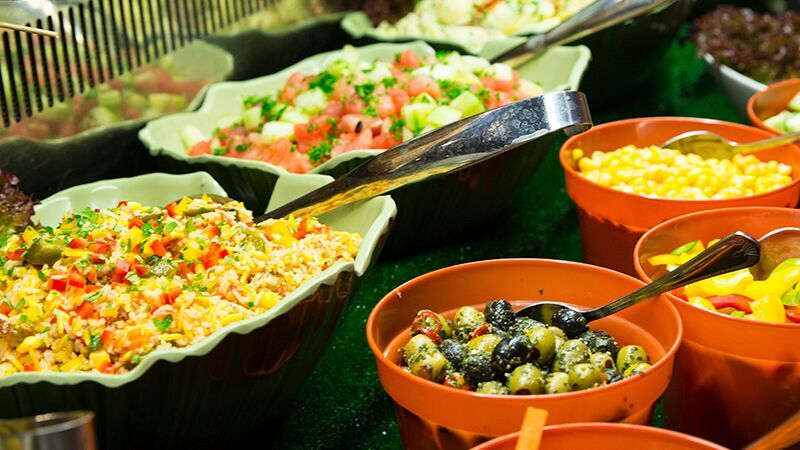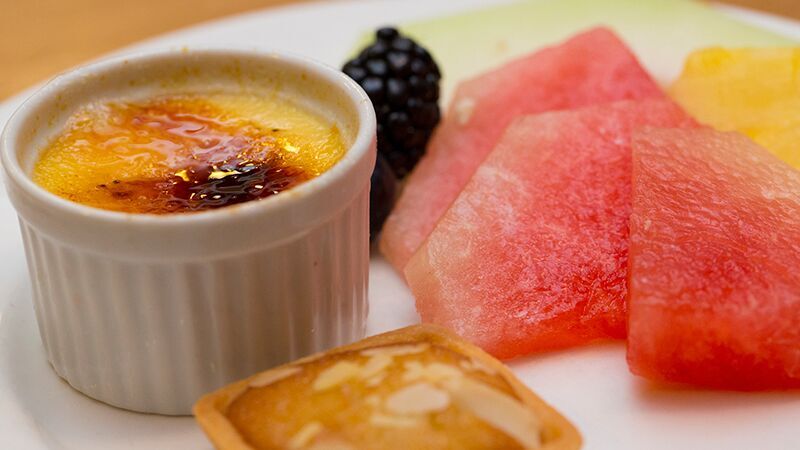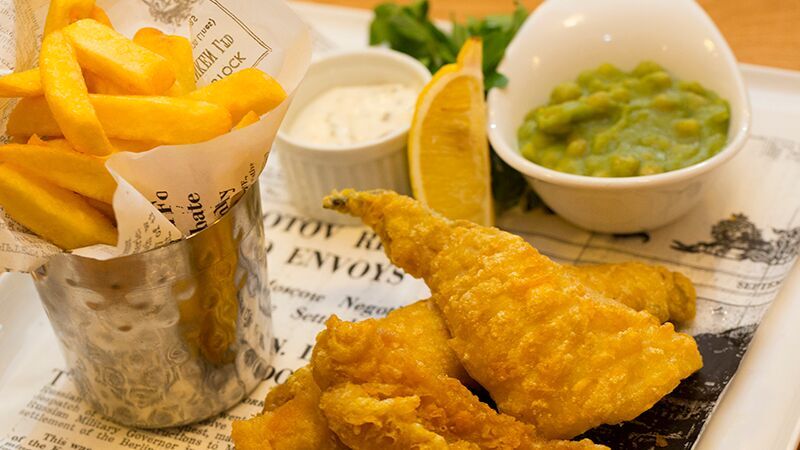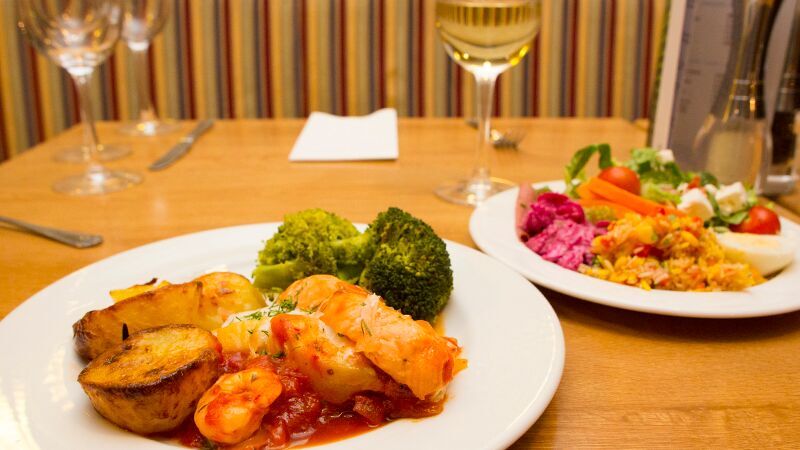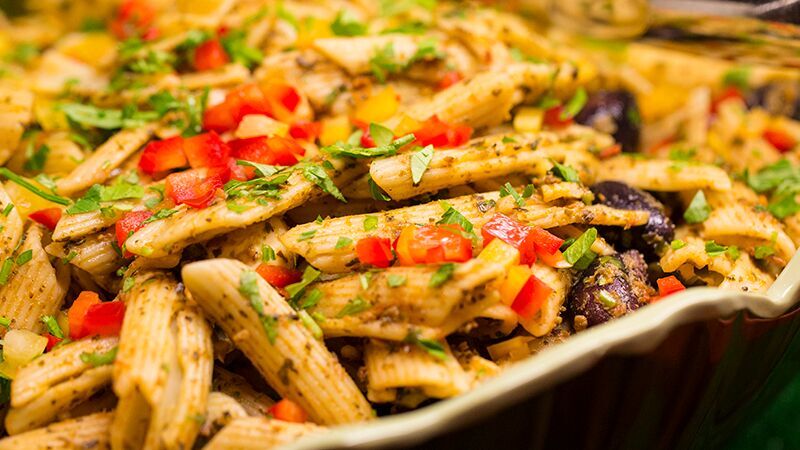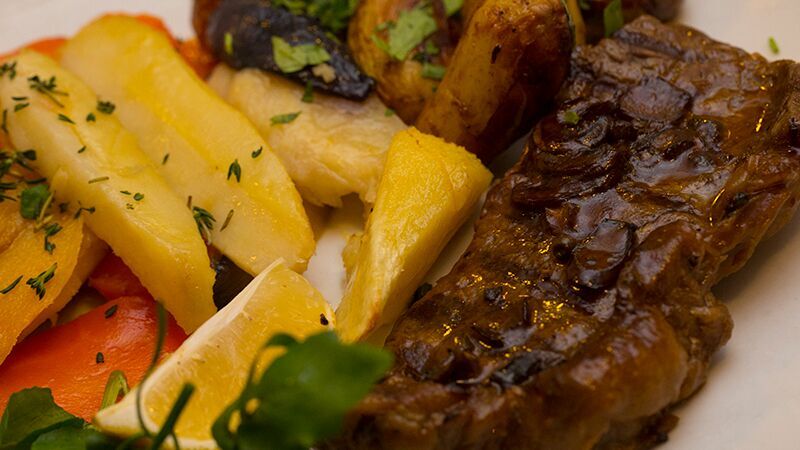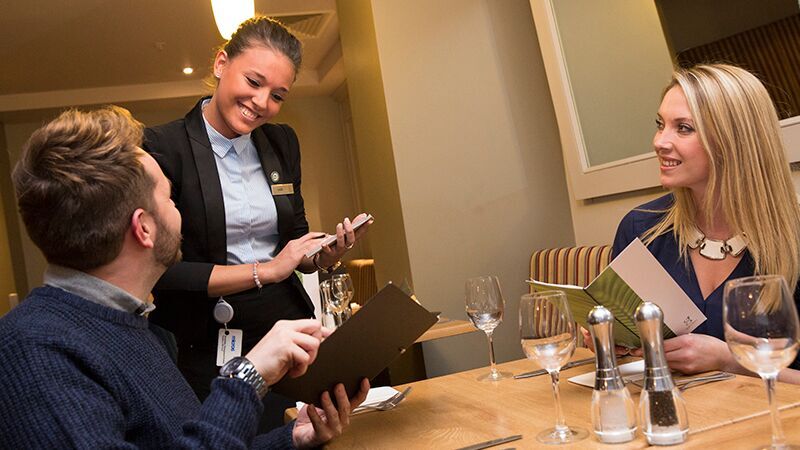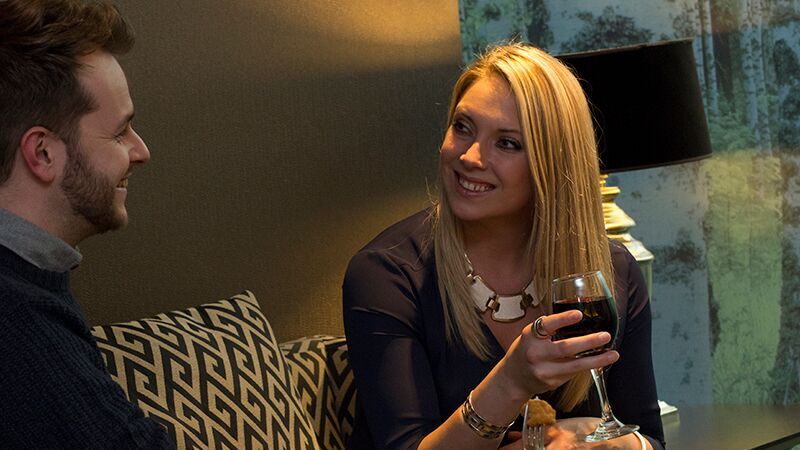 Breakfast
A breakfast of champions…
Key Facts:
Breakfast is served from 05:00 to 11:00
Breakfast is a thing of beauty. I'd get up an hour earlier just to make the most of it. They have every breakfast item, everything I could think of eating in the morning anyway. There's English breakfast, American breakfast, continental breakfast, eggs made to order, cold meats, cheeses, fresh fruit salads, a dozen different types of cereal and toast and I've never seen so many pots of jam in one place! Make sure you pre-book breakfast with Holiday Extras – you'll save almost 30% on the hotel price.
Breakfast is a set price, so if all you can manage is a cup of coffee and a croissant you'll be better off heading to Costa Coffee in the hotel lobby, where you can grab a coffee and a pastry for just over a fiver.
Bar
When it's cocktails o'clock…
The Hilton London Gatwick has three bars: Charlie Fry's Sports Bar, which is on the ground floor of the hotel and has a pub-like atmosphere; Amy's, which is a wine and cocktail bar right next door to Amy's restaurant, making it the perfect place for a pre-dinner cocktail; and a Costa Coffee bar, which doesn't sell alcohol, but promises true Italian hospitality and the finest coffee.
Key Facts:
Amy's Bar: open from 11:00 to 02:00
Charlie Fry's Sports Bar: open from 17:00 to 23:00
Costa Coffee: open from 05:00 to 19:00 (closes at 14:00 on Sundays)
Kate's thoughts:
Oh my goodness me! The cocktails in Amy's, The Las Americas-themed bar are amazing. I recommend the mojito – served in a Havana Club tin with plenty of ice and mint – or one of Amy's signature cocktails like their El Diablo – tequila, lime, blackcurrant liqueur and ginger beer – which certainly packs a punch. The staff were genuinely helpful and friendly, and one barman even gave me a free sample of an Amaretto cocktail he was creating.
Wines are in-keeping with the Las Americas theme, serving Chardonnay and Merlot from Chile, plus Pommery Champagne from Reims. Nibbles carry the Latino fusion further with choripan (chorizo sliders with relish), chicharrones (fancy pork scratchings) and tortilla chips.
The bar menu is fancy pub style – think salads on square plates, chips in paper cones, doorstop sandwiches. All delicious and all very filling, but maybe a tiny bit pretentious. The kitchen also catered very well for gluten and dairy free.
Charlie Fry's is like your local pub - just slightly more expensive... The decor is a bit dark and dingy, with faux-leather seats and sofas throughout. There are plenty of daily papers to catch up on the news and sports showing on the big screens in the background. If you like a chilled-out beer in a relaxed environment, Charlie Fry's is probably a better choice than Amy's.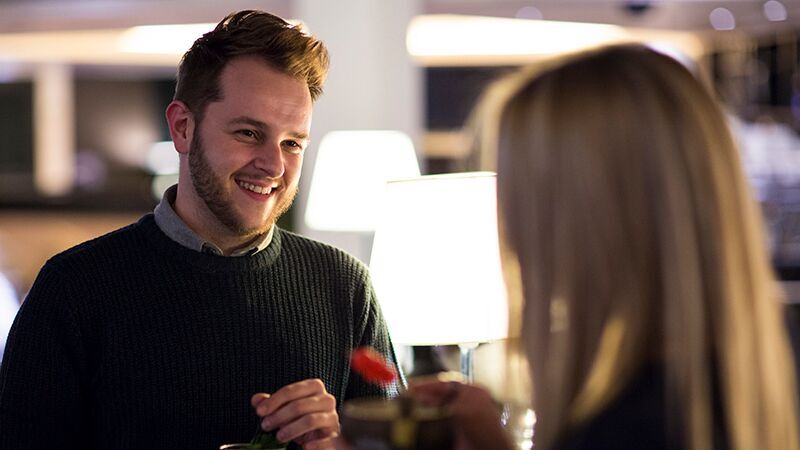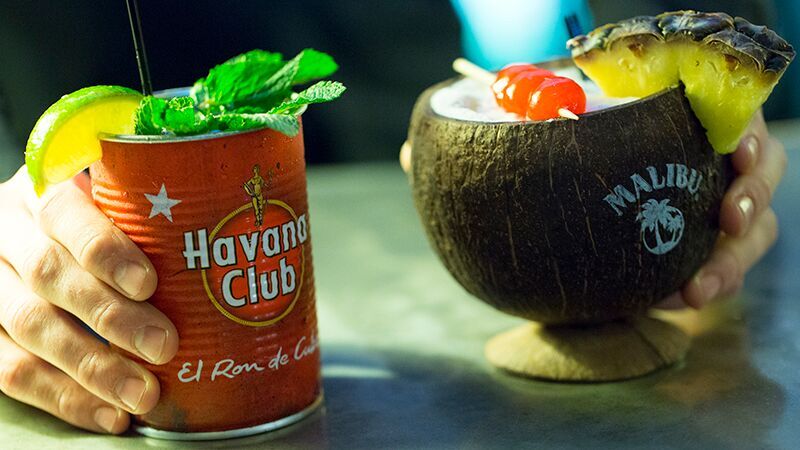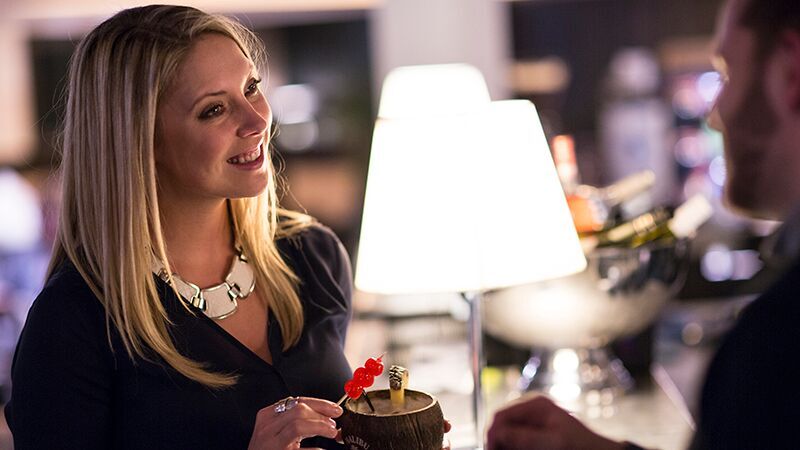 Parking
Effortless parking with peace of mind…
You've got two options for parking your car when you stay at the Hilton: dropping it off at our great value off-airport car parks or having your car collected and returned to the hotel.
Your simplest and most convenient option if you're parking at Gatwick airport is to let someone else do it for you! When you arrive, one of Maple Manor's chauffeurs will collect your car from you outside the hotel. They'll take it to Maple Manor's secured car park, where it will stay while you're away. You're then free to check into the hotel and start your holiday. At the end of your holiday, Maple Manor will bring your car to the terminal for you.
The lowest-priced option is to combine your stay at the Hilton with parking at Purple Parking, a secured, off-airport car park just three miles from Gatwick. Again, it's a convenient option - you'll take your car to Purple Parking on your way to the Hilton, and Purple Parking will take you to the South terminal. When you come back from holiday, Purple Parking will pick you up from the South terminal and take you back to the car park so you can pick up your car. Their bus runs every 20 minutes.
Kate's thoughts:
Both of the parking choices are pretty seamless. For me, convenience is king, so I'd go for the ease of Maple Manor every time.
Customer Reviews
What our customers think…
Location
★★★★★
---
Our customers want a hotel with a location that is 'excellent', 'perfect' and 'convenient' – the Hilton at Gatwick fits the bill perfectly so we've given it the highest rating: 5 stars!
"Excellent hotel and location. Nice buffet meal. Holiday extras did everything to help make the start of our holiday relaxing and enjoyable"
Rooms
★★★
---
Comfort and convenience is important to our customers when it comes to their bedroom. Even though some rooms might be slightly outdated, they still provide a good, comfortable night's sleep.
"Easy booking, friendly check-in and good room."
Service
★★★★
---
Our customers have told us that their hotel experiences are so much more enjoyable when staff are friendly and helpful. Based on their reviews we've given the Gatwick Hilton a 4 star rating.
"Hotel was very comfortable and convenient. Service was very good."
Food
★★★★
---
Breakfast is really something to shout about, according to our customers. The food is quite pricey, but there is variety and quality in every meal.
"Room was very spacious, buffet dinner perfect with plenty of choice. A good night's sleep and an excellent breakfast - the perfect start to our family holiday."
See more reviews:
See more Gatwick Hilton customer reviews
Overall rating: 88% by 2233 guests
Prices starting from just £67.20 per night
Comparison
Hilton Gatwick Price Comparison
We want to give you the facts about the products we sell so you can book with peace of mind.
This image shows that the Gatwick Hilton has remained above the market average price over the last four years, but has stayed at a consistent average, increasing by just £3 since 2011. Compare that to the Sofitel, our equivalent hotel at the North terminal, which has increased in price over the years that the Hilton has maintained theirs.
Keeping prices consistent is just one of the ways we make sure that the Hilton remains a great value choice. Their commitment to excellent customer service and the quality of their rooms, especially those that have been refurbished, are more reasons why customers keep paying their slightly higher prices.
Most importantly, the on-airport location of the Gatwick Hilton is what keeps it's edge over other hotels we sell around the area. It's just a three-minute walk to Departures and it's undercover, which means more sleep and less hassle before you fly.
Never Beaten on Price Guarantee
Found it cheaper elsewhere? We'll match the price!
We're so sure you won't find a better deal for the Gatwick Hilton, we'll match the price, should you find it cheaper elsewhere. Check out the Never Beaten on Price guarantee page for more details.