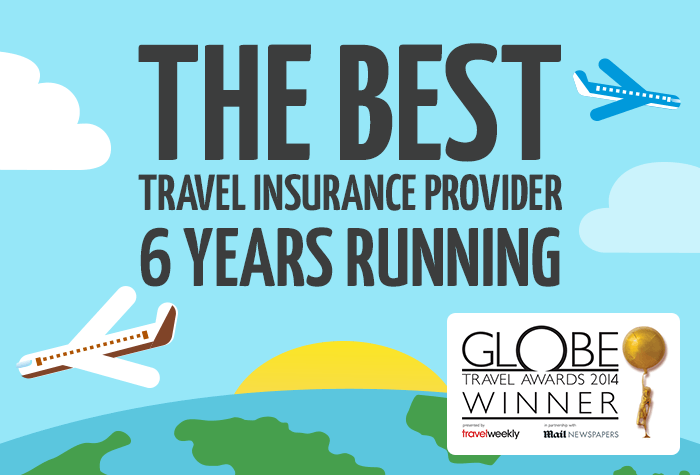 Great cover from only
£12.25

per person

If great prices and a simple, online booking process aren't enough for you choose Holiday Extras for your travel insurance, maybe this will help... under 18's go FREE with a paying adult on selected policies, making our insurance the perfect choice for families, and to top it off our policies are fully flexible, allowing you to make any changes you may need.
Holiday insurance to suit all your needs
We can let you choose between cover for a single trip or an annual policy, both with a range of options such as winter sports, golf, weddings, business and hazardous activity cover. We also have policies that can include cover for pre-existing medical conditions.
We can even help you if any suppliers of each individual part of your holiday go bust. Our cover includes something called End Supplier Failure Cover, with Scheduled Airline Failure Cover (SAFI Cover). What this means is that you'll have complete protection if any part of your holiday, including your hotel or airline, goes out of business before your holiday or while you're away.
At Holiday Extras we only use UK-based call centres and we provide a 24-hour emergency helpline. So no matter what, you'll always be able to speak to one of our friendly advisors. We'll also refund your premium in full within 14 days of purchase providing you have not claimed or travelled on your policy.
NEW Travel Insurance Pages
We have some new pages so you can get to grips with the levels of holiday insurance cover that we offer:
We have added some new pages to help explain our travel insurance with pre-existing conditions. If any of these conditions apply to you, please have a read and see if we can answer any of your concerns before you proceed and book your insurance.
If you've experienced difficulties getting travel insurance for senior citizens or perhaps you've faced premium rates, take a look at our policies aimed at mature travelers and enter your details for a quick quote.
Top
Types of cover
Whatever your holiday plans, Holiday Extras can provide travel insurance suitable for your needs. Whether you are looking to relax on golden sandy beaches for a fortnight or plan to traverse the globe on an epic voyage lasting months, our great value, comprehensive cover can offer complete protection for the duration of your holiday.
Those taking part in winter sports, planning a more sedate sporting break or are even heading abroad for an unforgettable wedding, our range of holiday insurance policies are perfect for added peace of mind during your time away.
Holiday Insurance Videos
With Holiday Extras, finding travel insurance doesn't have to be mind-boggling. Whether you are booking for one person or an entire family, a single trip or an annual policy, we can help you make the right decision.
Packed full of essential information, our handy videos are easy to understand, which will ensure you to find the holiday insurance package that suits your needs.
Top