Everything you need to know about Luton airport
Luton is one of the UK's busiest airports, with flights to nearly 100 destinations worldwide, including Africa and Asia. The airport helped to pioneer low-cost air travel in Europe when it became easyJet's first UK base in 1995.
Facilities at Luton airport - shopping, food and drink
Facilities at the terminal include shops, restaurants, bars, car parking, an exclusive lounge, bureaux de change, babycare rooms, internet access points, fax and photocopying facilities and a chapel.

Getting to Luton airport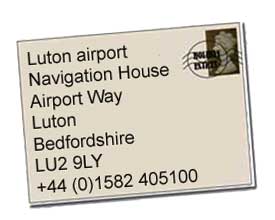 Luton airport is 32 miles from central London and is near the M1 and the M25. The best way to get there is to take the M1, leave at junction 10 and follow signs for the airport. If you are coming from the east or the A1, take the A505 through Hitchin.
For full directions, visit our directions page. If you are using a sat nav, you should use the postcode LU2 9QT.
Parking at Luton airport
Airport parking can be horribly expensive if you don't sort it out in advance. Book with us and we can save you up to 60 per cent.
We offer a variety of parking packages at Luton, including on-airport parking, off-airport parking and a Meet and Greet service. Visit our Luton airport parking page to see which option would suit you best.
Luton airport by rail and coach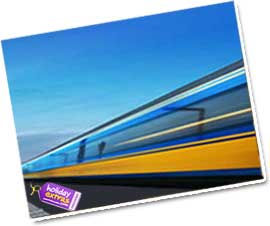 Trains to Luton Airport Parkway station from central London take about 25 minutes, and the shuttle bus to the terminal takes about five minutes.
We offer discounted rail tickets to and from Luton airport, including free travel for kids. We offer special rates on National Express coach travel to and from the airport if you book an airport hotel with us. Visit our Luton airport by rail and Luton airport by coach pages.
Hand luggage restrictions at Luton airport




Only one piece of hand luggage per person
Maximum size for most airlines: 56cm x 45cm x 25cm
Liquids are permitted in containers of up to 100ml
Liquids must fit into a transparent resealable bag no bigger than 20cm x 18cm
Only one bag of liquids per person
Laptops count as one item of hand luggage
For more information about airport security and luggage restrictions, including hand luggage allowance and liquids, visit our Luton airport baggage and security page.
Luton airport news
Addition to Fire and Rescue at Luton | Airport invests in new fire vehicle
London Luton Airport celebrated the arrival of its new Fire Vehicle with a ribbon-cutting ceremony on Friday October 10, 2008. Airport staff, directors and fire service attended as the airport launched the newest part of its Fire & Rescue Service fleet.
Get to airport security faster | New priority lane will whisk you there for £3
Fancy getting through Luton airport a bit quicker? Well, now you can. The airport has launched a security priority lane, which allows passengers who pay £3 to be whisked to security control as quickly as possible.
Luton airport recovering from snow | Flights resume and roads reopen
Flights have resumed at Luton airport after heavy snow brought the terminal to a standstill. However, flights are still subject to delays and cancellations and anyone travelling to the airport is advised to contact their airline before setting off.