Manchester Undercover airport hotels
Save money on your hotel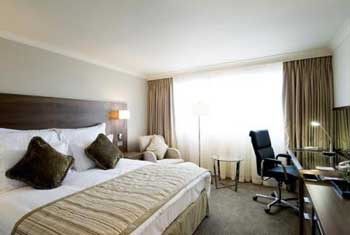 There's a simple way to secure an amazing deal when looking for Manchester airport hotels: Manchester Undercover airport hotels. If you're happy to take the risk of not knowing where you're staying until you've made your booking, you can make considerable savings on the standard price.
HolidayExtras.com selects 3-star and 4-star Undercover Manchester airport hotels, making them available at a discounted price. Instead of knowing the name of the hotel before you book, we'll only tell you the name of the hotel once you've made the booking. By doing so, you're guaranteed a room at one of our great Manchester hotels at a fantastic price.
Our Undercover airport hotels at Manchester are classified by star ratings, so you'll know before you book whether you'll be staying at a 3-star or a 4-star hotel. We also sell hotels that are either within the airport grounds, or very close to them. Because these secret Manchester hotels are offered at such a low price, we can't confirm the hotel name until you've made your booking. The Undercover Manchester hotel you book will provide transfers to the terminals, possibly at a small charge, or will be just a short walk away.
If you're already starting your trip early with an Undercover hotel at Manchester airport, why not add our hotel upgrades to your booking? You may, for example, choose to carry on that holiday feeling with a Manchester airport lounge. With FREE drinks and snacks, along with some peace and quiet, you can kick back and relax before boarding your flight.