Cardiff Holiday Inn Express dinner deal
Holiday Extras news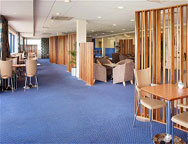 Cardiff holidaymakers can take advantage of a new three-course dinner offer for £10 at the Holiday Inn Express Cardiff airport.
The dinner add-on is available to Holiday Extras customers at the time of booking their stay at this convenient three-star Cardiff airport hotel.
The closest hotel to the airport, the Cardiff Holiday Inn Express also offers great value and serves a free cooked breakfast to all guests from 4am.
Guests can also enjoy a gym, pool tables and bar. Free airport transfers run between 6am and midnight, and take five minutes.
Book a double room at the Holiday Inn Express Cardiff from £59.95.
*Price is based on a search made on May 16 2013 for June 7 2013. Subject to change and availability.
Featured news articles