Gatwick Hilton afternoon tea offers
Holiday Extras news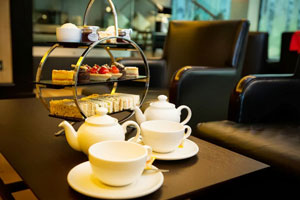 Holiday Extras travellers booking a night at the Gatwick Hilton can now opt for a tasty start to their stay with a choice of three high tea offers from just £8.50 per person.
The four-star Hilton at Gatwick serves a standard Cream Tea - scones, jam, clotted cream and a choice of teas or coffee - which can be pre-booked by Holiday Extras customers for £8.50.
Guests can opt for Afternoon Tea for £17.50 which includes a selection of freshly prepared sandwiches, homemade cakes and scones with jam and clotted cream and is accompanied by tea or coffee.
For those who deserve a real treat, the hotel's Champagne Afternoon Tea is £24.50 to pre-book. Sandwiches, cakes and scones with all the trimmings are washed down with a glass of champagne and tea or coffee.
The Gatwick Hilton offers luxury and convenience, with stylish, tranquil guest rooms, two restaurants, two bars, a coffee shop and a gym - all just a five minute walk from the South terminal through a covered walkway or a two minute ride on the monorail to the North terminal.
Book a double room at the Gatwick Hilton from only £106.80. Treat yourself to a cream tea from only £8.50 per person.
*Price is based on a search made on September 4 2013 for September 27 2013. Subject to change and availability.
Featured news articles