Glasgow Ramada dinner deal
Holiday Extras news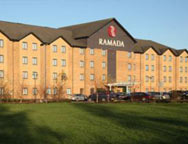 Guests staying at the Glasgow Ramada can now tuck into an Italian meal for a tenner, by adding the dinner option when they book with Holiday Extras.
The four-star Ramada at Glasgow gives travellers the option of pizza or pasta with a pint of beer, a glass of wine or a soft drink for just £10.
There is also a two-course dinner add-on available for £15 - consisting of a starter and main or a main plus dessert.
Bagio's restaurant features a wood-fired pizza oven and is open for dinner every night between 6pm and 9.30pm.
The hotel offers stylish, soundproofed guest rooms and a bar, just 500 yards from the Glasgow terminal.
Book a double room at the Glasgow Ramada with up to eight days' parking at Airparks Glasgow Self Park from only £68. Tuck into a tasty Italian supper from only £10 per person.
*Price is based on a search made on September 16 2013 for October 11 2013. Subject to change and availability.
Featured news articles