Heathrow Ibis dinner and breakfast deal
Holiday Extras news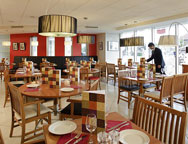 Holiday Extras customers can nab a dinner and breakfast deal for £30 when they book a room at the Heathrow Ibis hotel, for a limited trial period until June 19 2013.
Travellers will be able to tuck into a three-course dinner and drink from the set menu, and enjoy a cooked buffet breakfast the next morning, by selecting the meal deal add-on at the time of booking.
The three-star Ibis Hotel Heathrow airport offers great value and convenience for travellers, with comfortable guest rooms, a restaurant, bar and snack bar. Hot and cold food and drinks are available round the clock.
Located less than three miles from the airport, transfers via the Heathrow Hoppa run every 20 to 30 minutes.
Book a double room at the Heathrow Ibis from £59.
*Price is based on a search made on May 15 2013 for June 7 2013. Subject to change and availability.
Featured news articles