Novotel Nottingham East Midlands airport
Bostock Lane, Long Eaton, M1 junction 25, Nottingham NG10 4EP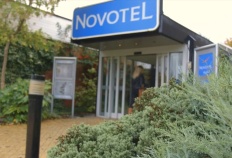 £66
.00*
including 8 days parking
6.0
miles
from the airport
Book your stay online
Whether they're passing the time in the play areas or munching on the special kids' menu, your children will be the honoured guests at the Novotel Nottingham East Midlands airport. All the rooms are big enough for a family of four - and you can even bring pets. Children stay free and eat breakfast free, with a paying adult, but it doesn't stop there - they even get a gift when they arrive. Yes, that's right, the hotel is actually paying your children to stay there!
See more Novotel customer reviews
Overall rating: 90%by 184 guests
Getting to and from East Midlands airport
Transfers leave every 15 minutes, take just 8 minutes and are included in the price.
While you're away, your car will stay put in the secured car park which is fully manned 24-hours a day. Then, when you're back, jump back on the transfer bus back to JetParks to collect your car, and you're ready to go home.
Novotel Additional Information
Star rating
Address
Bostock Lane,
Long Eaton,
M1 junction 25,
Nottingham
NG10 4EP
Disabled facilities
The hotel has two accessible rooms for disabled guests, a ramp outside the entrance, a wheelchair-accessible lift and disabled parking spaces. The restaurant and the bar are on the ground floor. There's also a bath board and a bath lift if you need them.
Internet
Wi-Fi
Restaurant
Room service
All rooms non-smoking
En-suite bathroom
Iron
Kettle
Radio
Phone in room
TV
Satellite TV
* Prices quoted are stays on the 17-12-2017, valid as of 16-10-2017
Top