Cruise Parking Ltd
The staff are friendly, the facilities are first-class and you've left all your worries behind; and that's before you've even left the Cruise Parking Ltd car park. It's near the port - transfers take just 15 to 20 minutes - and the excellent security facilities include 24-hour CCTV and a manned gatehouse. You'll be swimming in a sea of contentment before you set sail.
Check the security details for Cruise Parking Ltd, see how frequent the transfers to Southampton airport are and compare the prices of other car parking options at Southampton. View Cruise Parking Ltd arrival and departure procedures.
"Excellent service from the car park to our return from the ship."
-
Mr Harding 29 May 2013
Security at Cruise Parking Ltd
• Park Mark Award for safer parking
• Security barrier for restricted access
• CCTV coverage of the car park
• Full security fencing of the perimeter
• Security lighting over the facility
• Regular staff security patrols

Cruise Parking Ltd transfers
The price includes return transfers for up to four passengers between the car park and the terminal. Additional passengers will have to pay £10. Transfers take about 15 to 20 minutes and run at varying intervals.
Disabled facilities: The car park's bus is not accessible to disabled passengers. You will need to be able to transfer yourself onto the bus to use this service. If you are not able to do this, we suggest you choose Cruise Parking's Meet and Greet package.
Arrival and departure procedures
Arrival: You should arrive at the car park at least two hours before you are due to sail, and between 11.30am and 3pm if possible, as this is when the shuttle buses to the terminal are most frequent.
A member of staff will show you where to leave your car and go through the paperwork with you. You'll just leave your car in one of the arrivals lanes, which are right next to the bus stop - Cruise Parking will park your car for you, so you'll need to leave your keys with them. There is a heated waiting room with seats, toilets and a drinks machine.
Departure: The shuttle bus will pick you up and take you back to the car park. The bus picks up from bay 25 in Ocean cruise terminal, bay 26 in City cruise terminal and bay 20 in Mayflower cruise terminal. If you're coming into the Queen Elizabeth II terminal, you'll need to ask a member of Cruise Parking staff where to get the bus - there'll be someone either in the terminal or outside by the coach bays.
The buses run between 7am and 11am, when the ships are docking, but if you arrive back later than this, the bus will of course still come to pick you up.
Reasons to book Cruise Parking Ltd
Price per day from only £

6.00

Price for 8 days from only

£48.00

Ship-shape parking just 15 to 20 minutes from the port.
Protected by 24-hour monitored CCTV and security patrols.
Your car is parked for you, you just drop it off next to the shuttle bus stop.
Make yourself comfortable in the heated waiting room.
Compare Southampton parking prices
Check to see how much Cruise Parking Ltd compares in price with other Southampton airport car park services.
* This table displays the car parking service name in the left column followed by the daily parking rate and the price for 8 days parking from 1 Jan 2013 to 8 Jan 2013.
Directions to car park
Enter postcode for directions:
Sat Nav input
Longitude -1.43100
Latitude 50.89550
Cruise Parking Ltd. Unit H1 Cracknore Hard Marchwood Southampton Hants SO40 4ZD
Map and directions
Car parks =
Terminals =
Cruise Parking Ltd

customer reviews

We ask everyone who books through Holiday Extras to let us know how their experience was and give us a score. This helps us make sure our products and our service are always top quality and helps you decide which product to choose.
88%

of customers who left a review would book again

1611

customers have given an average rating of

4

out of

5
"Staff helpful. Transfer coach from port back to Cruise Parking car park very cramped."
- Mr Sen 27 May 2013
"Excellent and efficient service."
- Mr Collins 14 May 2013
Read 604 customer
reviews of Cruise Parking Ltd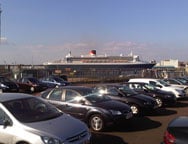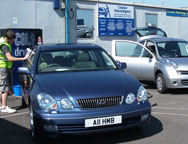 4/5
All terminals
15-20 mins
9.3
Yes
Yes
Customer rating:
Terminal:
Transfer time:
Distance to airport:
Park Mark Award:
Disabled Facilities: