Travel like a pro with our top airport tips and fast track through the airport hassle-free! From pre-departure planning to getting through airport security fast, to the moment you settle into your seat - we've put together our insider travelling tips for a smooth journey through the airport. Whether you are a frequent flier, or it will be your first time flying, these airport tips have you covered.
A Few Weeks Before You Go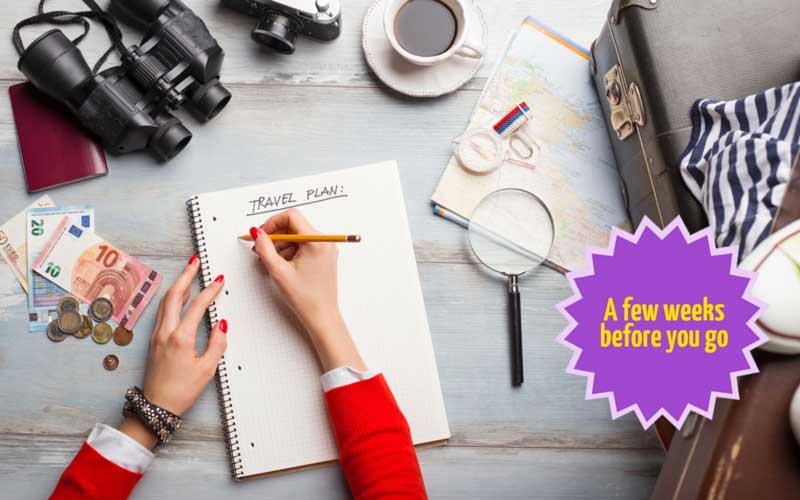 You can start making your airport trip more comfortable as soon as you book your travel with a bit of pre-planning. Start by checking you have your travel documents in order: make sure you have enough time left on your passport to travel (many countries require six months), and check any visa requirements for British citizens. Some destinations also require a certain number of blank pages in your passport, so if yours doesn't meet the regulations allow enough time (up to six weeks) to get a new one.
If you're travelling with children or have mobility needs, request the seats you need when you book tickets - disabled travellers have priority on front-of-section seats. You'll also have a chance to choose seats when checking-in online, so make a note in your diary of when check-in opens to get the best selection.
Want to speed through the airport in the blink of an eye? Pre-booking fast-track security (check your airport website to find out how) will allow you to dodge the queues with your own dedicated security lane; then jump the boarding queue with priority boarding (booked directly with your airline).
If you want to get your holiday off to a luxurious start, booking an airport lounge will secure you comfortable seating with snacks, drinks and free WiFi. Some lounges offer relaxing spa and beauty treatments to send you on your way looking and feeling great; many have special access to the departure gates so you can skip the queues. For an even more relaxing start to your journey, book a night in an airport hotel before you travel - great for avoiding early starts and transport snags.
A Few Days Before You Go
Sign up for text alerts to keep you informed of any problems with your flight or potential delays to your travel to and from the airport. Keep up to date with driving news, and your local train operator for rail updates. If you're driving, book airport parking in advance to get the best deals.
Check your baggage allowance and pack accordingly - don't forget to leave room for shopping and souvenirs! If you're only going for a short break, consider taking hand luggage only - it'll make life much easier and quicker at both ends of your journey. Be careful not to pack prohibited items by mistake - full-sized toiletries, bottles of drink and large scissors can all be confiscated from hand luggage, so put them in the hold or don't bring them at all. Check out our holiday checklist to make sure you have packed everything you need.
Pack valuables, medicines and other essentials in your hand luggage so they don't get separated from you if your hold baggage makes a detour. Pop a luggage tag with your name, home address and email address on your bags, and keep a list of your belongings (or even better, snap a photo on your phone) so you can easily make a claim if luggage gets lost. Read our tips on preventing lost luggage to make sure you are prepared.
Print your boarding pass at home (or save a copy onto your phone if your flight allows electronic passes) and you'll be able to drop your bags without queuing at check-in.
At The Airport
Arrive early for the best chance to upgrade. Popular flights are often overbooked; staff may offer early arrivals cabin rollover or an upgraded seat on the next flight. Don't wait until you get to the desk - listen out for staff offering upgrades and free flights in the queue, especially on busy routes.
Have your passport and boarding pass easily to hand so you don't need to stop and find them at check-in, security and boarding (or when you buy a Toblerone at Duty Free). It's also good to have your boarding pass ready if staff come calling for passengers on your flight.
Speed through security by placing phones, coins and keys in a clear plastic bag; wearing light, easy-to-remove shoes; and avoiding heavy jewellery, studded belts and decorative zips that can set security scanners off. Don't make jokes about drugs or bombs when passing through security - staff are obliged to investigate anything perceived to be a threat and you may be questioned or even arrested.
Most major UK airports offer fast-track through security, and if you book an airport lounge, the fast track pass is often included as an extra. Gatwick fast track, Liverpool fast track, Birmingham fast track, and Heathrow fast track, all offer you an easy way to get through airport security quickly. Only you can decide if the extra expense is worth the time and hassle saved.
If you stop for a coffee or sit down in the lounge, make sure you turn around and check to see you haven't left any luggage or travel documents behind you when you leave. Be especially alert if you're flying in the small hours and feeling drowsy - this is the time when tickets easily get left in the Terminal 4 toilets!
It might seem like a fun idea to get your holiday off to a flying start with a couple of rounds of margaritas, but getting too tipsy pre-flight can mean you're not paying attention to important information like gate changes and boarding calls. A couple of pints can also become very uncomfortable on the bladder once you've been sitting on the tarmac for forty minutes - it's best to wait until takeoff before getting into the holiday spirit.
Pay attention to the departures board for information about boarding, gate changes and delays - and give yourself adequate time to get from the departure lounge to the gate. Running through the airport with your name being called over the tannoy is not a good look for anyone - and if you're very late, a flight crew on a tight schedule is very likely to take your luggage off and depart without you.
At The Gate
Not all departure gates have toilets, so pop to the bathroom on your way to the gate - you might not get another opportunity until you're in the air.
Once you're settled at the gate, use the free WiFi to hop online and check out your destination - such as where to find the ATM, taxi rank and local buses. Remember you'll need to switch off phones and internet devices once you board the plane.
Keep an ear out for important announcements, and be sure to board when called - your seat may be given away to a standby passenger if you don't arrive by last call. Make yourself known to gate staff if you need assistance boarding. Happy landings!
Do you have any more top tips for airport travel? Let us know in the comments below!
If you found this post on airport tips helpful, you may want to read more of our Before You Go articles. Also check out our travel blog for additional inspiration and travel tips to make your holidays hassle-free!
If you enjoyed this post like us on Facebook and follow us on Twitter or subscribe to our YouTube channel.
Written by Lise Smith, a former contributor to Lonely Planet's India guidebook - she's seen her fair share of hotel rooms (both grotty and glamorous!). She learned to walk in a hotel corridor in Tunisia, and at the age of three had been on more aeroplanes than buses. Lise writes for a number of local news, technology and arts publications.
Top