A special journey calls for a special car, so next time you need to hire holiday transport why not go for something with a bit more character than the usual standard hatchback? Travelling is all part of the holiday experience, so hiring a quirky vehicle can be a fun way to start your adventure.
Whether you're looking for a vintage soft-top, a showy sports car or a monster truck to get you noticed en route to your accommodation, be sure to check out our cool car hire ideas before you hit the road.
Tour Route 66 in style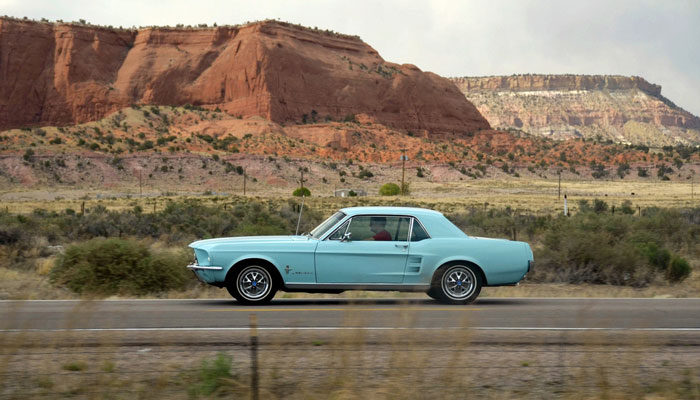 Image by amerune under Creative Commons license.
Route 66 is one of the great stateside road trips; a true journey of a lifetime. The scenery alone is enough to get our engines revving, but wouldn't the thrill of the highway be even more alluring behind the wheels of a classic American motor? This is certainly not a journey to attempt in your everyday runaround, so it's worth taking a look at what's on offer beyond the standard global car rental firms.
Cool car hire company Blacktop Candy's, for example, has a fleet of iconic vehicles available to hire out to those wanting to experience the freedom and mystery of the open road in comfort and style. They'll rent you a convertible Cadillac, Mustang or even a half-ton pickup truck that's classic to the core, but equipped with modern kit such as satellite navigation to keep you on course. They're also a great source of advice on route options, accommodation and attractions, so if this sounds like your dream trip it's time to plot your route, put together a play list and prepare for a journey you'll never forget!
Burning Rubber Down Under
Countries with big roads tend to go in for big and bold motors, so it's no surprise that Australia is also a great place to hire fun and unusual vehicles, often on a giant scale. Many of the country's specialist car hire firms major in American-style vehicles, which lend themselves well to its seemingly endless stretches of highway, but some like Classic Cruisers also rent out rare Aussie specials, like the '1946 Hot Rod High School Bus'; a favourite for wedding parties!
Retro Campervan Hire
Image by Bev Goodwin under Creative Commons license.
How about a motor you'll never need to leave? The fun and freedom of staying in a retro VW campervan is a dream for many travellers, and with production on these vehicles finished forever, now is the time to ensure you tick this one off your bucket list. Fortunately, there are quite a few rental companies tucked away in several locations around the world with existing stock.
The VW camper will forever be associated with the hippie movement of California in the 1960s and 70s, so if you'd like to live your own summer of love on the road, check out VW Surfari in the Los Angeles area. The company restores the vintage 'Type 2' vans to immaculate condition, and allows customers to take their vans all the way to San Francisco with drop-off points at either end of the journey. San Francisco-based California Campers, meanwhile, specialises in the Type 2's slightly newer cousin, the Vanagon Westfalia.
In the UK, you might want to borrow 'Blossom' from Retro Campervan Hire, for example: a lovely creamy-coloured 1972 Volkswagen T2 Transporter, who still has years of happy motoring ahead of her. Like many old vehicles she has an interesting history, having recently made the journey all the way from Arizona to the UK. Alternatively, check out Hippy Campers, where you can choose from a troupe of colourful, custom camper vans - each one named after a drink and beautifully kitted out for glorious glamping inside: check out Little Miss Mojito to get started!
Staycation: Rent a Classic
Image by Axion23 under Creative Commons license.
There's nothing quite like cruising the open road in a well-preserved vintage motor, so if you'd like to try your hand at a spot of old-school driving on your next trip, now's the time to start making it happen. There are plenty of specialists offering classic cars for hire across the UK, many of which offer chauffeured or self-drive options.
Take a look at Great Escapes Cars for a good selection of iconic models - including old-school Porche 911 coupes and stately Bentley classics, as well as some fun runarounds like the Citroen 2CV, all in fantastic nick. Another company hiring out quality vintage wheels is HCHG, which has a wide range of pick-up locations up and down the country.
If you want to go super sporty, and maybe impress someone special on a whirlwind mini-break, check out London-based luxury car hire company Bespokes, which hires out the sort of high-octane cars that set pulses racing: Ferraris, Lamborghinis and Audi TTs are among the stylish and sexy motors you can choose from here.
Prices are surprisingly competitive, starting at around £395 for the Audi for a long weekend. They quickly rocket to £1500+ for the super-league Aston Martins and Lamborghinis, however!
Novelty Cars
Image by relux. under Creative Commons license.
If all that sounds a bit tame for your tastes, how about cruising around town in the Ghostbusters car, the Back to the Future DeLorean or even the bright yellow three-wheeler from Only Fools and Horses? You can bring to life all these crazy fantasies and more with Star Car Hire, which specialises in renting out replicas of vehicles made famous on the big and small screen.
Of course, revving up in a recognisable pop culture car is likely to attract attention, so this option is not for the shy! The company also rents out bubble cars, mini mokes, monster trucks and more.
Have you found anywhere out of this world for cool car hire? Tell us about it, and if you enjoyed this post like us on Facebook and follow us on Twitter and Google+.
Written by Abi Silvester, a London-based writer and editor with a passion for great food, fine wine, coffee and cats; always planning my next trip! @absinthecity
Top