For many of us, the idea of planning a holiday without carrying out a bit of internet research first has become almost unthinkable. But which are the best sites to consult? We compare three popular online travel guides to help you plan your next trip.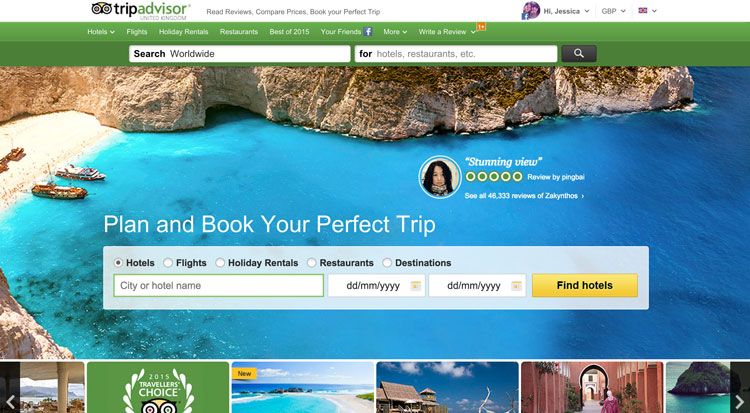 Currently recognised as one of the biggest travel guides on the planet, TripAdvisor is a warts-and-all online resource for those who want the inside scoop on every aspect of their holidays. The content is almost entirely user-generated, which in many cases ensures an unbiased overview, but can also result in the odd rant from dissatisfied customers who may or may not be representative of most travellers…
Within TripAdvisor's pages, you'll find reviews of everything from hotels to guided tours, as well as attractions you might visit at your destination including museums, restaurants, cafes and bars. There's also a useful forum where you can put questions on any aspect of travel to the community. Images are provided by the users, which can provide a more realistic insight into how the idyllic views shown in the brochure really look.
Best for: Consulting during the initial planning stages of a holiday. Breadth of coverage. Getting a fast answer on a wide range of destination-specific questions.
But watch out for: Personal crusades and rants. Business owners masquerading as users. Lack of objective 'expert' input.
Tripwolf is a pocket travel guide that's been designed specifically with the mobile user in mind, so it's a useful resource to have to hand even when you've already arrived at your destination. Downloadable as an app for either Android or iPhone users, the highly responsive guide contains a wealth of information from experienced travel writers, so users can expect a high degree of accuracy in the coverage.
Guides to specific destinations through the Tripwolf app include maps, lists of top-rated sightseeing spots and things to do in the area, each one reviewed and rated. But you'll need to pay extra to get this more in-depth information on your destination.
Best for: City breaks, on-the-go research, sightseeing planning once arrived at your destination.
But watch out for: Cost. Once you've downloaded the free app from your chosen store, you'll need to top up with city guides for in-depth information on places to visit. These typically cost about £1.49 per guide.
Owned by Vogue publishers Conde Nast, this at-a-glance guide to the world has a glossy high-end feel about it that makes browsing an enjoyable experience, particularly for tablet users.
Click and zoom into the site's map, and you'll soon be presented with a stylish and beautiful overview of your chosen area's most popular attractions. For each featured destination, the site gives the lowdown on 'why to visit' and 'what to skip' with the discerning traveller in mind, so this is a great way to quickly narrow down your options when starting to plan your trip.
A particularly fun feature of the Concierge site is its trip planning tool, which allows you to schedule activities in your chosen location. You can even make your trip public as a suggested itinerary for other travellers if you've had a particularly great time.
Best for: Beautiful imagery, user experience, creating a schedule.
But watch out for: Limited selection for those on a budget.
Which online travel guides do you use to plan your holidays? Let us know, and if you enjoyed this post like us on Facebook and follow us on Twitter and Google+.
Written by Abi Silvester, a London-based writer and editor with a passion for great food, fine wine, coffee and cats; always planning my next trip! Follow her on Twitter.
Top