What to pack for your summer holiday
Your holiday's booked, the date's rapidly approaching and you're starting to get seriously excited about jetting off into the sun. But now comes the fun part: what are you going to wear when you get there? Prepare to nail your summer wardrobe by grabbing those all-important beach, footwear and swimwear pieces before they sell out.
Read on for our essential summer holiday clothing tips.
A maxi dress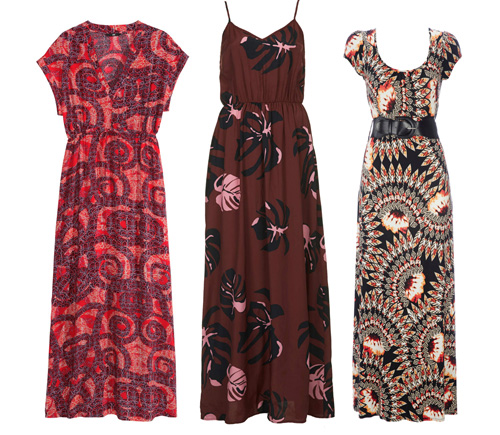 Maxi dresses from left to right: H&M, £29.99, Topshop, £45. Wallis, £40
Few wardrobe items are as well-loved as the maxi dress, and the 70s staple has enjoyed a resurgence in recent seasons. Cooling and covering at the same time, it's one of the most flattering hot weather garments out there, and there are some gorgeous printed maxis on the high street this summer. Team with some oversized beads and bangles for a laid back boho look, or just throw it on over swimwear for an easy day-to-night transition.
Swimwear
Most people find that they live in swimwear when they go on holiday, so this is one purchase you'll want to get right! A good rule to follow is two pairs for a week's holiday and at least 2-3 if you're staying longer; check out our pick of the best swimwear for 2014 to give you some ideas.
Kaftan or sarong
L to R: Turquoise embellished kaftan, £28 at River Island, Amenapih Nevada Kaftan, £69 at My Bag, F&F crochet trim kaftan, £10 at Tesco.
The upshot of living in swimwear is you'll occasionally want to cover up - either to avoid the glare of the sun or that of your fellow holidaymakers! Kaftans have featured in many designers daywear collections recently, so you should have no trouble finding a stylish and cool cotton kaftan to see you through. Sarongs are also incredibly versatile and really come into their own in hot weather. Make sure you pick one you really like, as you may find you live in it for the duration of your trip!
Stylish shorts
From top left clockwise: Marni striped denim shorts, £126 at Net-a-Porter, Printed cottonl shorts by Philosophy, £87.59 at Net-a-Porter, floral frill shorts, £32 at Topshop, Peach scallop high-waisted shorrts, £17.99 at New Look.
Whether you love or hate baring your legs, shorts are an absolute must when you're travelling somewhere warm. Ice cream colours are big this season, so go for pastels in semi abstract floral prints, colour block or washed blue denim. Team them with a favourite tee, vest top or sarong, and give your pins some sun.
Slip-on shoes and trainers
Top: Toms Classic palm tree shoes, £40 at ASOS. Bottom, transparent block heel jelly sandals £22 at River Island.
Who wants to be bothered with shoe laces and buckles when they're on holiday? In all seriousness, this is one of the small pleasures of getting away from it all that you might as well embrace, so a couple of pairs of espadrille-style canvas shoes or open-toe sandals should see you through. Go for a structured pair with good quality soles that will withstand plenty of walking - if that's what you're planning to do - and consider wearing a pair of trainers on the flight or journey in: they may be heavy, but if you suddenly decide to do a walking tour, you'll be glad to have them.
Even better, make it waterproof. Flip-flops are made to be more comfortable, hard-wearing and stylish than ever before, so why not make the most of these advances in sandal technology? And if you want to embrace your inner kid, jelly shoes are everywhere this summer.
A cool summer coat
L to R: Marble jacquard coat, £85 at Oasis, Helen Bermans swing coat, £80 at House of Fraser.
No summer wardrobe is complete without a stylish, lightweight coat to hold everything together, and as we move into sale season you can bag a real bargain on summer outerwear. While you may not need to wear a coat of any sort during the day, these really come into their own in the evening, when you can slip one on over your sun dress en route to restaurants and bars. Your summer coat can also see you comfortably to and from the airport when you leave for your trip and arrive back home - even if it doesn't need to do double duty on the holiday itself.
A carry-all bag
Longchamp Le Pliage tote in citron yellow, £68 at Selfridges.
If you're planning to do a lot of sightseeing, shopping and walking on your trip, you'll need to bring a bag that's spacious and strong, as well as being secure enough to hold valuables like your passport, camera equipment and any cash you'll want to carry. Go for a zip closure for maximum peace of mind.
Longchamp's Le Pliage tote is a great example of a bag that works well for travellers, as not only is it roomy, it's foldable and super-lightweight too, so can be stashed away in your luggage and brought out to serve as a day bag when you arrive.
Something chic
Dress, BHS £35, Shoes by Miss KG, £55 at Debenhams, purse 'Travelling Wanderer' by Radley, £38.50, clutch Rainbow 'Greta' bag, £55 both at House of Fraser.
You're going away to relax, but the chances are there'll be at least a couple of occasions when you'll want to dress up, and it can be dispiriting to remember too late that you left all your stylish clothing at home in favour of shorts and baggy tees! So be sure to pack at least one smart jacket, pair of trousers, dress or skirt: you may discover the best restaurant in your resort has a strict dress code, and some attractions such as places of worship may require you to cover up.
It's also worth packing at least one pair of 'dressy' shoes - even though it's always tempting to leave them behind to sneak under the airline weight allowance. Trust us, you won't regret it when it comes to showing off your holiday snaps. Stick to cool fabrics like linen to avoid feeling sticky.
A sun hat
They may not look cool, but sun hats should be considered an essential item in you and your family's holiday wardrobe. Recent research has shown that sunscreen alone does not offer complete protection against certain skin cancers, and that other forms of sun protection such as hats and loose-fitting clothes should be part of your summer skincare strategy.
For this reason it's worth shopping around before you go to find a hat you like, and one that fits. It shouldn't need to cramp your style: if you like the boho hippie-chic look a floppy straw hat will do the job perfectly well, and with the 90s back in vogue, you can always re-create a 'baggy' look with a classic wide brimmed sun hat.
An emergency rain mac
Nobody wants to think about the possibility of bad weather when booking a trip to sunnier climes, but the sad truth is, rain can happen almost anywhere. An emergency poncho or ultra light mac is a great solution to this problem, as it weighs next to nothing and when stashed away in your bag, you won't even notice it's there.
Have we missed anything? Tell us! If you enjoyed this post like us on Facebook and follow us on Twitter or Google+.
Written by Abi Silvester, a London-based writer and editor with a passion for great food, fine wine, coffee and cats; always planning my next trip! Follow her on Twitter.
Top