Holiday packing is a fine art that demands skill and patience - and few of us get it completely right. But years of bitter experience have taught us that it's often not what we forget to pack that causes us a headache on holiday - it's the things we do bring, but don't really need. Read on for some no-nonsense advice on what not to pack.
1. A hairdryer.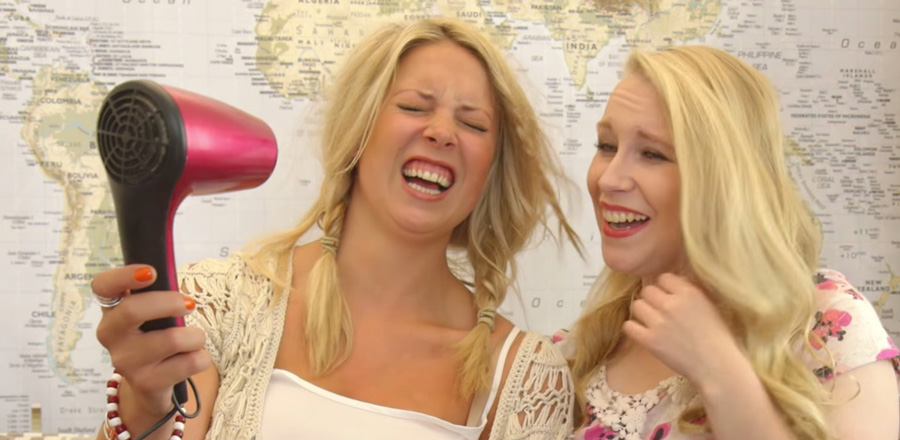 One of the clunkiest gadgets you could ever pack. Most hotels, B&Bs and other accommodation types will have a hairdryer you can use if you really want to, but we hope you'll be too busy having fun to contemplate a full-on blow dry while you're away. Do you really want to spend your precious time off blow-drying your hair? If you're going somewhere hot, chances are you'll soon find you don't need artificial hot air to fix your hairstyle anyway. Hair straighteners, however - they're a different story…
2. Too many shoes.
Holiday packing is no time to succumb to Imelda Marcos syndrome. While we recommend packing a pair of shoes for every occasion, think carefully about how many situations you're likely to find yourself in on your trip. For many, it's as few as three: beach, night out, walking in town. Add in another pair if you've got a particularly active trip in mind (walking boots, trainers or hiking shoes for example) and you're up to an absolute maximum of four pairs. You can always stock up on inexpensive sandals or flip-flops if your footwear lets you down.
3. Work, work, work.
Switching off from work mode can be difficult if you've got a busy and demanding job, but don't be tempted to ease the transition by taking half of your desk on holiday. If you've got a lightweight laptop that can double up as entertainment system while you travel, this should be all you need - along with a short list of any essential passwords or other bits of information you might be called upon to disclose if things blow up in your absence. Hopefully, after the first few days by the pool you'll be too chilled-out to care…
4. Expensive jewellery.
Holidays are a time to let your guard down, so if you're lucky enough to own jewellery worth thousands of pounds, you probably won't want to run the risk of losing it or having it taken off you on your travels. There are also all kinds of situations you're likely to encounter on holiday that could be damaging to fine and delicate jewellery, such as sea water, chlorine and all sorts of outdoor activities. Bag yourself some cheap and cheerful costume jewellery, and accessorise with peace of mind.
5. Bulky camera equipment.
Feel free to ignore this section if you're a keen photographer looking to make the most of your hobby while on holiday, but nowadays many travellers find that all they need for decent quality holiday snaps is a compact digital camera, or even their smartphone. There's no need for multiple lenses and tripods unless you really are determined to nail that award-winning sunset shot.
6. Your entire skincare arsenal.
Can you really not go without cleansing, toning and moisturising for a week or two? Holiday skin is best cleaned with a simple facial wipe (better still, a splash of water from the pool or from the sea!), and you'll probably find that even if you do want to keep up your usual skincare regime on your travels, those intentions soon go out of the window. A pack of cleansing wipes is light, compact, and squishes neatly into your suitcase. It's also great for handling spillages en route.
7. All your favourites from home.
Bringing favourite snacks, condiments or other edible items that you can 'only get at home' should be considered a no-no (unless you have very specific allergies or food requirements, of course!). Not only do they add extra weight, these items go against the very ethos of travelling: immersing yourself in a new culture with different foods and flavours to try! Chances are you won't feel like drinking builders' tea or mainlining Marmite on your holiday anyway...
8. Guidebooks galore.
There's nothing wrong with being clued-up on your destination, but we'd advise leaving full-sized guidebooks at home if at all possible. If you're equipped with an e-book or tablet, your best bet is to pre-load it with relevant content (be sure to include a good map, local restaurant guide and as many reference guides as you think you'll need) and leave the paper books and maps behind. If you're concerned about the data required for obtaining good quality maps electronically, take a look at some of the prepaid mobile data plans that are available for travellers - you might be surprised by the prices.
9. A travel iron.
If ironing is on the agenda for you next trip, you might want to consider your priorities - but if there's a favourite jacket you're keen to bring that really needs to be pressed, we get your dilemma. Any hotel worth writing home about should at least give you access to an iron, and the majority of holiday homes and apartments will have one in the cupboard. If you're going to be camping, we'd mostly recommend packing clothing less prone to creases - leave the ironing for when you get home.
10. Winter coats in summer.
Finally, some of us are just born pessimists. Even if we're off to Athens in August, leaving our winter coat behind just seems like asking for trouble.  And what about the journey home? Who knows what the British weather will be doing as you navigate those last meters between airport terminal and car…
Now's the time to get a grip on that negative thinking! It's highly unlikely that you'll need a winter coat in most summer holiday situations, and even if you do, it may be better to buy new than risk overweight luggage fees as you attempt to transport your bulky winter warmers. Rain is far more likely to be an issue, and you can get around this problem by packing a lightweight pack-a-mac or emergency poncho.
If you absolutely must pack something cosy, opt for lightweight thermal gear (camping shops are great sources of these items) or a fleece jacket instead - layering is the best approach to cool summer days.
If you enjoyed this post like us on Facebook and follow us on Twitter or Google+.
Written by Abi Silvester, a London-based writer and editor with a passion for great food, fine wine, coffee and cats; always planning my next trip! Follow her on Twitter.
Top