Even the most seasoned traveller dreads an overcrowded airport. The team at Holiday Extras know a thing or two about packing, queuing and other holiday delights, so we've put together some of our best insider airport tips to make getting away a little easier.
Insider Airport Tips Before You Go
1. Request seats at the time of booking, particularly if you have any specific needs. Don't wait until you're at the airport as the best seats will be long gone.
2. Make sure your passport has plenty of time left on it (six months is usually safest) and blank pages according to your destination's requirements.
3. Check in online and print your boarding pass at home.
4. Arrange fast-track security - search for this on your airport's website.
5. Pre-book an airport lounge pass. Comfy seats, cool interiors, drinks and snacks, TVs, newspapers, internet access, information screens and the best loos in the airport come as part of the package.
6. Pack light using bags that meet your airline's size and weight restrictions. Carry vital items - such as medication, a toothbrush and clean pants - in your hand luggage. And don't forget to check the latest security rules on carrying liquids.
7. Put your name, email and possibly mobile number or work address on your luggage labels in case your bags decide to have a holiday of their own.
8. Don't lock your hold luggage as security officials will have to destroy the lock or your bag if they need to get into it.
9. In the days leading up to your departure, keep up to date on your flight's status and anything likely to cause delays so you'll avoid nasty surprises when you turn up at the airport.
10. Consider booking a night at an airport hotel before your flight. Many have speedy access to departures, as well as great facilities for an early start to your holiday.
11. Don't bring your own snacks and drinks as you will come a cropper at security. Buy these once you're airside, and they can be taken onto the plane in addition to your carry-on baggage.
Breeze Through Security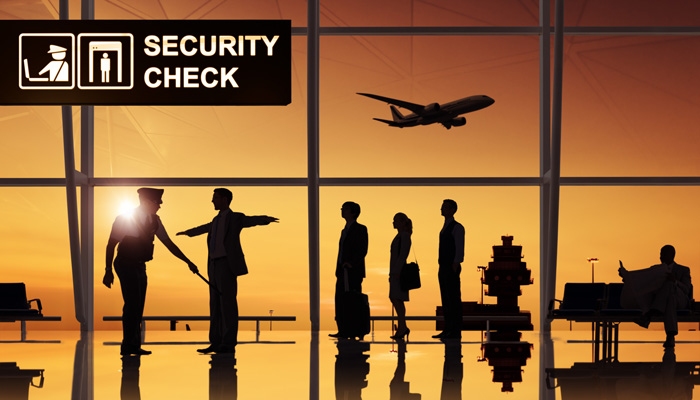 12. Try to suss out the most efficient immigration and security official, and avoid queues containing large groups.
13. When waiting in passport and security queues, have your documents (passport and boarding pass) at hand so you'll be ready to take advantage if staff are looking to push anyone through fast.
14. Don't wear too many accessories that will need to be removed for the security check, and put what you can in your hand luggage before you reach the scanners.
In the Departure Lounge
15. Pay attention to boards and announcements so you don't miss news of delays, cancellations and other unexpected events.
16. Avoid drinking too much alcohol. It could get you into all sorts of trouble.
17. If your airline has oversold your flight and is looking for people to opt out, check the alternative flight they are offering and give it a go if time is not an issue. You could bag some nice little treats: a free ticket, cash-back, or even an upgrade.
18. Board when your row is called! Your airline has the right to give your seat to a standby passenger if you haven't rolled up to the line on time.
Do you have any top insider airport tips? Share them with us below and if you enjoyed this post like us on Facebook and follow us on Twitter or subscribe to our YouTube channel.
Written by Maxine Clarke: a writer, mummy, missus and campervan-lover. Used to travel, now enjoys a good holiday! Follow her on Twitter.
Top