Travelling on a budget? Check out our tips for stretching your holiday money and making the most of your time abroad.
Use Public Transport - or Walk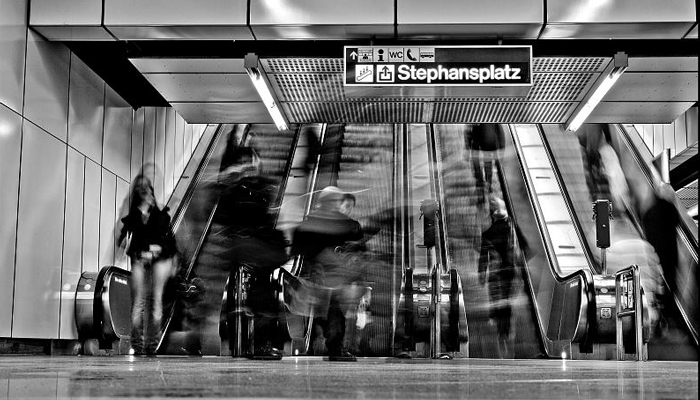 Image by Thomas Lieser under Creative Commons license.
When you're in an unfamiliar place, hailing taxis can seem like the easiest or even the only way to get around town. But this is one of the most expensive holiday habits to slip into, as all those cab fares can quickly add up. What's more, some drivers see tourists as easy prey, and may even overcharge you for your rides.
Perhaps the simplest way to save money abroad is to take some time to familiarise yourself with the public transport network before you go away - and to sketch out some walking routes, too. After all, holidays are a good time to slow down, enjoy some fresh air and take in the scenery. Many popular destinations, particularly European cities, can be easily explored on foot. Make sure you take advantage of any schemes that will make your money go further, such as transport passes that allow you to take multiple trips, as these usually work out cheaper than paying for each individual journey.
Avoid the Mini Bar
Image by ATIS547 under Creative Commons license.
If you're staying in a hotel, the mini bar is one of the biggest danger zones when it comes to reining in your spending. Worse still, you'll want to ensure you don't get extravagant after a wild night out and start ordering room service, as this will certainly bump up your bill. It is always cheaper to buy the same products at a supermarket, so remember to keep stocked up on fruit juices, water and other soft drinks as well as biscuits and snacks while you're away from the hotel. And if you feel like something stronger, you're likely to get much more overall value from a trip to a local bar.
It's worth thinking about all the other add-ons that can have a serious impact on your bill when staying in this type of accommodation: make sure you know where you stand with wifi, phone usage and almost anything you can eat or drink that you find in your room.
Be Your Own Tour Guide
Image by Ian Lloyd under Creative Commons license.
Guided tours can be incredible. In some extreme cases (such as mountain climbs) they're actually essential. But they can also be a waste of time and money, so if you're on a tight budget, this is one sizeable expense you may need to strike from your itinerary. Alternatively, do your research carefully and pick a tour that has consistently strong reviews on a range of unbiased websites, and limit your guided activity to that one tour only.
If your budget won't stretch to any guided tours, that's not necessarily a bad thing: we can all remember going on trips where another member of the group proved unbearably annoying, where the tour guide didn't quite know his or her stuff or where other members of the group insisted on lingering over something we found deathly dull. By being your own tour guide you're always in control of events and will probably learn just as much about the places of interest as long as you spend some time reading up on the subject first. Smartphone and tablets have also made the experience a whole lot easier. Many tourism bureaus now offer apps as well, some with self walking tours .
Don't Get Stung by ATMs
Image by Frank Hebbert under Creative Commons license.
Whether you're planning to take cash, cards or a combination of both, one of the easiest ways to wave goodbye to that hard-earned wonga is to withdraw it from foreign cash points using your UK debit card. It's easily done, and is a handy fallback option for emergencies - but 'holes in the wall' should be considered as last resort options only.
Credit cards will generally give you a better rate, so if you're keen to use plastic, stick to this option in bars, restaurants and other attractions. You might also want to consider loading up a pre-paid charge card such as those offered by FairFX or Travelex, as this way you won't get stung by charges - and you'll know exactly how much you have to spend.
Watch out for Ruinous Roaming Costs
Image by Kai Hendry under Creative Commons license.
We're so used to having easy access to the internet via our mobile phones and tablets, that many of us simply can't do without these services, even when we're away on holiday. Many of the best travel apps rely on a data connection, too, so there are plenty of good reasons to stay online on your travels (just try to avoid looking at those work emails!).
Roaming charges can be notoriously high, so it's always worth checking in with your service provider before you leave the country, to find out what roaming bundles they may be able to offer you. These often come in the form of 'boosters', where you agree to pay a set cost on your next bill. The good news is that data charges in the EU have now been capped at up to €0.20 (16p) per megabyte, which should spell the end of the 'horror bills' that tourists were often greeted with on returning to the UK. Check out our post Avoiding Data Roaming Charges Abroad for more helpful tips.
If you enjoyed this post like us on Facebook and follow us on Twitter or subscribe to our YouTube channel.
Written by Abi Silvester, a London-based writer and editor with a passion for great food, fine wine, coffee and cats; always planning my next trip! Follow her on Twitter.
Top