Love them or loathe them, selfies have become the biggest photography trend in recent years. Where we once sent postcards, now all we need do is plant ourselves in front of a famous landmark or picturesque scene to proudly declare to our friends - and the world - 'I was here'!
Want to perfect your selfie-taking prowess? Read on for some tips.
Location, location, location
Bad news for our vainer readers: a successful selfie is not all about your face, it's also about what's going on behind it. Think of the most famous selfies out there: can you name the two girls in the 'Queen selfie'? Anyone other than the Pope in the 'Papal Selfie'? Even George Harrison was upstaged by the Taj Mahal in his early 'selfie' at the iconic Indian landmark. The lesson here is that the main point of interest in any selfie is usually the background...sorry!
With this in mind, when shooting holiday selfies make sure you're standing within eyeshot of a landmark or picturesque scene. This could be a dramatic view, a sunset, your fabulous accommodation or an iconic piece or architecture.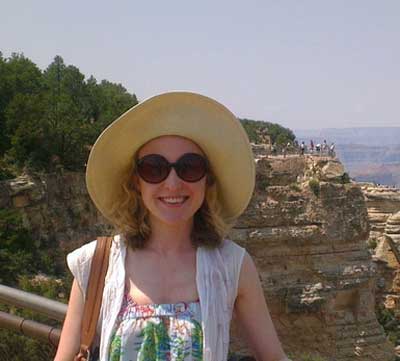 It's all about the background! My 'Grand Canyon' selfie.
Get with the tech
Most smartphone manufacturers are now wise to the fact that selfies are where it's at, so if you've got a newer handset, chance are it has a 'selfie setting', allowing you to take snaps from its front-facing camera. This little trick makes taking selfies a whole lot easier, so if you haven't fully explored your phone's settings, take the tour of all its camera options before you set off on your travels - no more twisting your arms in knots to get that perfect angle!
Get the light right
Crucial to all photography but particularly important when you want to be loud and proud about your whereabouts. Never take a photo against the sun unless you're attempting an arty shadow shot - and that definitely isn't what we're aiming at here. If the sun is too bright in your eyes when you stand to face it, stick on your sunglasses - you're on holiday after all.
Experiment with angles
Don't just show your 'best side' - take some time to perfect your selfie and add interest by trying out some experimental angles. Holding the camera above your head, for example, will make your eyes look larger, while sideways-on angles will make your face appear less flat. Cutting out your face altogether and focusing on, for example, your shoes or flip-flops is a great cop-out for the camera shy. Aiming the camera to pick up something bright and eye-catching - like an ornately tiled floor, a colourful beach umbrella or a piece of street art - will also add interest.
You probably already have your own preferred ways of exaggerating or playing down aspects of your appearance for photos, but now's the time to put your usual poses to the test - the results could surprise you!
The author tries a holiday selfie from an unorthodox angle.
Say cheese!
While it may be a bit of a selfie stereotype, nobody likes a duck face. Selfies are all about fun, and the last thing you want is for you friends to think you're taking this business seriously (OK you've read an article about it so obviously you are taking it seriously, but let's keep that between you and me). So smile at the camera, perhap add a thumbs-up or 'bunny ears', and look like you're having fun!
Embrace Post Production
If all else fails, and you return from your break with a selection of sub-par selfies, all is not lost: you can still incite your friends' envy with a little photo-manipulation. Social networking apps like Instagram are well-known for putting a whole host of filters at their users' disposal, so feel free to make that sky look bluer or tone down your sunburn if it makes you feel better - then get sharing the results across your favoured social networks.
Have you taken any selfies on your travels recently? Share your best (and worst) attempts with us below. If you enjoyed this post like us on Facebook and follow us on Twitter or Google+.
Written by Abi Silvester, a London-based writer and editor with a passion for great food, fine wine, coffee and cats; always planning my next trip! Follow her on Twitter.
Top