Image by Bengt Nyman under Creative Commons license.
Thought Mallorca was all about sun, sea and sand? There is an endless amount of things to do in Mallorca! The beautiful Balearic island certainly has all of these things in abundance, but you might be surprised by how much more there is to do on a visit here.
1. Visit a spiritual site
Away from the hustle and bustle of the coast, there's a whole other side to Mallorca that's as far from being a tourist trap as it's possible to imagine. The island's central plains are dotted with churches, cathedrals, hilltop sanctuaries, monasteries and even the odd hermitage - providing a welcome respite from the busier resorts. The Sanctuary de Sant Salvador is a great place to start: sitting at more than 500 miles above sea level it provides stunning views across the island and is still used as a pilgrimage-site today. For those wanting to be awed by impressive architecture, the La Seu Cathedral in Palma is a must-see.
2. Enjoy an al fresco meal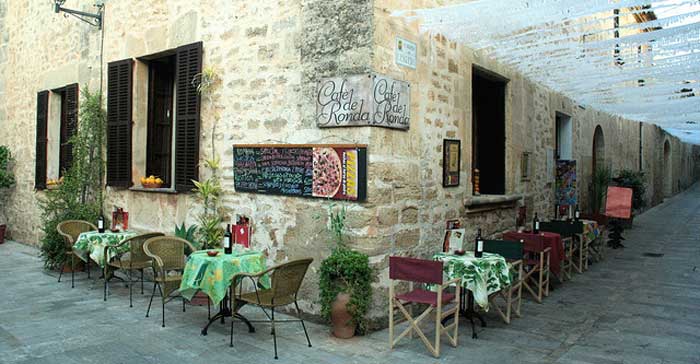 Image by Anders Fagerjord under Creative Commons license.
Did you know that Mallorca has a thriving fine-dining scene and counts a handful of Michelin-starred restaurants among its dining establishments? For those looking to enjoy a taste of the high life on their next island adventure, there is plenty here to tempt the palate: from the modern Mediterranean meals and stunning panoramic views at Es Raco d'es Teix (Deia) to the exquisite tasting menus and calming garden setting of Restaurante Jardin (Puerto Alcudia). Most dining is done outdoors, which makes any fantastic meal all the more special.
3. Take the kids to Aqualand
Sometimes, all you want is a bit of fun in the sun and some sparkling swimming pool action, and you'll get all of that complete with super-sized slides and fun flumes at Aqualand - Mallorca's biggest water park. Kids and adults alike flock to this adrenaline-charged attraction in El Arenal, and we recommend the giant 'Tornado' slide for an aquatic adventure with a difference!
4. Go shopping
The stylish city of Palma de Mallorca is home to an impressive array of high-end boutiques and designer stores, as well as smaller shops for those looking to pick up a treat or two on their holiday. Take a stroll through Avinguda Jaume III and Passeig des Born for luxury items, where elegant, tree-lined streets are dotted with designer shop fronts. For smaller shops and markets, the Placa Major is great for browsing and picking up books, crafty items and specialist goods - while the out-of-town Centro Comercial Porto Pi will take care of all your hypermarket needs.
5. Take a wine tour
Mallorca's wine industry is growing at quite a pace, and if you're partial to a glass or two, you can learn a lot about the local produce by visiting one of its vineyards. Many visitors choose to take the 'Mallorca Wine Express' - a 3-4 hour tour through the Santa Maria vineyard on an old-fashioned steam train. There's also the option of a 'gourmet tour' with a hearty meal at the end, or a romantic 'sunset tour' that sets of just before dusk.
6. Get active
Image by Kunstee under Creative Commons license.
There are plenty of ways to stay fit and active in Mallorca, and the island's rocky terrain makes it an ideal destination for hiking, pony-trekking and other outdoor pursuits. Established hiking routes include the Tramuntana mountain range, and there are trails to challenge walkers of all experience levels. Take a look at Digital Mallorca's guide to hiking in Mallorca to find a route to suit your needs - but whatever journey you take, you're sure to be impressed and inspired by the scenery en route, with sparkling pools, pretty villages and seaside views at every turn.
7. Go to a Fiesta
Finally, why not fully immerse yourself in the island's vibrant culture by dancing from dusk 'til dawn at one of its fiestas? If you're lucky enough to visit during festival season there'll be plenty going on, so pack your dancing shoes and get in on the action! Here's a guide to Fiestas in Mallorca to help you plan.
Check out our Guide to Mallorca for more holiday inspiration and things to do in Mallorca.
If you enjoyed this post like us on Facebook and follow us on Twitter or Google+.
Written by Abi Silvester, a London-based writer and editor with a passion for great food, fine wine, coffee and cats; always planning my next trip! Follow her on Twitter.
Top