Russia is a vast and diverse nation, making it almost impossible to compose a complete list of things to do in Russia which isn't five hundred points long. Instead, we've compiled our eight favourite spots and things to do - which we hope helps you to plan your itinerary on your next visit to Russia. Here are 8 things to do in Russia.
Moscow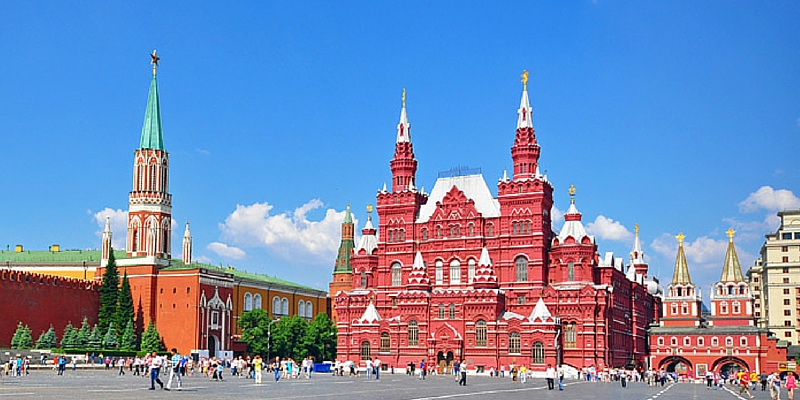 Russia's capital city has a rich and fascinating history which greets you at every corner in the form of romantic medieval building juxtaposed with imposing Soviet architecture and modern skyscrapers. Travelling on the Moscow Metro is an experience in itself (like the London Underground, the lines are colour-coded which is helpful for passengers who don't read Russian) and many of Moscow's attractions (including those below) can be easily reached by metro.
Red Square and the Kremlin
Red Square is the centre of Moscow – all the city's major roads lead here. It's also the site of the Kremlin, the former Imperial palace which is now home to the President of Russia; Lenin's mausoleum; and the magnificent onion-domed St Basil's Cathedral. To get to Red Square, take the metro to Alexandrovsky Sad (Alexander Garden) and you'll see the Kremlin directly in front of you as you exit.
GUM and TSUM
If you want to shop like a Russian oligarch, there are two must-visit malls in Moscow: GUM (pronounced 'goom') and TSUM ('tsoom'). Both are housed in spectacular buildings dating from the early 20th century, and both are filled to the brim with designer goods at astonishing prices. Shopping here is not recommended unless you happen to be a Russian oil baron, but both stores are well worth a stroll through for novelty value. GUM is located on Red Square; to reach TSUM, hop on the Metro to Teatralnaya.
St Petersburg
The former Imperial capital of St Petersburg is often described as Russia's capital of culture. Here you can visit the Winter Palace and the lovely baroque cathedral of Saints Peter and Paul, and the vast collection of art objects held at the Hermitage Museum. The westernmost Russian city, St Petersburg sits on the Baltic Sea, and it's easy to travel by ferry from here to either Helsinki in Finland or Tallin in Estonia.
Mariinsky Ballet
St Petersburg is also home to the Mariinsky Ballet (formerly the Kirov Ballet), one of the world's best-known classical repertory companies – former dancers include Mikhail Baryshnikov and Anna Pavlova. The theatre building, in Theatre Square, is well worth a visit and an evening show is a must-see for ballet fans; tickets (starting at 800 roubles) can be booked online.
Lake Baikal
Far away in the southeastern region of Siberia, Lake Baikal is the largest freshwater lake in the world and a wonderfully scenic place to go walking and wildlife-spotting. Around the crystal-clear waters you can see Baikal seals, taste fresh local salmon, and experience the culture of the nomadic Buryat tribe who live in the region. In the summer you can cruise across the lake, and in winter – if you're wrapped up warm and feeling brave - it's even possible to drive across!
Trans-Siberian Railway
Almost 6,000 miles long and one of the world's great feats of engineering, the Trans-Siberian Railway connects Moscow to Vladivostok in the far east of the country and on into Mongolia, China and North Korea. The full journey takes seven days; even keen railheads might find that a bit much in one go, so it's common to break up the journey with stopovers in Yekaterinburg at the foot of the Ural mountains, and Irkutsk for Lake Baikal (see above). Whether you complete the whole 9,000km trek to Vladivostok or hop off at Nizhni Novgorod after just five hours, a trip on the Trans-Sib is bound to be a memorable one. Book online here.
Volga River cruises
If train tracks aren't your thing but you'd like to visit Russia in a more leisurely and scenic way than air travel allows, why not take a cruise up the River Volga from Moscow to St Petersburg? Cruises are a great way to discover Russia's smaller towns and villages and to enjoy the majestic Volga itself; in the summer, it's even possible to swim in the river. Cruise packages include all meals on-board, guided tours and all excursions and entrance fees as well as evening entertainment. Book online here.
If you enjoyed this post like us on Facebook and follow us on Twitter or Google+.
Written by Lise Smith, a former contributor to Lonely Planet's India guidebook - she's seen her fair share of hotel rooms (both grotty and glamorous!). She learned to walk in a hotel corridor in Tunisia, and at the age of three had been on more aeroplanes than buses. Lise writes for a number of local news, technology and arts publications.
Top