Back at work and already feeling those waves of wanderlust? If you're looking to push your travel boundaries in 2014, there are plenty of exciting adventure holidays and destinations to choose from; here are just a few ideas to get you started. You'll soon have something amazing to look forward to...
Adventure holidays in 2014: where to go!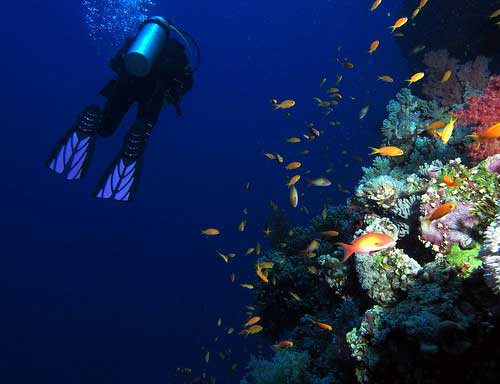 Image: Derek Keats under Creative Commons licence.
1. Scuba diving in the Red Sea
Scuba diving is a unique experience that has long been a popular choice amongst active and adventurous holidaymakers - and Egypt's Red Sea, with its calm, warm waters, provides the perfect conditions both to novices and more experienced divers. The views here are breathtaking: coral reefs full of tropical fish, underwater gardens, wrecks and sheltered coves are all within easy reach of divers thanks to the crystal clear conditions.
If the underwater world has always appealed, you can book diving holidays in a number of iconic worldwide destinations with Thomson Holidays, including packages at the Ocean Club in Sharm El Sheikh (Egypt) and in the Caribbean. Many resorts throw in free lessons for beginners from PADI-approved instructors.
2. The Inca Trail and Amazon rainforest
Peru offers visitors a rich and fascinating tour through history, with enduring evidence of its occupation by various ancient civilisations, most notably the Incas. The Inca Trail is considered a trip-of-a-lifetime by many, and, with its unique mix of rugged scenery, iconic ruins, jungle views and vast lakes, it's easy to see why.
Taking a guided trek through the Inca Trail and Amazon rainforest is a fantastic way to experience the route to Machu Picchu first hand, while learning about the trail's astonishing history from expert guides. Exodus runs a three-day itinerary tour of the Inca Trail, including boat trips on the Amazon and flights to and from London. Prices start at £2,799 with tours running between April and November.
3. Great American road trips
The American highway has probably inspired more pop songs and works of fiction than any other stretch of road, so if you're keen to get your kicks on Route 66 (or indeed any other), there are many suggested routes that are known for their ambience and beauty, depending on how long you are able to spend 'on the road'.
Route 66 itself takes you through the majestic sights of the Grand Canyon and Hoover Dam, while the epic 'Coast to Coast' route is probably only one to consider if you're willing and able to spend the best part of three weeks at the wheel. The so-called 'Road to Nowhere' cuts a straight line down the middle of America, running from North Dakota to Matamoros in Mexico.
For more ideas, take a look at Road Trip USA.
4. The Pyramids
Image: Playlight55 under Creative Commons licence.
One of the original Seven Wonders of the World, the Pyramids still hold a mythological power that's truly unrivalled. Despite this universal appeal, a visit need not be expensive, and Thomas Cook is currently offering deals within travelling distance of the ancient structures from just £436.
Of course, a trip to the Pyramids would not be complete without a camel ride - which is a bit of an adventure in itself!
5. Kitesurfing in Spain
Easy peasy - with a bit of training! Image: KA13 under Creative Commons licence.
If you're looking for something to really challenge your fitness levels (not to mention your head for heights), kitesurfing has really taken off in Spain. The sport has become so popular that you can now book package tours including accommodation and lessons in kitesurfing from qualified instructors in a number of locations. Try Sportif Travel for a range of kitesurfing packages.
As its name suggests, kitesurfing involves hanging on to a large kite that pulls you through the water on a board, allowing for all kinds of jumps and aerobic antics. Check out Tarifa Max Kitesurfing School, based on the most Southern point of Spain for a taste of what you could learn on the beach this summer!
Everyone's idea of an 'adventure' is different: whether it's a trip to the North Pole or a jaunt to Disneyland - adventure is whatever it takes to get your pulse racing. And now's the time to get planning for the spring and summer season! Don't forget, we offer award-winning specialist travel insurance and more here at Holiday Extras, to make planning your adventure a little easier.
If you enjoyed this post like us on Facebook and follow us on Twitter or follow our YouTube Channel.
Written by Abi Silvester, a London-based writer and editor with a passion for great food, fine wine, coffee and cats; always planning my next trip! @absinthecity
Top