Image by Martijn Munneke under Creative Commons license.
As travel takes us further and further around the world, it's increasingly likely that your trip will start with departure from one airport and arrival at another. Airports can be crowded, stressful, soulless places; but as these examples of the world's best also demonstrate, they can be objects of beautiful design and offer excellent shopping and dining. Just don't have so much fun you forget to get on your flight!
Amsterdam Schiphol
One of the busiest airports in the world with almost 50 million passengers passing through, Schiphol nevertheless manages to keep passengers flowing serenely through its single terminal into its three large departure halls. Once in the building, culture-loving passengers can relax in the Schiphol Airport Library or take in classical and contemporary art at free collection provided by the Rijksmuseum. Others may prefer a quick game of poker or blackjack at the airport casino, or a relaxing massage in one of the many automated shiatsu chairs dotted around the terminal.
Munich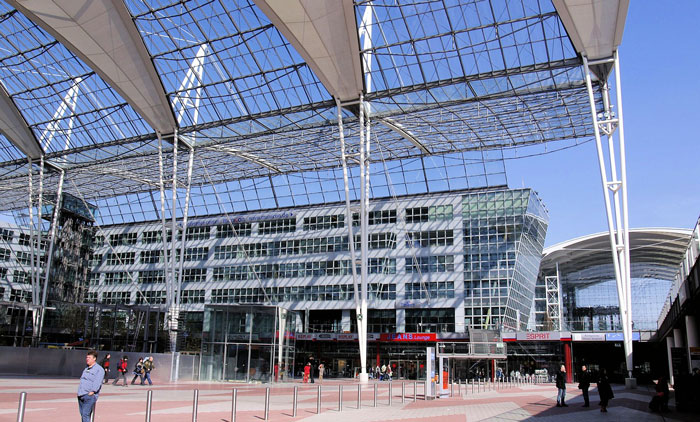 The innovative glass design of Munich's Terminal 2, opened in 2003, means the airport is unusually light and airy. In keeping with its Bavarian location, Munich features the world's first and only airport brewery, the Airbräu, serving seven different kinds of beer. There are also two spas offering manicures, facial treatments and chair massages, and an 18 hole mini-golf course.
San Francisco International
SFO's international terminal building, opened in 2000, is the largest international terminal in North America. The airport has won praise for its programme of cultural exhibits which include a library and a museum on the subject of aviation and art exhibits throughout the year. Families travelling with children will enjoy the self-guided airport tours, finishing with a prize for completion, as well as the interactive play areas in Terminals 2 and 3.
Vancouver International
Image by Daniel under Creative Commons license.
In a move that will do nothing to rock the general perception of Canadians as polite and friendly, Vancouver International Airport is staffed with a team of green-coated ambassadors who are on-hand from early morning until late evening to provide assistance to passengers. YVR is serious about sustainability, too; in addition to over 160 shops and restaurants, the airport also hosts a large collection of striking Northwest Coast Native art, an indoor garden and its own aquarium.
Tokyo Haneda
A fourth runway and dedicated international terminal opened in 2010, and converted Tokyo's Haneda Airport from a domestic hub into the second-busiest international airport in Asia. It has been twice named the most punctual airport in the world, and it has also been praised for its ease of navigation, speed of immigration and security processing, and bright, clean environment. For tired travellers, he Raffine Refreshment Salon on the fourth floor offers invigorating reflexology and massage.
Singapore Changi
Image by Duncan Chen under Creative Commons license.
Regularly voted the world's best airport, Changi was designed to make travel as efficient and stress-free as possible, and provides an incredible array of passenger amenities including a rooftop swimming pool, a butterfly garden, a cinema, a four-storey slide, and the chance to create your own traditional woodblock print. Changi airport even has its own fan community on Flickr – check out their photographs to find out why people actively enjoy layovers here.
London Heathrow Terminal 5
Opened in 2008, Heathrow's terminal 5 was designed by architects Pascall+Watson to improve the flow of people moving around the building and keep the experience of travelling through the world's second-busiest airport relatively pain-free. T5's design is clean and airy, and the retail area boasts high-end brands including Cartier, Chanel and Gucci. Get your holiday off to a grand start with dinner at the Oriel French Restaurant or Gordon Ramsay's Plane Food. Travel into Central London is easy on the dedicated Heathrow Express or – as long as it's outside rush hour – the Piccadilly Line on the Underground.
If you enjoyed this post like us on Facebook and follow us on Twitter or Google+.
Written by Lise Smith, a former contributor to Lonely Planet's India guidebook - she's seen her fair share of hotel rooms (both grotty and glamorous!). She learned to walk in a hotel corridor in Tunisia, and at the age of three had been on more aeroplanes than buses. Lise writes for a number of local news, technology and arts publications.
Top