Cover Image: Raymond Shobe under Creative Commons licence.
Beaches, sunsets, swimming pools…chances are your friends have seen them all before, but how much more impressive would your holiday snaps be if they included close-ups of David Beckham, Lady Gaga or Miley Cyrus? If you want to rub shoulders with the rich and famous on your travels, we've got some A-List celeb-spotting destinations lined up for you that will add a touch of glamour to your trip…
A guide to seeing stars: easy celeb-spotting!
1. Los Angeles
Hollywood has long been the spiritual home of celebrity, so if you want to get up close and personal with the stars, this LA hotspot is still the place to be. An entire tourist industry has sprung up around the cult of celebrity here, so it's really up to you how close you want to get…
Tours centred around celebrity homes operate regularly, taking curious customers around the key A-lister hangouts of Beverley Hills, Malibu and Bel Air. Check out Starline Tours, which has been running its Movie Stars' Homes tour since 1935, for the original experience! Afterwards, you can pitch up at Bar Marmont or The Ivy where the great and the good dress to impress.
If you'd prefer to play paparazzi and spot celebs in their native environment, LAX Airport is believed to be one of the most star-studded airports in the world, so if you keep your eyes peeled, you might even spot a famous face the minute you touch down!
Other American locations with a higher than average celebrity count include Miami, Hawaii and New York City.
Likely spots
: film stars, movie directors, rock stars and almost anyone else in showbiz.
2. Edinburgh
Scotland may seem an odd choice of location for celeb-spotting, but as anyone in 'the biz' will tell you, its stylish capital attracts more than its fair share of stars – at least once a year!
Visit Edinburgh during festival season (the first three weeks in August), and you're almost guaranteed a celeb-spot or two, particularly if you're into comedy or the theatre. Throughout the legendary arts event, many stars of screen and stage congregate in the city – both to perform, and to catch a whiff of the next big thing: you're just as likely to find yourself sitting next to an actor or comedian during the festival as you are to be watching one on stage.
True celebrity obsessives should time their return journey to coincide with the end of the festival itself – the carriages quickly turn into a who's who of British comedy talent!
Likely spots: stage and screen actors, comedians, directors, critics.
3. St. Tropez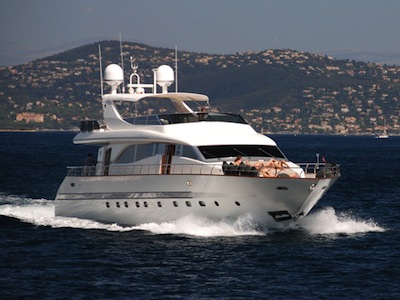 Travelling A-lister style in St. Tropez. Image: Michael Gwyther-Jones under Creative Commons licence.
St. Tropez has long been a celebrity playground and remains a popular holiday location for the jet-set. Fortunately for UK travellers, this beautiful coastal spot is also just a short flight away via Nice or Toulon airport, making it the ideal destination for a short but exciting break.
The exclusive Plage de Pampelonne is a good bet for celebrity spotting, and if you can afford to have a meal at Club 55 in Ramatuelle, you'll probably count some famous faces among your fellow diners.
Other French celebrity hotspots include Paris, Monaco and Cannes.
Likely spots: fashion designers, cinema A-listers, pop stars.
4. Lake Como
Lake Como in Italy's Lombardy region has been a popular getaway for celebrities for many years, and it's easy to see why: beautiful, secluded hideaways dotted along the lake's sparkling turquoise waters make for the perfect bolthole, away from the public glare. Unfortunately for the glitterati however, their secret is out.
It's common knowledge that Madonna, George Clooney and Richard Branson have all owned holiday homes here, and there is some prime real estate that still attracts an elite clientele. It sounds prohibitively expensive, but you can book a relatively cheap flight to Milan, and take advantage of the many affordable package deals around Lake Como.
Other notable Italian celebrity hangouts include Portofino and Rome.
Likely spots: off-duty movie stars and entrepreneurs.
5. London
Don't forget that our own capital city is a magnet for stars, both those born there and those who have made it their home – notably the original celebrities: the Royal Family!
London will always be a popular destination for celeb-spotting, whether you pitch up on the red carpet at a West End premiere or simply hang out on the King's Road, hip East End bars or the watering holes of Soho.
You could bump into famous people almost anywhere in London, but known haunts of the rich and famous include the Met Bar, Mahiki, Nobu Berkeley and Sketch.
Likely spots: future kings and queens, pop stars, MPs, actors.
Tell us about your celeb-spotting exploits on holiday... If you enjoyed this post like us on Facebook and follow us on Twitter or subscribe to our YouTube channel.
Written by Abi Silvester, a London-based writer and editor with a passion for great food, fine wine, coffee and cats; always planning my next trip! @absinthecity
Top