Perhaps you're a bit of a 'luvvie', for whom no city break would be complete without a hot ticket, or maybe you just want to round off your next trip with a bit of culture. Either way, if you're hoping to catch some quality theatre on your next holiday but are short of ideas, we've got some fabulous, five star destinations to see a show - whether you're into comedy, musicals or serious drama.
Top theatre breaks - great destinations to see a show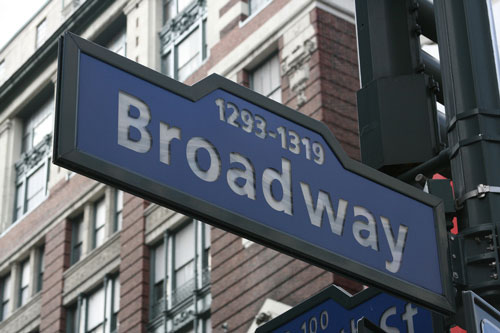 Image: Peter J Bellis under Creative Commons licence.
New York - Broadway
Broadway is a global epicentre of theatre (whether musical, fringe or traditional), and it remains an exciting destination for those looking to see a first-rate show. Currently on Broadway, visitors can catch performances of Avenue Q, Twelfth Night, Book of Mormon, Phantom of the Opera and much more.
Successful touring productions from all over the world come to dazzle audiences under the bright lights of Broadway, so the chances are you'll get to see some shows you may have missed back home on a visit to the Big Apple. But you're likely to make some exciting new discoveries, too.
Tickets to Broadway musicals and other shows are notoriously expensive, but with a bit of planning, you can take measures to reduce the cost of your experience. For a guaranteed saving, leave some space in your itinerary, and check in at the half price ticket booth on Times Square: same-day tickets for some of the world's biggest shows are sold daily for up to 50% off at the booth, which is staffed by knowledgeable advisors who know the New York theatre scene inside-out.
Other US destinations where visitors are guaranteed a good show include Las Vegas, LA and San Francisco.
Las Vegas, Nevada
Image: Abi Silvester.
For entertainment of an entirely different sort, you can't beat Las Vegas for sheer scale and spectacle. Despite the city's reputation as a gambler's paradise, it's just as easy to spend your time in Vegas watching shows as it is putting coins into slot machines - and a short stroll along the strip will quickly reveal plenty of options for performances you can catch at any time of day or night.
From 'classic showgirl' pieces such as Jubilee! (which includes a particularly memorable re-imagining of the sinking of the Titanic) to awe-inspiring, acrobatic performances from Cirque du Soleil, every Vegas production is a ticket to sensory overload. Britney Spears has recently taken up residency in the city with her Piece of Me show at Planet Hollywood, which is also set to be huge hit with visitors. If you want subtle, cerebral theatre, we suggest you look elsewhere!
Athens - Epidaurus
Image: Sharon Mollerus under Creative Commons licence.
If you've ever wanted to explore the very origins of theatre, Greece has some spectacular old amphitheatres to discover, some of which are still in regular use. One of the most well-preserved and beautiful of these structures is the ancient theatre at Epidaurus, which comes alive for a festival of performing arts held every year between May and October, covering most of the tourist season.
Set amongst rolling hills within the archaeological site of the Sanctuary of Asklepios, the theatre traces its history back to the 4th Century BC. It was built to seat up to 15,000 people, and is said to have outstanding acoustics that rival the audio technology of modern-day theatres. A wide range of performances now take place on its central 'stage', but for many visitors the theatre's main appeal lies in its scenic surroundings and its history.
Regular guided tours are conducted in English throughout the season. The site is approximately two hours' drive from Athens, and specially scheduled buses make the journey on all performance days.
You can also visit classical theatre sites in Athens at the Odeon of Herodes Atticus, on the southwest slope of the Acropolis, or at the Theatre of Dionysus.
London, England
Image: Damien Everett under Creative Commons licence.
Thousands of visitors flock to London's West End every year to experience its world class theatre scene, and to enjoy live performances from some of the most celebrated actors of their generation. Every type of entertainment is on offer in London, from spectacular big-budget musicals, dance, cabaret and circus, right through to Shakespearean pieces in traditional or modern dress. Current hits on the West End circuit include Roald Dahl's Matilda, comedy musical Book of Mormon, musical classic Phantom of the Opera and family favourite War Horse. Check out Show & Stay for good deals on West End shows with an overnight stay at a London hotel.
Theatre buffs in the UK are thoroughly spoilt, and have good reason to visit the capital regularly to catch the latest hot tickets: for the serious stage fanatic, new plays and reworked classics are staged each season, with the National Theatre, Royal Court, Almeida and Young Vic leading the way. Those seeking something more traditional will love the newly-built candlelit theatre, the Sam Wanamaker Playhouse at Shakespeare's Globe: a wonderfully intimate venue that brings audience members as close as possible to the experience of Jacobean theatre.
As in New York, London Theatre tickets can be pricey, but the Half Price Booth in Leicester Square regularly sells tickets to popular musicals and plays at 50% face value.
Edinburgh, Scotland
Image: Alastair Barnsley under Creative Commons licence.
Edinburgh is well known for its arts festival that takes place every year throughout the month of August, and this is a great time to visit particularly if you're a fan of comedy or fringe acts. But the city is a great destination for theatre lovers at any time of year thanks to its rich cultural scene, and venues. These include the Traverse, which is home to innovative theatre and new writing, and the Edinburgh Playhouse, which plays host to some of the UK's biggest musicals, all within a 30-minute drive of the airport.
Have you been to a great show on holiday? If you enjoyed this post like us on Facebook and follow us on Twitter or subscribe to our YouTube channel.
Written by Abi Silvester, a London-based writer and editor with a passion for great food, fine wine, coffee and cats; always planning my next trip! @absinthecity
Top