Holidays are all about escaping from reality to some extent, but how about taking that a step further and entering a world of imagination and fantasy, dreamed up by the world's greatest movie directors? From working film-sets to iconic everyday locations made famous on big screens the world over, these star-studded spots will add another dimension to your holiday.
1. Mrs Doubtfire's House, San Francisco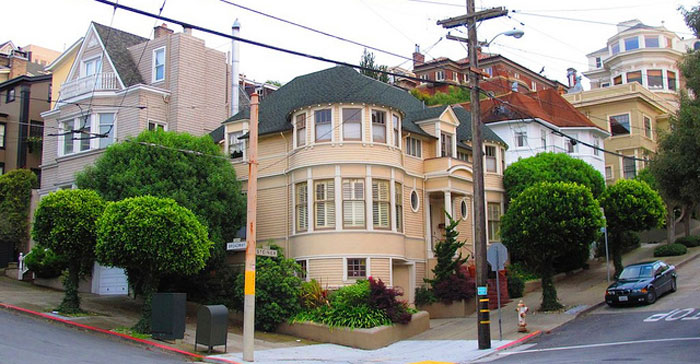 Image by Markheybo under Creative Commons license.
On the corner of one of San Francisco's most iconic streets and just a short walk from the famous 'painted ladies', an ornate cream-coloured house sits between Broadway and Steiner Street. This is the house where the 1993 hit comedy 'Mrs Doubtfire' starring Robin Williams was filmed, and for fans of the movie visiting the city, it's an absolute must-see. As the house is a private residence, it's not normally possible to see inside, but this lucky blogger did manage to blag a persona tour, taking away some beautiful photographs from the experience. 2640 Steiner Street - the address given in the film itself - is the actual real world location of the house.
2. Devil's Tower from Close Encounters of the Third Kind - Wyoming
Image by William Andrus under Creative Commons license.
Fans of 1970s sci-fi flick Close Encounters of the Third Kind might well assume that the other-worldly Devil's Tower was just another special effect, but the rocky centrepiece of Spielberg's cult hit is in fact a real mountain, based in Wyoming. It's easy to see why the alien-looking formation was chosen to play such an important role in the film, in which the protagonist at one point attempts to re-create it with his mashed-potato dinner.
3. Hobbiton from Lord of the Rings - Matamata, New Zealand
Image by Jeff Hitchcock under Creative Commons license.
If you've always dreamed of stepping into Tolkien's fantastic world of Middle Earth, a visit to the Lord of the Rings film set in Matamata, New Zealand, is certainly one to add to your travel wish list. Build for the film trilogy and left more or less as it was last seen on screen, complete with hobbit holes, the Green Dragon Inn, the double-arched bridge and many other locations you'll remember from the films. A two-hour guided tour is available to book via Hobitton Movie Set Tours, and visitors can book accommodation in a nearby farm if they want to stay in the Shire for longer.
4. Yavin 4 from Star Wars at Tikal - Guatemala
Image by Mike Murga under Creative Commons license.
Recognise this extraordinary, other-worldly structure? Chances are you'll know the ancient ruins of Tikal best from their appearance in Star Wars: A New Hope, when they were used as the set for an inhabited moon called Yavin 4. Set among thick rainforest, the structures are actually part of a great Mayan city that dates back to the 6th Century BC, so a visit here will be pretty mind-blowing even for non Star Wars geeks.
5. The Ghostbusters Fire Station - New York
Image by Laura under Creative Commons license.
The fire house known as 'Ladder 8' in Tribeca, New York City, is famous for its appearance in 1984 kids' classic Ghostbusters, where it served as Bill Murray and Dan Aykroyd's HQ. The tall building with its big windows arched red door is instantly recognisable to fans, and there are even some references to the film's spooky stars left around the premises. There's not much else to see here - don't make it the main focus of your day! But it's very much a classic, working NYC fire station where you can turn up, take a selfie and enjoy the nostalgia.
6. The Beach from… Well, The Beach!
Image by Vyacheslav Argenberg under Creative Commons license.
Filming for the film adaptation of Alex Garland's The Beach took place largely on location at Ko Phi Phi Leh Island in Thailand. As you'd expect from the eponymous locale, this is one of the world's most picturesque beaches: a white sand paradise of warm, gentle water sheltered by the two unmistakable rocks. Visitors can hire a longtail boat to arrive at the shore in style, or enjoy a guided boat tour around the area.
7. Amelie's Cafe - Paris
Image by LW Yang under Creative Commons license.
The favourite hangout of film heroine Amelie is a real life cafe in the pretty Montmartre region of Paris, itself named after the nearby Moulin Rouge (as made famous by the 2001 film) and Moulin de la Galette. Head to 15 Rue Lepic, 75018 Paris, for a coffee and a croissant in fabulously French movie star style.
If you enjoyed this post like us on Facebook and follow us on Twitter or subscribe to our YouTube channel.
Written by Abi Silvester, a London-based writer and editor with a passion for great food, fine wine, coffee and cats; always planning my next trip! Follow her on Twitter.
Top