In the second part of our interview with the Hungry Traveller, our favourite foodie adventurer shares more top tips for enjoying your holiday grub. And there's still a chance to win a copy of his book, Travel Bites, in which every chapter includes a recipe inspired by his latest exploits.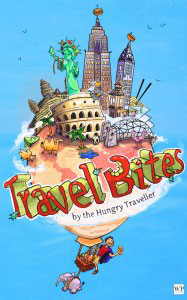 Do you have any highlights among your many food adventures?
In my book, one of the key things that I have tried to capture is that most of my travelling highlights have been closely intertwined with food and drink. Despite the years that have now passed, I still clearly remember my first afternoon in Hanoi when a cyclo driver took me to his local "bar" after work. Basically, workshops and garages all over the city are cleared out after the day's work, plastic tables and chairs are put out, and local beer is served from 10-litre plastic containers.
While enjoying the cooler evening weather and talking to my new-found friend, I remember sampling the local "bar snack" of hard boiled pigeon eggs (to this day, I do not want to think about where these eggs were sourced). Clearly it was not the food itself (nor the warm beer!) but a combination of truly experiencing life as a local and learning so much about my new friend's life that made the night so unique and memorable.
The memory of eating saganaki and drinking chilled white wine from a restaurant balcony during the stillness of dusk as the sun set over the caldera in Santorini is also equally strong – albeit on the other end of the spectrum in terms of food and quality of dining experience. However the fact that both evoke such strong memories also proves that even when travelling on a shoestring, you can have some amazing experiences, if only you allow yourself to be open to them.
How much research do you do before leaving home?
Research is critical, and with so much information readily available on the internet, there is really no excuse for not being prepared before you travel. I know that there are many people who say that being prepared takes the "unexpected" out of travel but in my personal experience this is complete nonsense and many of those who spout this same philosophy tend to also be the same people who end up not venturing beyond the bar in their hostel.
My view is that travelling costs money and time is precious. You need to plan out where you want to visit and read up on the history and background before you leave to get the most out of your destination when you are there. Although I am hopeless with languages, I also try to learn a few phrases in advance of leaving – being able to say as little as hello, how are you, thank you and goodbye opens up so many doors with local people.
Further, I am firmly of the belief that if you do your research before you leave home, you are more likely to open yourself up to some of the more memorable travel experiences - having some basic knowledge of the people, culture, food, and customs of the place you are visiting means that you will feel confident, rather than intimidated when you are out in a place that would otherwise feel "foreign" - making you more receptive to potential opportunities to do something that will create a memory that will stay with you always.
Do you ask the cooks you meet for their recipes or source them when you get home?
This really depends upon the situation and in reality tends to be a combination of the two. One of the reasons I enjoy the experience of street food is that you can more often than not see the food being prepared in front of you - the cooking lesson is part of the cost of the meal! Another thing that has become increasingly available during the time that I have been travelling are "homestays" – I would definitely suggest taking advantage of such opportunities.
In some of the more remote places I have visited such as the Mekong Delta, and the hill tribe areas of Thailand and Vietnam, it is possible to stay in villages with a family who have basically created a rustic guest house, where apart from the bed for the night you also get a home-cooked dinner. Much to my hosts' amusement, I have also asked if I could help with the cooking! In the process, I have learnt so much about local food – it is how I learnt to make spring rolls.
What advice would you give to holidaymakers who find eating out overseas a little stressful?
If the experience is going to stress you out too much, don't do it because travel should be fun. But from time to time you should try to push the edge of what is your personal "envelope" and do something that is slightly outside of your comfort zone. If you don't like the meal that you eat, the next one could be better – and if you find a place that serves food you really enjoy, there is nothing wrong with visiting it multiple times (but at least try different things on the menu).
Again, doing some research on the local dishes before you leave is going to be useful – it will help with ordering if you are presented with a menu written in a foreign language. If I am completely stumped, I will try to ask the waiting staff what they recommend or the specials of the house, it helps increase the chances of getting a dish that you'll like. However, you will end up eating dishes or in places that you won't enjoy – just accept it as something that will happen – and bad dining experiences make for just as good holiday stories as the good experiences!
Travel Bites is published by Wattle Publishing. Follow the Hungry Traveller on Twitter @Travel_Bites, on Facebook and his website.
Top