A fantastic meal can be one of the most memorable parts of a holiday. Travel and food enthusiast the Hungry Traveller has been lucky enough to combine his two great passions in his first book, Travel Bites. Following him across the globe, each chapter features a recipe inspired by his latest adventure. With a wealth of travel and food experiences to share, we asked the Hungry Traveller what tips he has for holiday eating.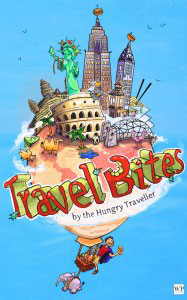 What do you look for when choosing a restaurant on your travels?
Finding a good restaurant while you are travelling is really no different to finding a good restaurant at home. Personally, I always ask the staff at the place where I am staying if they can recommend somewhere that serves good local food – and what dish they would recommend trying. Although it is not without risk, I find that you will invariably end up with a reasonable meal.
However, I think that you should always apply the same principles that you would use at home – if the restaurant is full of locals, for example, that is always a good sign. I know that many guidebooks and travel websites will list out recommendations too. You should take this with a pinch of salt! Always look at the date of the recommendation – good places can turn bad. Or look for a restaurant with multiple recommendations – after all, anyone can post a recommendation, including the restaurant owners!
One other tip is not to be afraid of eating street food. Whereas a kitchen restaurant is generally hidden from view, more often than not, street food is cooked right in front of you, so you can form your own judgement on cleanliness and the freshness of the food. It also gives you a chance to see what looks "interesting" before ordering it. Some of the best food that I have eaten has been street food.
Do you always travel and eat alone?
I have mostly travelled alone but also with friends and groups. There are advantages and disadvantages to each. Some of the best experiences that I have had tend to occur when I have been travelling alone – especially when it has come to interactions with local people.
However, from a food point of view, travelling with others definitely has advantages. In most places, it is customary to share dishes – so if you are part of a group you should definitely all order different dishes, including ones that are out of your "comfort zone" – that way you get to really sample a cross section of dishes and reduce the risk of ending up with a meal that you do not like and going hungry!
Any tips for solo travellers hoping to get chatting to the locals?
I find that just being by myself seems to attract the curiosity of the locals. I think that being alone makes you more approachable than being a group, but it also makes you more of a target as well – so if you are travelling by yourself you need to be aware of your personal safety and cannot assume that attitudes and tolerances from where you come from are considered the "norm" in the country in which you are visiting.
Having said that, I have had some amazing experiences by going to places and areas that are slightly removed from the main tourist trail - where local people want to engage with you because you are visibly different or perhaps want to practise their English for example. The other tip which may come as a surprise is that many touts and small store owners in tourist areas are keen to engage with people beyond trying to make a sale.
The majority of tourists brush past these people as if they are an inconvenience – and yes, it can sometimes be a bit annoying and a little intimidating. However, you should occasionally stop and listen to the pitch – it more often than not opens up a broader conversation. Many small stall owners will offer you a seat, and, depending upon the country, a hot drink to show you their ways. In most places where haggling is the norm, store owners will try to engage with you on a personal level, and you should take the opportunity to ask questions back.
I have ended up spending hours talking to stallholders and have been invited to eat many times (you should definitely exercise a lot of discretion before accepting such an invitation); and have always learnt a lot more about the place than if I had spent my time just visiting the tourist attractions and avoiding the local hawkers. One further piece of advice: if you do spend hours talking to someone in such a situation, you should at least purchase something small from their stall as a gesture of goodwill.
Any warnings?! What have been your most uncomfortable dining experiences on the road?
I think by and large I have been pretty lucky in this regard. I have obviously eaten my fair share of average meals but have never had an uncomfortable dining experience.
You must have a pretty strong stomach by now, but what's the worst thing you've eaten?
Touch wood, but to date I have never had an upset stomach from travelling – and that includes being to Egypt twice and backpacking through eastern Africa and south-east Asia. I generally try to eat things that I cannot eat (and possibly would not eat) if I was at home. There have been things that I have eaten that sounded exciting on the menu, but were disappointingly boring in terms of taste – such as scorpion and snake.
As a rule, even if the food might not taste the best, I will always eat the food. After travelling through developing nations where so many people live in poverty and with very little, in my view, wasting food is almost immoral – however, there is one exception. Against my better judgement, I tried tripe for the first and only time in Bangkok. Despite it being dressed up in a tasty sauce, it still smelt like a wet dog; the texture was rubber-like, and I could not physically swallow it – and no matter how much some of my friends have tried to convince me since, I refuse to eat it again!
Travel Bites is published by Wattle Publishing. Follow the Hungry Traveller on Twitter @Travel_Bites, on Facebook and his website.
Top