A good meal is such an important part of your holiday, we want to give you a heads-up on the best places to eat on Tenerife - our customers' favourite destination this month. We've trawled review sites and travel blogs and canvassed expert opinion at Holiday Extras to give you five ideas for top Tenerife places to eat. You can browse their websites, peruse the menus and book online before you go, to make eating out on holiday a breeze.
Tenerife places to eat
Calle de Pedro Gonzalez Gomez, 20, 38600 Granadilla de Abona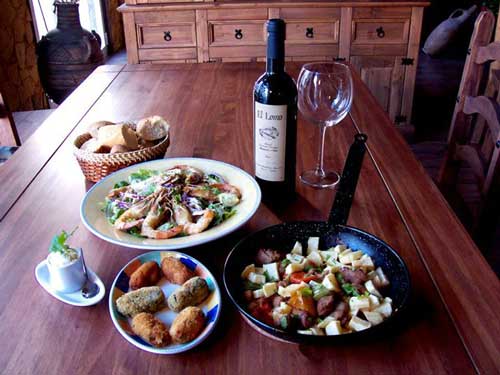 Image: Tasca Tierras del Sur
Tasca Tierras del Sur is nestled in the south of the island in the ancient capital Granadilla de Abona, close to Teide National Park. This super-popular restaurant is renowned for its tasty authentic Spanish food, relaxed service, warm atmosphere and great value. It's also child-friendly.
Victor will welcome you with a glass of cava and talk you through the menu, advising on the best combination of dishes and wine. Meanwhile, Astrid will create tapas and Canarian specialities in the kitchen using fresh local produce.
It's best to book a table in advance at this small and very popular restaurant (online booking available), and note that it is closed on Sundays and Mondays.
Calle Mequinez, 21, 38400 Puerto de la Cruz
Image: El Mana
Opened by young chef Ruth Marrero in November 2011, El Mana; is a unique organic restaurant-cafe amid the tourist fare of Puerto de la Cruz.
An intimate and inviting place with an open kitchen, El Mana; is known for its creative organic vegetarian cuisine made from local produce. The excellent service, friendly waiters and great local wines go down well too - even carnivores love it. Vegan and gluten-free options are available, and if you have any kind of intolerance or allergy just let your waiter know as they will do their best to accommodate you.
Every dish is freshly prepared so expect a leisurely pace. Head to the website for details on how to book by email and Facebook. The restaurant is closed on Mondays and Tuesdays.
Calle La Marina, 16, 38618 Los Abrigos
Image: Los Roques
This high-end restaurant has become one of the top destinations for food-lovers in Tenerife since it opened in 2005.
With amazing views of Los Abrigos harbour and the coast, Los Roques offers eclectic international dining in a stylish setting. The menu is carefully selected and regularly changed, always featuring plenty of freshly-caught seafood. It's more formal and will cost more than our first two restaurants, the perfect venue for a special occasion or if you deserve a treat.
That's not to say the professional team - Sebastian the head chef, Peter the restaurant manager, Silviu the dining room manager and Andrew the bartender - don't provide a relaxed, friendly and knowledgable service. It's best to reserve a table in advance; bookings can be made on the website. Los Roques is closed on Mondays.
Barranco de la Arena, 53, Autopista de Santa Cruz, (Exit 32), 38300 La Orotava
Image: Lucas Maes
If you really fancy pulling on the fancy pants, Lucas Maes offers sophisticated, fine dining on the north side of Tenerife.
This opulent and stylish restaurant is admired for chef Lucas Maes' innovative fusion dishes with Spanish and French flavours, as well as a healthy (here that means large) wine list. It's not cheap but you're sure to have an unforgettable night, particularly if you dine on the terrace overlooking the beautiful gardens and Orotava Valley.
Take a look at the website to find details of how to book. Lucas Maes is notoriously tricky to find and located on a fast bend close to a motorway exit. The least stressful option is to take a taxi - it's a short car ride from Puerto de la Cruz.
Calle Anaterve 1, Plaza Manuel Ballestero, Punta Brava, Puerto de la Cruz
Image: Tambo
Don't be fooled by the decidedly basic exterior of this popular Punta Brava eatery. Once inside and happily installed on the terrace, you will soak up the atmosphere and see that Tambo is dramatically perched on rocky headland overlooking the ocean.
The fishermen and crashing waves below you provide the amazing fish and seafood that Giacomo the head chef, Manuel the sous chef and head waiter Meritxell serve up every day. The menu depends on the day's catch, and dishes are simply and beautifully cooked in a local style.
There's a small selection of good wines and friendly, knowledgable staff who can explain the dishes on offer in a variety of languages. Tambo is good value for the quality seafood it serves. Visit the website for information on how to book by email or phone. The restaurant is closed on Mondays.
For more ideas on what to do in Tenerife, take a look at this great little activities video:
If you enjoyed this post like us on Facebook and follow us on Twitter or subscribe to our YouTube channel.
Written by Maxine Clarke: a writer, mummy, missus and campervan-lover. Used to travel, now enjoys a good holiday! Follow her on Twitter.
Top