And our Blogger of the Month award goes to...The Travelbunny! She tells us all about what she's been up to, as well as her travel must-haves...
The Travelbunny
Hello, I'm Suzanne, aka The Travelbunny, and I have a passion for travel, food and photography. When I'm travelling, I like to seek out interesting people, beautiful places and quirky experiences. I tend to travel with my stomach too so trying new food and eating unusual local dishes is all part of the journey. Here's what I've been up to lately and what travel must-haves and finds I've been having fun with...
Just back from...
Bruges is a brilliant place to visit for 48 hours, and I spent last weekend exploring the city. I live on the South Coast so it was just a 3.5 hour drive, door to door - so easy! I loved the pretty canals, medieval architecture and frites with mayonnaise. A tasty surprise were Cuberdon sweets known as "Purple noses" because of their cone-shape. They're mouthfuls of purple, chewy deliciousness filled with raspberry jelly. Of course there was a chocolate shop on every corner and more than a few breweries too.
Where next...
Jordan is my next trip and Petra is somewhere I've been hankering to get to for a while so I'm really excited about it. I can't wait to see The Treasury and hopefully get some great shots of the amazing rock formations. A float in the Dead Sea is on the cards and I'm looking forward to trying Mensaf, the Jordanian national dish, made with lamb, rice and spices.
I'm currently loving...
By Post Postcard Maker - app
I like to send postcards but sometimes finding the right stamp, locating a post box and waiting for the postcard to arrive at its destination 3 weeks after I've arrived home can be just a bit 'meh'. I've discovered a nifty little smart phone app, called 'By Post', where you can design a postcard on your phone using your own photo, and send it anywhere for just 99p all at the press of a few buttons. Such a personal way of saying hello and so easy - I love it!
Aperol Spritz
I discovered this drink in Italy recently and it's a great summer cocktail made with Aperol, an Italian aperitif, similar to Campari but slightly sweeter. 3 parts Prosecco, 2 parts Aperol, 1 part soda water, a slice of orange and ice. So here's to a lovely summer. Cheers!
I never travel without...
My camera and smart phone go everywhere with me but here are my other must-haves when travelling: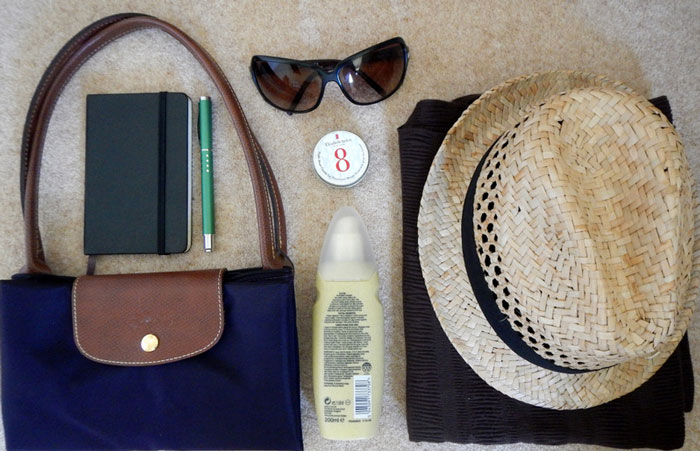 A large scarf or pashmina - Useful in any destination hot or cold; to cover up when the air-con is on full or to keep the sun off exposed shoulders. Useful as an emergency bag, to cover up when visiting religious sites or just to dress up an outfit.
Molskine hardback notebook and pen - perfect for blogging notes, there's a little pocket on the inside cover where I keep an emergency banknote.
Sunscreen, hat and sunglasses when visiting warmer climes. Sunglasses are also good for hiding tired eyes after a heavy night!
Lip balm! I can never ever be more than three feet away from it!
Fold-away bag - My Longchamp shopper means I can have a lightweight bag that is practical, looks nice and doesn't eat into my luggage allowance.
My Kindle - Ouch I said it! I love books; turning the pages, the picture on the cover even that paperback smell - but for travelling electronic books are just so practical.
To catch up on Suzanne's travels, be sure to check out her blog, The Travelbunny and like her on Facebook and Twitter.
Top