Looking for something new this year? Wildlife adds a unique dimension to any holiday - not to mention some spectacular photo opportunities. So if you're up for a spot of safari, snorkelling or just feel in need of some fresh air and space, you'll want to check out our top destinations for nature-lovers.
Wildlife holidays: great destinations for 2014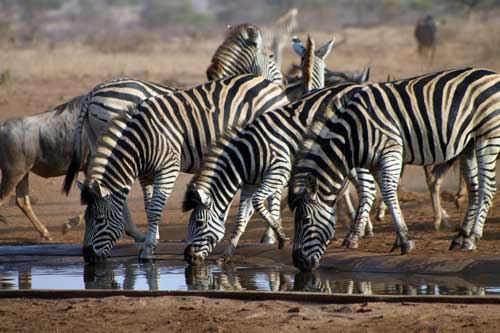 Zebra herd at Kruger National Park, South Africa. Image: Flowcom under Creative Commons licence.
Safari in South Africa
If you've always fancied the idea of getting up close and personal with elephants, big cats and other wild and wonderful creatures, going on safari could be one to tick off your bucket list this year. If this is your first time, there are packages available to suit every kind of safari novice - so whether you want to trek on foot or experience everything from the safety of a vehicle, there should be a trip out there for you.
South Africa is home to a great many game reserves and parks, several of which make for exciting safari destinations. These include the beautiful Kruger National Park, where visitors can can enjoy elephant-back tours, self-drive safari trips and a selection of guided tours, all led by skilled rangers. The accommodation available varies from camping to luxury hotels.
Other amazing African safari destinations include the Kalahari Game Reserve (Botswana), Masai Mara (Kenya) and the Mundulea Reserve (Namibia).
Galápagos Islands, Ecuador
Sea lions basking on Galápagos Islands. Image: Cdorobek under Creative Commons licence.
The Galápagos Islands are widely believed to be the ultimate wildlife experience, and this reputation is well-deserved: located off the coast of Ecuador, this largely unspoilt group of volcanic islands is home to a vast number of rare native species. Galápagos certainly is a trip of a lifetime for all animal lovers, or for anyone who appreciates the beauty and diversity of nature.
The Islands' isolated location in the Pacific Ocean has allowed animals that would otherwise have been kept at bay by predators to develop in ways that have not been witnessed anywhere else on earth - most famously the Galápagos giant tortoise, which can live for more than 170 years. Weighing in at over 400kg, this quite extraordinary beast is also one of the heaviest reptiles in the world. They roam among thick cactus forests, along with snoozing sea lions, sleepy iguanas and colourful crabs; a visual feast for the nature-loving visitor!
There are no specific tourist seasons, as the Galápagos weather is warm and spring-like all year round, with a steady 12 hours of daylight due to being so close to the equator. Visitor numbers to Galápagos are limited to preserve the environment, so you'll need to book through a reputable tour operator, and plan several months in advance.
Whale-watching in Iceland
For those looking to discover the marvels of marine wildlife, Iceland provides an ideal backdrop for watching whales and other sea creatures in their natural habitat. The capital city of Reykjavik is a great base for whale-watching excursions, with tours departing daily from the old harbour all year round: expect to see minke whales, orcas, white-beaked dolphins and humpback whales rising from the waters.
If your whale-watching adventure has left you hankering for an underwater experience of your own, Iceland's hot springs, thermal pools and geysers are a must-visit. These natural baths are heated by geothermal energy, so the water stays warm all year round. There are plenty to be found in and around Reykjavik, and of course, on a winter visit you may be lucky enough to catch a glimpse of the Northern Lights.
Can't stretch to an Iceland trip this year? It's also possible to go whale-watching right here in the UK. Check out Hebridean Whale Cruises for whale and wildlife cruises off the North Scottish coast.
Great Barrier Reef, Australia
One of the Seven Wonders of the Natural World, Australia's Great Barrier Reef is home to the world's largest coral system and is unparalleled in the diversity of marine life it has to offer. With over 1,500 species of fish, this is a dream destination for scuba divers, and the reef's warm, turquoise waters make for an enjoyable and fascinating diving experience.
If you'd prefer to stay dry while getting to know the reef, there are regular trips in glass bottomed boats, underwater observatories or even helicopters. This South Sea paradise is easily reached via connecting flights to Brisbane, and can be enjoyed at any time of year.
If you enjoyed this post like us on Facebook and follow us on Twitter or subscribe to our YouTube channel.
Written by Abi Silvester, a London-based writer and editor with a passion for great food, fine wine, coffee and cats; always planning my next trip! Follow her on Twitter.
Top