New Gatwick flight route for easyJet
Remember to book your hotel before your flight
Low-fare airline easyJet has announced details of a new route flying from London Gatwick to the Austrian city of Salzburg.
Beginning operation on December 13, the route will run thrice weekly, with prices from £32.99 one way and £55.98 return, including tax. The addition of the route takes the total offered by the airline from Gatwick to 50, with the expectation that 16,000 passengers are to take advantage of the service.
David Osborne, UK General Manager Commercial, said: "Salzburg is yet another exciting destination to add to easyJet's Gatwick network. We expect to be popular with passengers seeking both a city break away of a great ski destination for those looking to hit the slopes this winter.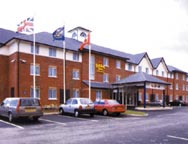 "EasyJet has more flights to the snow from Gatwick this winter than any other airline and Salzburg join other popular ski destinations such as Geneva, Innsbruck, Lyon and Sofia."
For those looking to explore the city of Mozart's birth, flying with easyJet from Gatwick to Salzburg represents great value for money. You may also choose to enjoy an overnight hotel stay at the 3-star Gatwick Express By Holiday Inn. Staying here will ensure that any last minute rushes to the airport on the day of departure can be avoided and you begin your getaway fully refreshed.
Please note: Book the Gatwick Express By Holiday Inn in advance to get the best price and availability.