Belfast International airport parking
Why pay the expensive gate rate prices for Belfast airport parking? Parking at Belfast airport can prove to be a stressful and expensive. The gate rate at some car parks can be over £6 per day. By pre-booking your Belfast International airport parking, we guarantee that you will have a space when you arrive and that we will get you a great low price. At Holiday Extras® we check our prices every day to make sure they are low, starting from just £69.00 per day - only £69.00 for eight days parking. If you want cheap Belfast airport parking, do a search and pre-book as early as possible.

Remember: Our best price guarantee - if you can find the same Belfast airport parking product cheaper elsewhere within 24 hours of making and paying for your booking, then we'll give it to you for FREE*. *Terms and conditions apply.

Select parking at Belfast International airport
Select one of the
Top tip: The gate rate price for car parking at Belfast International airport can be very expensive, sometimes over £6 per day. Always pre-book your airport parking, it guarantees your space at a superb price. The earlier you book the cheaper the price of parking is. Look out for our special SuperSaver, Advance, and Non-Flexible deals on parking. Belfast International regularly has some price-crunching offers.
Park and Ride options
All you need to do is park with us and ride the transfer bus to the terminal. On your return you can catch the bus to take you right back to your car.
= Recommended
= On airport parking
= Car parked for you
Car park
Terminals served
Transfer time
Features

Postcode:BT29 4DW, directions
All terminals
2 mins
(on demand)

Postcode:BT29 4AB, directions
All terminals
Within walking
distance
This table contains details of all our parking services at Belfast airport, including terminals served, transfer time and features.
Choose your Belfast International parking service
On-airport parking Belfast
Long Stay Belfast International airport is within the airport grounds. In fact it's so close you can walk to the terminal. This hassle-free option is so competitively priced, it's on a par with off-airport parking. The on-airport car parks are shown in the product table below with a small plane in the features column. Long Stay Belfast International airport is well sign-posted and easily accessible from all directions.
Off-airport parking Belfast
Cosmo parking Belfast airport is the closest off-airport car park serving Belfast International airport. Cosmo parking Belfast International airport has a rapid Belfast airport parking transfers, taking just two minutes to reach the terminal. You may also hear this type of parking called Belfast airport Park and Ride.
Top tip: Looking for disabled parking at Belfast airport? Both car parks - the Long Stay Belfast airport and Cosmo Parking Belfast airport have disabled bays available.
Belfast airport car parking procedures
Hand in your car keys and your car is parked for you: If you prefer this option then Belfast Cosmo Parking is the car park for you. You simply drive to the reception and hand in your car keys for the duration of your stay. When you arrive back to the reception from your holiday your car will be waiting for you.
Keep your keys and park your own car: Worried about leaving your car keys? Worry no more, at Long Stay Belfast International you won't have to. You can keep your car keys and you can park your own car.
Belfast airport parking upgrades
You can now add our
Belfast airport parking upgrades
to your parking booking. We offer things like European or worldwide travel insurance and holiday currency. You can also add a
Belfast airport lounge
to your booking and relax for up to three hours before you fly.
Belfast parking news
Top tip: Read our 5578 Belfast car park reviews a testament to the quality of our service and the car parks we offer at Belfast airport. Our customer satisfaction is at an all-time high - 99.87 per cent of our customers are happy with our service - though of course, we're striving to make that 100 per cent. If you have any questions about booking Belfast airport parking, visit our Belfast airport parking FAQs page
Belfast parking customer reviews
Long Stay

no problems at all, would recommend this to friends and will use this service again.

Mr Black 14 Apr, 2008
Cosmo

Excellent service, we have used Cosmo on numerous occasions and have never had a complaint, SIMPLY THE BEST, on hand as soon as phone call is made, courteous staff, EXCELLENT

Mr Mitchell 27 Sep, 2007
Long Stay

thought the overall service is very professional, and after a few problems to start it is improved to a very high standard

Mr Mckenna 14 Jan, 2008
Book Belfast airport parking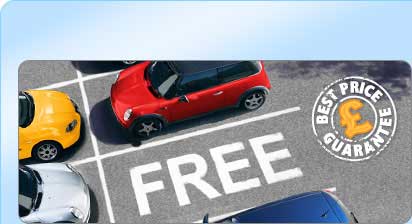 Find the same parking space for less within 24 hours of booking with HolidayExtras.com, and you can park with us for FREE*.
*Conditions apply
FREE parking