Multi Storey Parking Terminal 3 Manchester Airport
Manchester Airport - Multi Storey T3, Manchester Airport, M90 1QX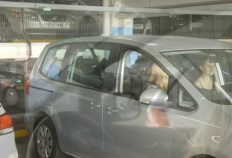 Great Deals
It's lashing down with rain and blowing a gale - but at least if you park in the Multi Storey at Terminal 3 you know you won't get wet. You can just park and walk to the terminal. Quick and easy - just as well when you've got a plane to catch.
The Multi Storey is our most popular Manchester Airport Parking option with many customers praising how easy it is to use and its convenient location. From start to finish, the parking procedure couldn't be more simple. On arrival, all you need to do is find a free space, park up and then, when you're ready, it's just a short, undercover walk to the Terminal. The location is perfect if you're travelling with a lot of luggage, kids or if anyone in your party has mobility problems. Since you parked yourself and kept your keys, when you're back from your travels finding your car should be a breeze. It really is that easy! Why not experience the speed and ease of Multi Storey Parking for Terminal 3 at Manchester Airport for yourself and book in advance with Holiday Extras.
See more Manchester Multi Storey Terminal 3 customer reviews
Overall rating: 88%by 5489 guests
Reasons to book Manchester Multi Storey Terminal 3
You can't park closer to T3 than the airport's official secured Multi-Storey car park.
Award-winning security.
You can park, unload your baggage and stroll to check-in.
Simple to find - just head to T3.
No other services available.
Arrival at Manchester Multi Storey Terminal 3
Drive up to the barrier, which will recognise your number plate and rise automatically. Drive in and park in any space.

If the barrier doesn't raise, hold the QR bar code (a square with patterns in it) on your confirmation up to the scanner on the machine. Aim the red laser light at the code and you should hear a beep and be let it. If this doesn't work either, press the intercom to speak to someone at the car park. Don't press the green flashing button as this is for customers who've not booked.
Getting to and from Manchester airport
When you're ready to fly, it's just a short stroll into the terminal. You'll be there in a couple of minutes.
On your return to Manchester Multi Storey Terminal 3
Drive to the barrier and it will lift automatically. If you've stayed longer than you booked for, you'll need to pay for the extra time, which is £25 per day; prices are subject to change. If you encounter any problems, press the intercom for help.

Prices correct as of February 2017.
More information
If you're delayed picking your car up, you'll need to pay for the extra parking at the car park's normal rate (which is more expensive than the price you pay when you book with us). If you pick your car up early, unfortunately we can't give you a refund.
Manchester Multi Storey Terminal 3 Address
Manchester Airport - Multi Storey T3,
Manchester Airport,
M90 1QX
Longitude -2.27084
Latitude    53.36188
* Prices quoted are based on parking from the 16-02-2018 untill the 23-02-2018, valid as of 17-12-2017