SACP Park and Ride at Southend airport is ideal for travellers looking for value for money without compromising on convenience or security. SACP Park and Ride boasts some of the cheapest Southend airport parking prices throughout the year, super speedy transfers that take less than 5 minutes, and high quality security features like 24 hour CCTV and fencing.
Save
£6

on SACP Park and Ride with our Winter Offer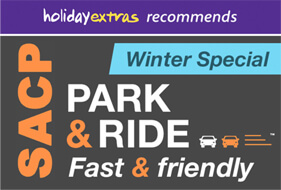 Beat those winter blues and enjoy £6 off SACP Park and Ride parking with our exclusive Winter Offer.
How to book:
Enter your dates, hit 'Search' and our 'Winter Offer' package will be clearly shown if it's available. Simply click 'Book Now' to continue.
Need to know:
Park in an arrivals lane and drop your keys at reception. Your car will be parked for you while you take the shuttle bus to the airport. The buses run regularly, every 10-15 minutes, and take 5 minutes. They run from 4am until the last flight has landed (usually around 12.30am). The return journey is included in the price.
When you get back the bus will pick you up where you were dropped off.
Accessibility:
There are 3 accessible parking spaces - please call us before you book to request one.
Unfortunately, the shuttle bus isn't wheelchair accessible. We'd recommend searching for a meet and greet package instead as a shuttle bus isn't required.
Security:
The car park has the Park Mark award and is secured by:
CCTV
Fencing
24-hour staff presence
The small print:
SACP can only take cars that fit into a standard-size parking space, which is 2.4m x 4.8m.
SACP cannot accept vehicles with 8 or more seats.
Please note if youre bringing a long wheel based vehicle youll be required to pay an additional supplement on arrival at the car park. The supplement will equal half of the total cost of the booking.
Getting to and from Southend airport
Arriving at the car park:
Park in an arrivals lane and head to reception to check in. Show the team a copy of your booking confirmation and leave your keys.
Hop onto the included shuttle bus to the airport - buses run regularly, every 10-15 minutes. It takes around 5 minutes to reach the terminal.
Returning to the car park:
Exit the arrivals doors and turn right, keep walking past the departure doors and follow the path. Long Stay 3 Car Park is the first car park you come to on the right hand side. Please walk through the pedestrian gate and wait by the ticket machine. Once at the pick up point please call the number on your ticket that you was given when you checked in.
SACP Park And Ride

Address

Unit D Millhead Way,
Purdeys Industrial Estate,
Rochford,
Essex
SS4 1LB
Longitude 0.720060
Latitude    51.57763
* Prices quoted are based on parking from the 27-10-2019 untill the 03-11-2019, valid as of 27-08-2019
Top