Parking at the Heathrow Airport Quality hotel
A safe and secure place to park your car
Easy to book, quality accomodation, easy and convenient parking which was booked separately. I would definitely use your services again.
Miss English
Excellent
from
11
Quality hotel
reviews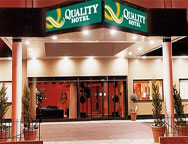 When you've chosen from our fantastic range of Heathrow airport hotels you're next thoughts going to be about parking. Well when you book a night in the Quality hotel with HolidayExtras.com® you can add safe, secure parking to your package for a great price. Get it all sorted at once and save yourself some money too.
Parking packages at the Quality hotel
Depending on availability parking at the Heathrow airport Quality hotel is either at the on-site car park or an off-site secured car park. Either way you'll get a great deal and your car will be completely safe while you're off sunning yourself.
Procedure is easy, if you're on-site just turn up an let reception know you've arrived. They'll welcome you into the hotel and let you start enjoying the facilities. Off site you'll simply have to show your booking at the gate and they'll guide you to a space.
The hotel has its own car park, so all you have to do is turn up, park, enjoy your stay and then take a quick transfer to the terminal the next day. The price will be included with your hotel if you choose our 'with parking' option, and you can be sure you're getting a great price because of our Best Price Guarantee.
Transfers
Obviously if your on-site the only transfer you'll have to worry about is walking from your car to reception but if your off-site you'll have a little further to go. You'll get a free transfer service from the car park to the hotel, it'll only take a minute and it won't cost you a penny.
Best price Guarantee
We like giving you the best prices for the best services and to make sure you can be confident in your booking we cover our packages with a Best Price Guarantee so if you can find yours cheaper we'll give you your money back.
Top tip
If you're worried about getting stuck in a jam on your way to the hotel or airport, you can sign up to our Traffic Assistant text service which will provide you with traffic updates for £1 per text.