Overview
Compare our Manchester airport hotel deals and save up to 60%. With prices starting as low as £37.00 per night and only £63.00 for a hotel with parking.
The Manchester hotel and parking deals we have are exclusive to Holiday Extras. We can save you time and money when you book your hotel and parking as one package, these are deals that you simply can't book anywhere else!
We have the best choice of on-airport hotels at Manchester as well as brilliant deals on nearby hotels with easy transfers to all terminals. Our exclusive deals mean you won't find better options for booking a Manchester airport hotel and parking package.
Customers' average rating: 86% (45,670 reviews) - read more.
Excellent stay at premier inn Manchester, excellent food, easy check in and out

Mrs Andrew, 26 Mar, 2018 (5 out of 5)
Premier Inn was brilliant. Only thing that didn't work too well was the ANPR recognition at the Car Park and the lack of information about the extensive road works taking place at Manchester Airport that resulted in us taking 45 minutes to get to the terminal rather than the normal fifteen. Otherwise, great service yet again and will continue to use your services in the future.

Mr Faunt, 12 Apr, 2018 (4 out of 5)
Facilities as described. Stayed hotel and parking. Permier inn manchester south comfy sleep, had to leave too early for breakfast. Food lovely and tasty great menu but slow service. Jet2 Manchester parking regular and quick terminal transfer waited no longer than 5mins. Car park a little bumpy and a few pot holes, difficult to pull cases and not very well lit.

Miss Price, 19 Apr, 2018 (4 out of 5)
Our Manchester airport hotels are rated 86% by 45670 guests
For a complete list of all our related pages, take a look at our Manchester airport hotels sitemap.
On-airport hotels
Walking to check-in and top hotel brands are just a few of the reasons our customers like to stay within the airport grounds at Manchester Airport.
Transfers to and from the terminal
Please note: The above hotels at Manchester Airport are listed according to the terminal to which they are closest. All of the hotels have a transfer bus available that will take you to the terminal you are flying from - FREE of charge.
Staying in a hotel so near to Manchester Airport offers many conveniences:
Waking up and being able to walk to check-in generally tops the list...
If you have to take a transfer you can be sure that the journey will be short...
You don't have to worry about what's happening on the roads...
and, with no busy traffic to tackle you might even find time to enjoy a full-English breakfast before you set off.
On-site hotels are particularly convenient for anybody travelling with young children, elderly or disabled passengers because not only are there no buses to board but all walkways are accessible.
As well as making your search easier, Holiday Extras' aim is to help with the decision process. We have a choice of some impressive 3 and 4 star Manchester airport hotels so take a look at the information below to find the right hotel for you.
If you're travelling by car, check out the information we have for hotels on-site with parking, alternatively, if you're not taking a car to the airport, check out the offers we have on Manchester airport hotels by coach.
Manchester airport hotels at terminal 1 with parking
Radisson Blu Manchester Airport

The lavish, 4-star Radisson Blu is the closest hotel to terminal 1, so close in fact it's actually connected by a covered skyline walkway! On the morning of your flight you can roll out of bed, enjoy a wonderful buffet breakfast should you fancy, then walk to T1 in just 5 minutes. There's even luggage trolleys to make the walk even easier. Radisson Blu is one of our most convenient hotels at Manchester airport terminal 1 with parking. Package your room with Meet and Greet parking and, before checking in at the hotel, drop your car off at the terminal for it to be parked by a professional driver. When you return your car will be ready to collect from the same drop-off point.
Manchester Radisson Blu
---
Hotel highlights:
Panoramic airport views, contemporary yet comfortable rooms and on-site Health Club
Terminal:
All
Transfers:

Terminal 1: 5 minute walk
Terminal 2: 10 minute walk
Terminal 3: 15 minute walk
Prices start from just £91.80*
Clayton Hotel Manchester Airport

From the 4-star Clayton hotel you can walk to T1 in 8 minutes but we'd recommend catching the 24 hour shuttle bus; it's free and only takes 2 minutes plus it means you don't have to struggle with luggage or cross the busy roads. Pair your room with secured parking to save not only time and effort but also money. Leave your car at the hotel and pick it up from there when you're back. Nice and easy!
Crowne Plaza Manchester Airport

Kick start (on finish) your trip in style and within easy reach of terminal 1 at the Crowne Plaza hotel. If you fancy a walk and you're light on luggage you can stroll to T1 in 6 minutes, alternatively you can hop on the hotel's free, 24 hour transfer bus which will get you there in 2 minutes. For a fuss-free airport experience why not add secured parking to your booking - simply park at the hotel and hand in your keys at reception when you check-in. It's possible your car will be moved during your trip but it will be ready and waiting for you at the hotel when you're back.
The Hilton at Manchester is also within close proximity to the airport, however it does have a slightly longer transfer time than the above hotels - transfers take 4 minutes to reach terminal 1.
Family friendly Manchester airport hotels
None of our on-site hotels at Manchester airport cater to customers travelling with the kids in tow quite like the Clayton Hotel. The fun, nautical feel, brilliant kids' play area, and awesome meal deals (one child under 12 eats free with each paying adult) make the Clayton a firm family favourite. For more family friendly hotels take a look at our range of family rooms at Manchester airport.
Manchester airport hotels at terminal 2 with parking
Radisson Blu Manchester Airport

Getting to terminal 2 is a breeze from the Radisson Blu; not only is the hotel within the airport grounds, it's connected to T2 via a covered walkway. You can stroll to check-in in just 10 minutes. Travelling with a lot of luggage? No problem there's trolleys available to make your journey easier. Package your stay with Meet and Greet parking to help get your trip off to a flying start. Drop off your car at the Meet and Greet office at the terminal, hand over your keys then head to the hotel to check-in. On the day of your flight your car won't even have to cross you mind. When you get back you'll be able to pick up your car from outside the terminal.
Other great options to consider if you're looking for hotels at Manchester airport terminal 2 are the Crowne Plaza and Hilton Manchester - both just a 4 minute shuttle bus away from check-in - ideal if you're travelling with heavy luggage or just don't fancy the walk.
Manchester airport hotels at terminal 3 with parking
Clayton Hotel Manchester Airport

Located just 2 minutes from terminal 3 via the hotel's free shuttle bus, the Clayton hotel is a popular choice for travellers who want to be within close proximity of the terminal but don't want to dip too far into the holiday spending pot (it's one of the cheapest on-site hotels at Manchester airport). If you're planning to drive to the airport be sure to consider opting for a combined package with secured parking to save yourself time and money. Leave your car and keys at the hotel and collect when you return.
Manchester Crowne Plaza
---
Hotel highlights:
Bright and modern rooms, choice of 2 restaurants, free 24 hour gym, and pool table/darts board in the Irish bar
Terminal:
All
Transfers:

Terminals 1 & 3: 2-minute shuttle
Terminal 2: 4-minute shuttle
Prices start from just £76.00*
Crowne Plaza Manchester Airport

At the Crowne Plaza can either walk to the T3 in 6 minutes or catch the hotel's transfer bus which will get you to the terminal in 2 minutes. We'd recommend opting for the transfer bus since it's free, runs around the clock and will save you from crossing some busy road on route. Pair your overnight stay with secured parking to keep your airport experience ultra slick. Simply park up at the hotel and hand your keys to reception. While you're away the hotel may need to move your car but it will be back at the hotel when you return.
The Hilton and Radisson Blu Hotel are also convenient hotels at Manchester airport terminal 3 with parking worth considering. The Hilton runs a transfer bus which will get you to terminal 3 in 4 minutes, from the Radisson Blu you can walk to the terminal in 15 minutes via the undercover walkway. Alternatively Radisson Blu offer a bus to terminal 3 or you can get a taxi, which would probably cost about £5 to £10.
Travelling on business?
You'll always be connected at the Crowne Plaza, which has eight meeting rooms with Internet access and fax machines. And it's just five minutes from Manchester airport, so you'll have maximum time to work and relax. The Clayton Hotel is another great hotel with plenty of business facilities and it's minutes from terminals 1 and 3.
*Prices quoted here are correct at the time of writing but are subject to change. Please search for availability and prices for the dates you require.
With parking
Your search for Manchester airport hotels with parking ends here. Holiday Extras are the only provider of airport hotels with off-site parking packages. We have loads of exclusive deals that make booking a hotel with parking worth every penny!
Our impressive portfolio gives you the choice of the best hotels paired with convenient parking offers such as fast and efficient Park and Ride, ultra convenient Meet and Greet, as well as, parking on-site or at a nearby secured car parking facility.
Take a look at the information below to help find a package that suits you, or simply use the quick and easy booking form above to find Manchester airport hotels with parking available on the dates you're travelling.
Manchester airport hotel and parking deals
Hotel
Distance to airport
Transfer
Time
Price
Britannia Ashley
5.2 Miles
Taxi
20 minutes
£63.00
Crowne Plaza
On-Airport
Walk
5 minutes
£100.00
Premier Inn North
2.5 Miles
Taxi
10 minutes
£77.00
Radisson Blu
On-Airport
Walk
5 minutes
£169.00
Pick of the bunch for a cheap price
Holiday Extras are determined to provide you with a price that suits your budget. No matter what your requirements are, whether you are travelling for business or leisure, we appreciate that cost is important to all our customers. Bagging a bargain for your hotel and parking can be done in a number of different ways:
Flexibility is key
To make the most of the fantastic offers we have, it pays to be flexible. If you're not too fussed about having an on-airport hotel and you're happy to hop on a bus, our off-site hotels with parking included are a great way to save.
Best Western's Cresta Court is one of our cheapest hotels and has parking available on-site. Don't let the word 'cheap' put you off, this 3-star hotel is brimming with style and contemporary furnishings, you'll also get free WiFi and can sample some fantastic food. You can drive to the Cresta Court, which is only 15 minutes from the airport, park up and not have to worry about your car until you return home. It will stay exactly where you left it.
Prices for a room only are around £42, however when you book with parking on-site at the hotel the price is only a whopping £47*.
Manchester hotels with Park & Ride
Choosing a hotel that has been paired with a Park & Ride service is a great way of making extra savings.
Another of our cheap hotels with parking is the Britannia Stockport. The hotel is ideally located in a quiet area close to Stockport town centre, so it's a great way to get your holiday started, away from the airport noise and close to local amenities.
Prices for a room only are around £49, however when you book with parking at sister hotel Britannia Country House the price is only £59.* For the sake of a short drive in the morning and a quick transfer bus, we think you'll agree, the savings are worth it.
Here is a list of all Manchester airport hotels available with parking on-site:
Best Manchester hotels with parking for convenience
When you chose to book an airport hotel at Manchester Airport it can be for many reasons; you may just want to start your holiday early, but more often than not, the main reason our customers choose to stay close to the airport is convenience. Take a look at the hotels we suggest below:
Meet and Greet parking services:
It doesn't get more convenient than Meet and Greet at Manchester Airport. The cost will be higher compared to our Park and Ride services, but if arriving and departing at the terminal with fast efficiency is important, Meet and Greet is the service you want.
Manchester's swanky Radisson Blu Hotel tops the list for convenience. The hotel is within the airport grounds and within walking distance of the terminal, so you can pull up and have your car whisked away, allowing you to begin your holiday, hassle-free. When you return your car will be waiting outside of the terminal for you. All of that for just £135*.
If you would like to delve a little deeper into our parking services, take a look at our dedicated Manchester airport parking page.
* Prices quoted here are correct at the time of writing but are subject to change. Please search for availability and prices for the dates you require.
Cheap hotels
An airport hotel can help make your holiday hassle-free, that's why Holiday Extras are dedicated to driving down the cost of Manchester airport hotels.
We understand that cost is a vital factor when you're looking for your holiday extras; airport parking, airport hotels, holiday insurance, it can all add up. That's why we want to share our wealth of knowledge of how to find cheap hotels at Manchester airport.
Cheap hotel options at Manchester Airport
Budget and cheap are words we love if it means you can save money, however when it comes to Manchester airport hotels we still have certain expectations.
Here's a list of some of our cheapest Manchester airport hotels: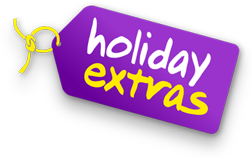 Britannia Ashley Hotel
Cresta Court
Britannia Stockport Hotel
Express by Holiday Inn
Despite our market-leading prices, Holiday Extras assure you that what you see is what you get, so take a look at our three cheapest hotels in more detail below to see if any are what you're after:
Britannia Ashley Hotel
The Britannia Ashley Hotel is great for keeping down costs. It is a 3-star hotel, located just 5 miles from the airport and comes with parking should you need it. Behind the exterior hides an ornate charm, chandeliers and solid wood furniture make up the comfortable decor.
Transfers take just 20 minutes and are by taxi, prearranged by the friendly and accommodating hotel staff. Prices for the Britannia Ashley Hotel start from just £39*.
Cresta Court
This is an easy recommendation for us. The Cresta Court is a stylish, 3-star hotel with contemporary and comfortable decor. Located just 4 miles from the airport, it really is affordable luxury.
Prices for the Cresta Court start at only £47*, so it really is a great way of starting your holiday early. You can enjoy a meal in the restaurant and a pre-holiday drink in the relaxing bar.
We made over 4 million bookings last year, a number that continues to rise year after year, so we're quietly confident that we're doing something right.
Best Price - Guaranteed
Holiday Extras are dedicated to bringing you cheap Manchester airport hotels. So much so we have launched a Never Beaten On Price policy where by, if you can find the same hotel package cheaper, we'll match the price! Our policy guarantees you are getting the best price on the market.
Manchester Airport's Mystery Hotels
If the convenience of staying close to the airport outweighs the hotel name, our Mystery Manchester airport hotels are an excellent way to save yourself some extra money. You get to book a cheap room in one of our Manchester hotels, you just don't know the name until after you've booked.
You may be reassured to know our Mystery Hotels carry 3 or 4-stars, we assure big hotel brands for budget prices.
Beat the rush
An easy way of bagging yourself an initial, instant 10% off is to sign up to our emails. As well as receiving your discount, we will keep you updated on all of our special offers.
Join us today for an instant 10% off
Sign up for special offers direct to your inbox
We treat your privacy very seriously!
Book your Manchester Airport hotel early
When you book your Manchester Airport hotel, it's best to do so as far in advance as possible. The main reason for this is to save disappointment; Manchester Airport is a busy place so hotel rooms can get booked up pretty fast, but also, the earlier you book, the cheaper the price is likely to be.
E.g: a nights stay in the Manchester Holiday Inn Express, when booked a week before, will cost around £89, however, when you book the same hotel in advance it will cost £75, a saving of £14, is much better spent enjoying your holiday.
Top tip
To make sure you get the best price, we encourage our customers to book their airport hotel as soon as their holiday has been confirmed, however we appreciate sometimes plans change, that's why we always recommend you add our cancellation waiver for just £2.49, so you have the option to cancel up to 24 hours before you travel and get a full refund.
Experts' guide
We've got some of our best travel experts together and created this handy guide on how to choose the right Manchester airport hotel for you.
And don't worry, you're in the best hands. We've had 32 years experience doing this and we like to think we're pretty good at it by now. We've even sent a team to check out each and every hotel, so you know we're talking from experience. And if that's not enough to persuade you, check out our Customer Reviews to see what other people are saying about our Manchester airport hotels.
Manchester Airport hotel options
With so many Manchester airport hotels to choose from, you really are spoilt for choice. We have Manchester Airport hotels in the airport grounds, located nearby and off-site, a short transfer away, so you can choose where you'd rather stay. If you're driving, we also have a range of Manchester airport hotels with parking. We also have a wide variety of family friendly rooms and hotels. Whether you're looking for price, distance, or convenience you're sure to find the perfect hotel for you.
Price
£- Our three cheapest Manchester airport hotels: Britannia Ashley, Altrincham Lodge and Britannia Stockport all offer cheap, basic rooms, a short 10-20mins taxi ride away from the airport. You can bag a room in one of these charming hotels for as little as £37.00 * per night. To find the best deal, check out our hints and tips for cheap hotels.
££- Our recommended hotels for a mid-range budget include Premier Inn Manchester Airport South, Clayton and Marriott, ranging from £65-94* per night. All three of these hotels have a TV and wifi in the rooms and they're all within a five minute walk/bus transfer to the terminal.
£££- If you're after beautiful and immaculate rooms and service, Radisson Blu is the airport hotel for you. Themed rooms, a swimming pool, leisure facilities and a panoramic restaurant, it's even connected to all three Manchester terminals by an elevated walkway. And if Radisson Blu doesn't tickle your fancy, Village Urban Cheadle and Etrop Grange are both spectacular alternatives. Prices for the Radisson Blu with parking start at £135*
"I like to stay in an airport hotel the night before my holiday to avoid the horrible early morning drive. When I stay at Altrincham lodge, I can squeeze in an extra couple of hours sleep and escape the traffic. All I have to do in the morning is jump in a 10 minute taxi to the airport"
"I'm not fussy when it comes to airport hotels. As long as it has a clean, comfy bed, I'll book the cheapest I can find."
"Most budget hotels these days are of a really high standard, so I don't really mind which one I book. It's always a bonus if the room has a TV and wifi, but they're not essential."
Sam - Partnership Development Executive
Top tips
Usually, the cheapest Manchester Airport hotels are those in nearby towns like Altrincham, Stockport and Manchester.
Another great way to save money is to book one of our Mystery Hotels. These are big hotel brands with special discounted prices, but we don't reveal the name of your hotel until after you have booked.
Distance
If you love the idea of rolling out of bed straight into check-in, our on-airport hotels at Manchester are the perfect choice. No pesky transfers and no expensive taxis, some of our hotels are so close they are attached to the terminal. Most of the hotels onsite are well-known hotel chains, so you know the standards will be high.
Prices start from as little as £37.00 per night.
Staying so close to the airport does have a slightly higher price tag than our off-site hotels, but like most of our customers, you'll find the time and hassle saved from not boarding a transfer bus is well worth the extra. For this reason, they're perfect for families travelling with young children, disabled passengers or those with lots of luggage.
The Radisson Blu Manchester and Clayton Hotel Manchester can't be beaten on distance. The stunning 4-star Radisson Blu is connected to terminals 1 and 3 by an elevated walkway, so it's only a 5-10 minute walk to the terminal. From the swanky Clayton Hotel it's a mere 5 minute walk to terminals 1 and 3 and 15 minutes to terminal 2.
"The best thing about staying in an airport hotel is knowing that you don't have far to go to check-in, so I always stay on-airport. It means I don't have to worry about missing my flight and can completely relax."
"Knowing I'm only a few minutes walk from the terminal soothes my pre-flight nerves!"
"Clayton is the perfect on-airport hotel. It's only 5 minutes walk to terminal 1 and 3, but if you don't fancy the stroll, you can hop on the hotel bus and they'll take you door to door."
Jordon - Marketing Executive
Top tip
If you're stuck on which hotel to choose, take a look at the distance from the airport and transfer times for each hotel on our Manchester hotels map and directions page. A shorter transfer or shorter walk can make all the difference to your stay.
Convenience
If you want your stay at Manchester to be a calm and easy experience, finding a hotel close to the airport which offers efficient transfers and/or the option for parking is key. If you're driving to the airport, hotels with Meet and Greet services at Manchester are the perfect option.
Prices start from only £37.00 per day.
You can book our hotels as room only or with parking. There are two options for a room with parking: parking in the hotel's car park and jumping on a transfer to and from Manchester airport, or Meet and Greet. Meet and Greet parking adds a little luxury to your holiday experience; when you arrive at the hotel, your car is parked for you, and when you return to the UK, it will be delivered to the terminal.
Radisson Blu offers Meet and Greet parking included in the room price. When you arrive at the terminal, all you need to do is park up outside the terminal and hand your keys over to valet reception, before waltzing straight to the hotel via the elevated walkway. So simple and carefree, you'll feel like you're flying before you've even boarded the plane.
"I like my airport hotel stay to be as easy as possible. I don't want to sit in airport traffic and I don't want to pay over the odds to park my car. Cresta Court has its own on-site parking which I can book for as little as £5 extra, it's perfect!"
"Booking my airport hotel with Meet and Greet means I don't even have to park my own car. It's the best way to start your holiday"
"If you're after convenience, like me, go for an airport hotel with Meet and Greet. Your car will be waiting for you at the terminal when you return to the UK and you can literally drive straight home."
Jake - SEO Copywriter
Upgrades to supplement your Manchester Hotel
If you're celebrating something special, or fancy a pampering, we have a fantastic selection of Manchester hotel upgrades you can add to your booking. From family fun packages, to room upgrades, champagne and strawberries to Manchester airport lounges, you're sure to start your holiday in style.
They're really easy to add to your booking too. Once you've selected your airport hotel you will be presented with a list of upgrade options, then just choose the ones you fancy! You can even add travel insurance and FairFX cards.
And of course, you can also upgrade to hotels with parking. This is great if you're travelling with your car and you'd rather avoid the rush hour traffic. We've got some great deals for Manchester airport hotels and parking, so you can even save yourself some money.
Top