The Crowne Plaza with Secured Parking
Nudging ahead on our leaderboard with more bookings than any other hotel at Manchester Airport, is the Crowne Plaza with Secured parking. You can walk to T1 & T3 or, to save your soles, a free shuttle will whisk you to all terminals in 2-4 mins.Read more
Show on map
Save money on your hotels with parking near Manchester airport
We keep on top of our deals so you don't have to. Rest assured, the prices we're showing you are our most up-to-date deals and offers so you don't have to wait for the planets to align to get a 'one-time-thing-super-special-offer'. Our special offers on Manchester airport hotels are green-to-go all year round. Like fir trees.
When you book a hotel at Manchester Airport with us, you can save up to 60%. Our prices start as low as £39.00 per night and only £69.00 for a hotel with parking. These are deals that you simply can't book anywhere else! Take a closer look...
Hotels at the Terminal
All of our hotels are near Manchester airport but you can squeeze a little more out of your holiday and stay in a hotel within the airport grounds. Wake up and have breakfast, no rush and no fuss with parking or transfer procedures. Here's a handy map and little list to show the hotels we have on-site...
Closest to the terminal:
Squeeze a little more out of your holiday and stay in a hotel within the airport grounds. Wake up and have breakfast, no rush and no fuss with procedures.
Walk to the terminal
A quick bus ride
We've listed the hotels according to the terminal to which they are closest, however all of the hotels have a transfer bus available that will take you to ANY terminal - free of charge.
For a map and directions to a particular hotel, select it from here:
*Prices quoted here are correct at the time of writing but are subject to change. Please search for availability and prices for the dates you require.
Manchester Airport Hotels with Parking

Struggling with where to start in your search for the perfect Manchester airport hotel with parking package? No need to stress - we've got your back. We thought one of the best ways for you to narrow things down is to reveal exactly what our fellow travellers have been booking - a great indication which ones work best for people and are triggering the most high-fives!
We've inspected the facts and figures and this is the current list of the Manchester airport hotels with parking packages being booked the most:
Top 10 most booked Manchester airport hotels with parking
Hotel
Parking
Car park → Terminals
Price*
Premier Inn South
JetParks 1
4 minute drive
5-9 minute shuttle

£99.00

Clayton Hotel
Secured parking
Leave your car at the hotel
2-5 minute shuttle
8-16 minute walk

£120.00

Crowne Plaza
Secured parking
Leave your car at the hotel
2-4 minute shuttle
6-14 minute walk

£144.00

Britannia Country House
Hotel parking
-
20 minute shuttle (£6pp return)

£79.00

Marriott Hotel
Hotel parking
-
10 minute taxi (free)

£109.00

Airport Inn
Hotel parking
-
13 minute shuttle (£6pp return)

£85.00

Premier Inn North
Jet Parks 1
3 minute drive
5-9 minute shuttle

£93.00

Holiday Inn Express
Jet Parks 1
4 minute drive
5-9 minute shuttle

£121.00

Hallmark Hotel
Hotel parking
-
10 minute taxi (free)

£89.10

Mercure Bowdon
JetParks 1
10 minute drive
5-9 minute shuttle

£107.00
* Prices quoted here are examples that were live at the time of writing but may or may not be cheaper for the dates you need. Prices tend to hop up and down a bit depending upon room availability and the time of year. Enter your dates and search now for today's prices ↑.
What are my parking options?
All of the important details of our different parking options, none of the technical jargon.
Hotels and parking within walking distance
You'll be so near Manchester airport you simply park your car, catch some zzz's, then walk to the terminal the next day. Sounds nice doesn't it? Well, when you pair one of our hotels located within the airport grounds with either Meet and Greet parking or secured parking this is exactly what you can expect.
Prices starting from just £144.00 for your room and 8 days parking.
What's secured parking?
Short answer? It's super simple. Slightly longer answer? With secured parking you'll leave your car (along with your keys) in the hotel's car park, it will then be moved to a secured car park near Manchester airport for the duration of your holiday, and will be brought back to the hotel before you return.
Walking times vary, depending on your hotel and the terminal you're flying from, but the stroll will take between 6-16 minutes. If you're like us and find the sound of a 16 minute walk, weighed down with luggage, a little bit daunting, we have some good news - there's also a free shuttle bus!
Available at:

What's Meet and Greet parking?
Feel like a VIP with M&G parking. With Meet and Greet parking you'll take your car to a drop-off car park close to your terminal, hand your car over to a professional driver who will park it for you, while you make a beeline to your hotel to check-in for the night. The next day simply stroll to check-in, which will take between 3-15 minutes (terminal dependant). When you return from your travels simply collect your car from the Meet and Greet car park.
Available at:

---
Manchester hotels with onsite parking
There are no surprises with parking at the hotel, it does exactly what it says on the tin. Simply drive to your hotel, be it within the terminal or near to Manchester airport, park up and that's where it will stay for the whole time you're away. To get to and from the terminal you'll either catch a shuttle bus operated by the hotel or hop in a taxi. Transfers will range from 4 minutes (Marriott) to 20 minutes (Britannia), with most sitting around the 10 minute mark. Wondering about transfer costs? Most are already included (happy days) however there a few that will require payment on the day, usually only £6pp for a return.
Parking at the hotel is a hit with our customers because as soon as you pull up to your hotel you don't have to give your car a second thought, allowing you to give your holiday your full attention. Just as it should be.
Prices starting from as little as £78.00 for an overnight stay with 8 days parking.
Available at:

---
Hotels with Park and Ride parking
Park and Ride lives up to its name; park your car in a car park (this can either be an official car park within the airport perimeter or a trusted, independent company located near to the airport) then ride the transfer bus to the terminal which will take between 5-9 minutes.
A little heads up: Park and Ride parking procedures work slightly differently for on-airport and off-airport hotels.
If your hotel is located on-airport you'll usually park first then catch a shuttle to the hotel so you can easily walk to check-in the next day.
With off-airport hotels near Manchester airport you'll park overnight at the hotel then park and ride the next day.
Rooms with 8 days parking starting from as affordable as £97.00.
Save money on our exclusive Manchester airport hotels with Jetparks Park and Ride
You lovely lot are important to us which is why we wanted to be able to offer you something special. We're nice like that. Not to blow our own trumpet or anything.
We've negotiated exclusive deals on the top hotels near Manchester airport with the ever-so-popular, official JetParks 1 Park and Ride. These hand-picked packages are only available to our customers - anywhere else you would have to pay more to purchase them separately. With savings of up to £54.99 they're a no brainer!
Read more
A little bit about the car park
Jetparks is a fuss-free and affordable Park and Ride car park within the airport grounds. Transfers are free, run 24 hours a day and take between 5-9 minutes to reach all three terminals. As an official airport car park you can expect the very best security from around the clock CCTV to entry and exit barriers.
How does this kind of package work?
Simply drive to your hotel and park in the hotel's car park overnight (please note: there is an additional charge for this at the Holiday Inn Express, Premier Inn South, Premier Inn North and the Hallmark which is payable on the day). The next morning drive to Jetparks - most are around a 10-15 minute drive away. Once there, park up, pocket your keys and hop on the shuttle to the terminal.
Available at:

---
Meet and Greet with your Manchester Hotel
No transfers, no fuss. That's Meet and Greet parking for you. Here's the low-down on how it works. Park in your hotel's car park overnight (charges apply at the Holiday Inn Express, Premier Inn South, Premier Inn North and the Hallmark) and in the morning drive to the Meet and Greet office at the terminal. Most hotels are nearby with around a 10-15 minute drive away. Here you'll pass your car over to your fully-insured driver then all that's left to do is walk the 3 minutes to check-in. Your car will be stored in an on-airport car park while you're away and when you return your car will be ready and waiting outside the terminal for a speedy getaway home. Nice and easy!
Hotel with 8 days Meet and Greet parking from only £127.00.
Psst! We just wanted to let you know that packaging your hotel at Manchester airport with official Meet and Greet parking is a Holiday Extras EXCLUSIVE. That's right folks, they're so special and exclusive it needs to be in all caps. Anywhere else you'll need to book your parking and room separately. Not only will this mean spending time hunting them down, it will also mean forking out more cash. We know you've got much better things you'd rather be spending your time and money on. Like researching where the best brunch spots are. Mmmm...brunch.
Available at:

Guest reviews and ratings for Manchester Airport hotels
OurManchester airport hotels are rated 86% by 47923 guests
Select a hotel to read all the reviews it has received
Our complete collection of reviews is here: Manchester airport hotel reviews.
All ok except that we had to pay £6 extra apparently for Manchester pickup fees which we had to pay to the taxi driver who was completely ignorant taking us to the airport

Mr Smith, 26 Jul, 2018 (4 out of 5)
We have used this hotel every Time we travel from Manchester and can't fault the hotel. It's just what you need, a clean room, a few places to eat and a bar. The transfers are very easy and hassle free.

Miss Watson, 31 Jul, 2018 (5 out of 5)
Hotel was smooth but parking was an issue on the way out. Apparently, when using hotel + parking at Manchester airport the arrival time is set incorrectly (12 hour time instead of 24 hour time) and the parking attendants won't let you out until you pay for the extra time. Luckily, they knew about the issue and let me through without paying as it wasn't my fault.

Mr Skelton, 10 Aug, 2018 (5 out of 5)
Hotel and parking at the Clayton Manchester airport hotel was excellent.

Mr Robinson, 11 Aug, 2018 (5 out of 5)
Back to Hotel Search ↑
Exclusive Holiday Extras Deals and Offers at Manchester Airport
"Where can I book hotels with OFFICIAL Manchester Airport JetParks or Meet and Greet?" We hear you cry! Did you cry it? Let's say you did. Good news travellers! It's here. Just here. Nowhere else. Holiday Extras is the only place you can book your Manchester Airport hotels with these excellent parking options. We're not gonna lie, that feels pretty good.
Spreading that good feeling about a little further, we also have a suitcase-full of other money-saving deals including breakfast and dinner discounts, 'Mystery' hotels and Fast Track savings. All of these offers make it cheaper to book with Holiday Extras. Which is nice.
Save £47 on Premier Inn with JetParks Park & Ride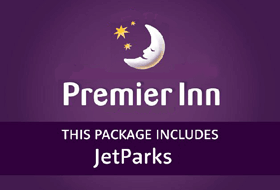 How it works:
EXCLUSIVE to Holiday Extras, we have packaged the Premier Inn hotels at Manchester Airport with the Official JetParks car parks.
How to book:
Enter your dates at the top of this page and click 'Search'.
Read more
About Jetparks Parking
You cannot book these together anywhere else.- you would have to pay more to purchase them separately.
JetParks parking at Manchester Airport is a big favourite in its own right amongst our customers. It is a park and ride service, owned and operated by the Airport. A stay at either of the Premier Inn hotels will be packaged with parking at JetParks 1.
Overnight parking at the hotel costs £10 per car
4 minutes from the Premier Inn South
3 minutes from the Premier Inn North
Keep your keys
Shuttle buses run every 15 minutes
Between 5-12 minutes from all terminals
The Manchester Airport Premier Inn hotels offer all the excellent assets the chain is known for: king size beds with hypnos mattresses, a choice of soft or firm pillows, blackout curtains, free wi-fi and very reasonably priced breakfasts.
Simply enter your search details above - Parking packages are contained within each hotel listing.
Save up to £14.99 on breakfast & restaurant menus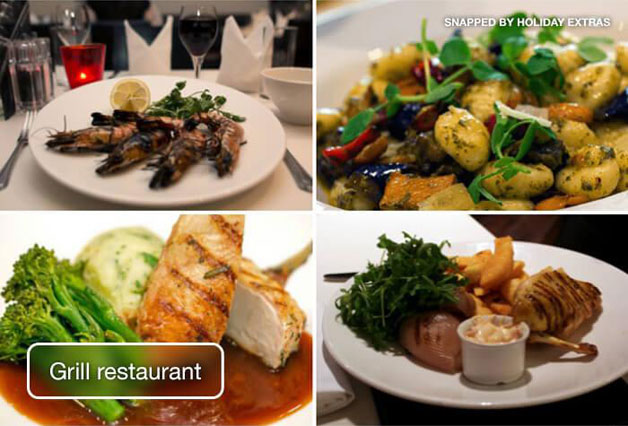 How to book:
When you've chosen your hotel, click 'book', any breakfast or dinner offers will be displayed here. One click and it's added to your basket.
Discounts available at:

Save between £5 - £25 on our Mystery Hotels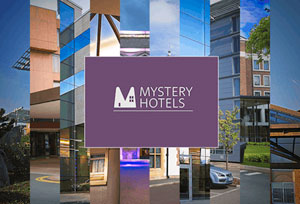 How it works:
Keep an eye out for Mystery Hotel deals at Manchester Airport. You will find out all you need to know before you book, except the name.
How to book:
Any Mystery Hotel deals we have available will be displayed in your search results. Just choose the deal you want and book as normal. The hotel name is revealed at the end of your booking.
Read more
Our Mystery Hotel offers are a great way of saving money. If the convenience of staying close to the airport outweighs the hotel name, our Mystery Hotels are for you.
They are available on any dates, at any time of the year. All you have to do is use our booking form above and we'll give you all the details you need to know, except the name! You don't find out that until after you have booked.
Save on Meet & Greet parking when you book a hotel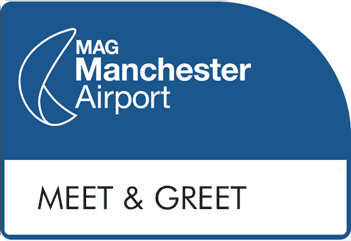 How it works:
EXCLUSIVE to Holiday Extras, packaging your hotel at Manchester Airport with Meet and Greet parking can save you up to 24% - an impressive £70.99 saving!
Available at:

Read more
We're proud as punch to say, these cannot be booked together in a single package anywhere else! They are exclusive to Holiday Extras.
When you enter your dates at the top of this page and hit 'Search', our hotels will be listed with all optional parking packages. Select the Meet and Greet parking option and continue with your reservation as instructed. This package is only available through Holiday Extras.
The value you save will depend upon the hotel you choose and room prices at the time, so we don't advertise exactly how much your package is saving but rest assured it is much cheaper than booking them separately and you are getting a great deal.
Meet and Greet parking is available at all 3 terminals at Manchester Airport and can be booked together with most of our hotels.
Meet and Greet parking procedures:
On your morning of your flight, drive to the drop-off point at your terminal (directions will be provided with your Holiday Extras booking confirmation), go through the inspection area - this will automatically scan your car and record its condition so you can be sure it'll be returned exactly as you left it. Then park your car and hand your keys over at reception - a fully-qualified driver will park your car for you in the official, secured airport car park. On your return, walk back to the car park reception where you dropped off your car. They will give you your keys and tell you where your car is. And you're away! This is the quickest and easiest way to park at Manchester Airport.
Pay only £5 for Fast Track Security Passes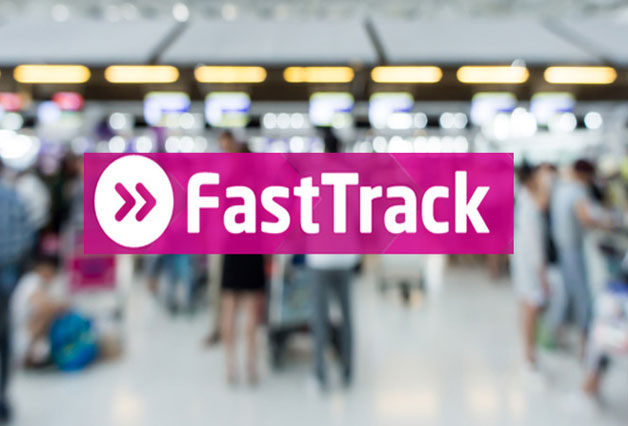 How it works:
Save yourself valuable time by skipping the security queues at busy Manchester Airport. Pre-book Fast-Track for your own speedy lane.
How to book:
When you have chosen your hotel and clicked 'book', we will present you with our optional extras, any offers we have for Fast Track Passes will be shown here. One click and it's added to your basket.
Other ways of making your booking cheaper:
Saving money is great, isn't it? And an airport hotel can help make sure there's less hassle when you should be chilling out. That's why Holiday Extras are committed to keeping the cost of Manchester Airport hotels as low as it can go.
The cost of a holiday can really rack up when you start thinking about airport parking, airport hotels and holiday insurance, so here are some tips on getting cheap hotels at Manchester Airport and keeping those costs reasonable. Then you can stock up on souvenirs instead.
1. Stick to the top of the table. We've put our cheapest hotels at the top of our price table, being comfortable doesn't have to cost a fortune. So if you want to save the pennies for holiday fun, take a look at the excellent offers we have on the Britannia Stockport.
2. Want to hear a secret? If you haven't booked with us before you can sign up to receive all of our offers as soon as they are released, as well as that, you'll get an instant 10% off your first booking. Sign Up here. Don't tell anyone though... Oh, OK, as it's you, tell whoever you like.
3. Pre-book your hotel. This is vital. Seriously. When you book your airport hotel in advance you'll save a hefty chunk of money. Hotels and car parks charge a premium for turning up on the day, so booking online can save you up to up to 60%. E.g: a nights stay in the Manchester Holiday Inn Express, when booked a week before, will cost around £89, however, when you book the same hotel in advance it will cost £75, a saving of £14! That's got to be some ice creams on the beach, surely?
4. Book your Manchester Airport hotel early. Sounds familiar? Yeah, this was important enough to repeat, but more than just saving money, you can also avoid disappointment. Manchester Airport is a pretty busy place so book early to make sure someone else doesn't nab your deal! Plus, get that booking out of the way and you can daydream about swimming with dolphins instead.
Top tip
If you book your airport hotel as soon your holiday is confirmed you'll get the best price, however, with life being the rollercoaster it is, we understand that plans can change. We'd always recommend you add our cancellation waiver for just £2.49. If life does throw you a curveball you can cancel your airport booking up to 24 hours before travel to get a full refund.
5. Look out for the non-flexible deals. Nothing is written in stone, but if you reckon your travel plans are pretty concrete you can save some cash on deals that can't be cancelled or changed. Rock on.
6. Bring a hat. Ok, this isn't actually going to save you money... but we don't want you to get sunstroke and you look good in a hat.
Best Price - Guaranteed
Holiday Extras are dedicated to bringing you cheap Manchester airport hotels. So much so we have launched a Never Beaten On Price policy whereby, if you can find the same hotel package cheaper, we'll match the price! Our policy guarantees you are getting the best price on the market.