Overview
Grab yourself a great deal on Manchester airport parking with Holiday Extras. We have 18 car parks to choose from and compare: prices start from as little as £4.99 per day or £39.99 per week. - Our headline prices explained
The Long Stay car parks at Manchester Airport serve all 3 terminals and operate frequent, short transfers, taking between 5 and 10 minutes. Alternatively, the Multi-Storey car parks are close enough to walk directly to the terminal doors. Amongst the cheapest parking options at Manchester Airport are JetParks and APH who both operate Park and Rides with very good shuttle bus services. Or, to cut out the need for transfers entirely, the airport also run a popular Meet and Greet option.
These are all bookable with Holiday Extras. Our customers who booked airport parking at Manchester saved up to 60% vs gate prices. They rated these services 90% (155,282 reviews).
1 weeks parking at Manchester airport Mid Stay T1/3 from
£67.99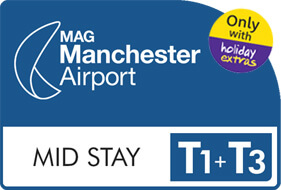 The Mid Stay T1/3 car park is an EXCLUSIVE package only available through Holiday Extras and Manchester airport itself.
How to book:
Enter your dates at the top of this page, click 'Search' and we'll return all of the available parking options. If Mid Stay T1/3 is available on your desired dates, simply click 'Book Now' to continue with your booking.
A little bit about the car park:
The Mid Stay T1/3 car park, previously the Short Stay, is ideally located for travellers flying from terminal 1 or 3 - it's just a 3-5 minute walk to check-in.
Simply follow signs to the Mid Stay car park and make a beeline to the Red Zone. Park up in any available space, keep hold of your keys and stroll straight to check-in. Nice and easy!
Compare our cheapest Manchester airport parking deals:
To make your choice easier, we've put together a list of the best deals at Manchester airport. The car parks are sorted by price, so if you're looking for the cheapest Manchester airport parking, stick to the top of the top of the list.
*This is an example price for reservations between 17-12-2018 and 24-12-2018, valid as of 17-10-2018. The price per week is the total cost of this car parking for 8 days. The price per day refers to the same product and period, divided by 8.
Cheap Manchester airport parking
Our years of experience mean we only sell car parking services that we know are efficient and offer great customer care and service. Our prices may be cheap but you have the satisfaction that in no way is the standard of service compromised.
Below is list of our cheap Manchester airport parking. Prices are subject to change. We recommend booking as early as possible to have the best choice of availability and lowest prices.
Manchester Airport parking deals
| Car Park/Operator | Price for 1 week* | Transfer frequency |
| --- | --- | --- |
| JetParks | £39.99 | Every 15 mins |
| APH | £59.92 | Every 10-15 mins |
| Long Stay | £59.99 | Every 10 mins |
| Meet and Greet | £65.99 | Not required |
| Multi-Storey | £75.99 | Not required |
*The prices in these tables are for 1 week's parking and are provided as a guide price only.
Our best-sellers in more detail
If you're still not sure which deal to choose, here's a summary of the two most popular Park and Rides with our customers. For more details, you can read about them further when you enter your dates for a quote.
JetParks Manchester
We currently offer three different JetParks car parks at Manchester airport: JetParks 3, JetParks 2 and Jetparks Plus. These car parks are a particular favourite with our customers for their price, proximity to the airport and fantastic service.
In fact, Jetparks 3 is the cheapest car park at Manchester airport at only £2.94* per day. For a week's car parking this works out at £23.40*, an absolute bargain.
APH Manchester
APH is the third cheapest car park at Manchester airport and suitable for all terminals. It's a bit further out than the rest of the car parks at Manchester airport but the transfer only takes 5 minutes and is well known for being a reliable and quality parking service.
Our customers liked it so much 92% said they would park at APH Manchester again! Parking at APH for a week will only set you back £32.88*.
*Guide prices only.
When its possible we like to book the multy story at Manchester, but the chances of this are very slim now with all the alterations.

Mr Turner, 11 Oct, 2018 (5 out of 5)
Will definitely use meet and greet again. So effortless, dropped the car off across from T1 at Manchester and handed the keys in. On arrival, picked up the keys and headed straight to the car and we were on our way home, didn't even take 10 minutes. Just what you need when you arrive back!

Miss Goddard, 12 Oct, 2018 (5 out of 5)
We booked parking at Manchester airport at Jet 3 parks. The buses are very frequent and we were picked up in a couple of minutes and on the way home was the same. Great service.

Mr Ramsbottom, 17 Oct, 2018 (5 out of 5)
OurManchester airport parking is rated 90% by 155282 guests
Short Stay parking
Short Stay parking at Manchester Airport
Droping off at Manchester Airport
Dropping off at Manchester Airport is easy. There's no need to pay for parking - you can pull up outside departures at no charge. If you'd like a few minutes to see them through the gates, the Short Stay car park minimum stay is 30 minutes. Prices are listed on this page, below.
Picking up at Manchester Airport
If you are picking somebody up from Manchester Airport, you are best parking either in one of the arrivals car parks at Terminal 1 or Terminal 3, or in one of the Multi-Storey car parks located at all 3 terminals. Prices are the same, although the maximum stay at T3 arrivals is 2 hours.
If you are likely to stay more than 4 hours, you will get a better price by pre-booking your parking with Holiday Extras.
Manchester airport parking charges

Short Stay parking
Up to 30 minutes
£4.00
Up to 1 hour
£6.50
Up to 2 hours
£9.50
Up to 4 hours
£18.00
Up to 24 hours
£40.00
Please note: These prices are correct at the time of writing and are displayed here for your reference - you cannot book Short Stay parking advance with Holiday Extras at the moment; instead, you will need to use the pay machine onsite to validate your ticket before you exit the car park.
We always recommend booking your car parking in advance when you can to guarantee a space, especially if you know you are visiting at a peak time. If you need longer than 4 hours, the Multi-Storey car parks are a convenient option for walking to the terminal, or there are cheaper deals available with park and ride operators.
Enter your dates and times into the fields at the top of this page to compare prices.
Terminal parking
Terminal parking at Manchester Airport
It doesn't matter whether you're flying from Manchester Airport Terminal 1, 2, or 3, Holiday Extras have a brilliant choice of deals on parking which serve all 3 terminals. Some providers have multiple car parks with each one serving a specific terminal or terminals. We make this clear when you compare prices so there's no confusion.
Check which terminal you depart from here: Manchester Airport departures information.
From cheap Park and Rides to convenient Meet and Greet services for Terminals 1, 2 and 3, you're sure to find airport parking at Manchester to suit your budget and travel plans.
Manchester Airport parking for Terminal 1
Whether you're looking for on-airport parking for a speedy transfer to T1, off-airport parking to save a few pennies, or a Meet and Greet service for extra convenience, you'll be spoiled for choice with our collection of Manchester airport parking for Terminal 1.
We even have a luxury parking package at the Multi Storey Car Park which includes access for 2 adults to relax in the Escape Lounge before the flight; bliss!
Read more about the car parks offering a service for Terminal 1 here: Manchester Airport Parking for Terminal 1.
Manchester Airport parking for Terminal 2
We have some fantastic airport parking options if you're flying from T2 including on-airport, off-airport and Meet and Greet parking. For those on a budget JetParks is our cheapest parking option and it's only a 10 minute transfer journey to the terminal.
If you have a little bit more to spend, Manchester Airport's Meet and Greet service is perfect if you want the fastest and easiest parking for T2.
Read more about the car parks offering a service for Terminal 2 here: Manchester Airport Parking for Terminal 2.
Manchester Airport parking for Terminal 3
We're sure you'll find something to suit from our range of T3 parking options. For convenience the Long Stay T1 and T3 car park is ideal; you're just minutes from the terminal by transfer bus. If you're travelling light and feeling energetic you can even walk to T3 in less than 15 minutes.
For a cheaper, off airport option, that's still only a short journey to T3, APH Manchester is perfect.
Read more about the car parks offering a service for Terminal 3 here: Manchester Airport Parking for Terminal 3.
Choice
Why choose Holiday Extras for your Manchester Airport Parking?
Holiday Extras provide a huge selection of car parking at Manchester airport, ranging from convenient valet services to the simple and efficient Park & Ride.
Choosing your Manchester airport parking for terminal 1? There's a multi-storey which connects you directly to the airport via a covered walkway. How about a Meet and Greet package for your Manchester airport parking at terminal 2? And we offer plenty of services if you're looking to book Manchester airport parking at terminal 3.
If you are looking to pay as little as possible for a quality, reliable service when you park at Manchester airport, you're in the right place. We have cheap Manchester airport parking which promises secured facilities and regular, courtesy bus transfers to the terminals.
Compare Manchester airport parking services
Choose your Manchester airport parking service
Manchester off-airport parking
Parking at an off-airport car park will mean you have a slightly longer transfer to the terminal building. The slightly longer transfer time is reflected in the price which is lower than services with a shorter transfer time. If you do not mind a slightly longer transfer, then off-airport parking can save you some money.
We have just 1 car park located outside Manchester airport's perimeter - APH Manchester. It is still within only a short distance of the airport, however, and the transfers take just a few minutes.
Manchester on-airport parking
Manchester Airport Long Stay Parking T2, Manchester Airport - Long Stay T1 and T3, Manchester Airport Multi Storey Terminal 1, Manchester Airport Multi Storey Terminal 2, Manchester Airport Multi Storey Terminal 3 and Manchester Jet Parks are all located within the airport perimeter. An on-airport parking choice will be best for those that require a short transfer with the minimum of hassle - meaning it's suitable for those passengers with a disability.
On-airport parking means that your journey time will be as short as possible, and is much more convenient than an airport car park far from the terminal building. You can spot on-airport parking services in our table below by the little plane in the features column.
Manchester airport Meet and Greet parking
If you are looking for a fantastic Manchester airport Valet parking service then why not check out Manchester Airport Meet and Greet terminals 1 and 3 or Manchester Airport Meet and Greet terminal 2.
If you opt for this service you will have a designated driver meet you at the airport terminal building. This driver will take your car to a secured parking compound where it will stay for the duration of your holiday. This is a fantastic service, and so convenient especially for customers with small children or a disability.
Upgrades to supplement your airport parking
We have a selection of Manchester airport parking upgrades which we present you with after selecting your car park. These are very useful extras that you may not have considered and we are able to offer them at great prices. This includes things like travel insurance, a FairFX card for foreign currency and Manchester airport lounges for a more comfortable wait at the airport. Just tag them onto your parking booking and pay for it as one convenient package.
Another fantastic option that passes many people by is to book a Manchester airport hotel with parking. Prices compare very favourably with car parking by itself and using a hotel the night before or after you fly can make a tremendous difference to your holiday experience.
If you had in mind a standard Manchester airport park and ride service, it is worth taking a minute to compare these with the Meet and Greet services. The price is likely to be less than you thought and it could be a very nice upgrade to help you remove some of the hassle, especially if you have a lot of luggage or are elderly and prefer to avoid the transfer bus.
For our entire list of customer comments visit our Manchester airport parking reviews page. Here you will find feedback for all our parking services at Manchester airport.
Top